Political Campaigning: How to Build Your Field Plan
May 22, 2023 | Brandon Blumenherst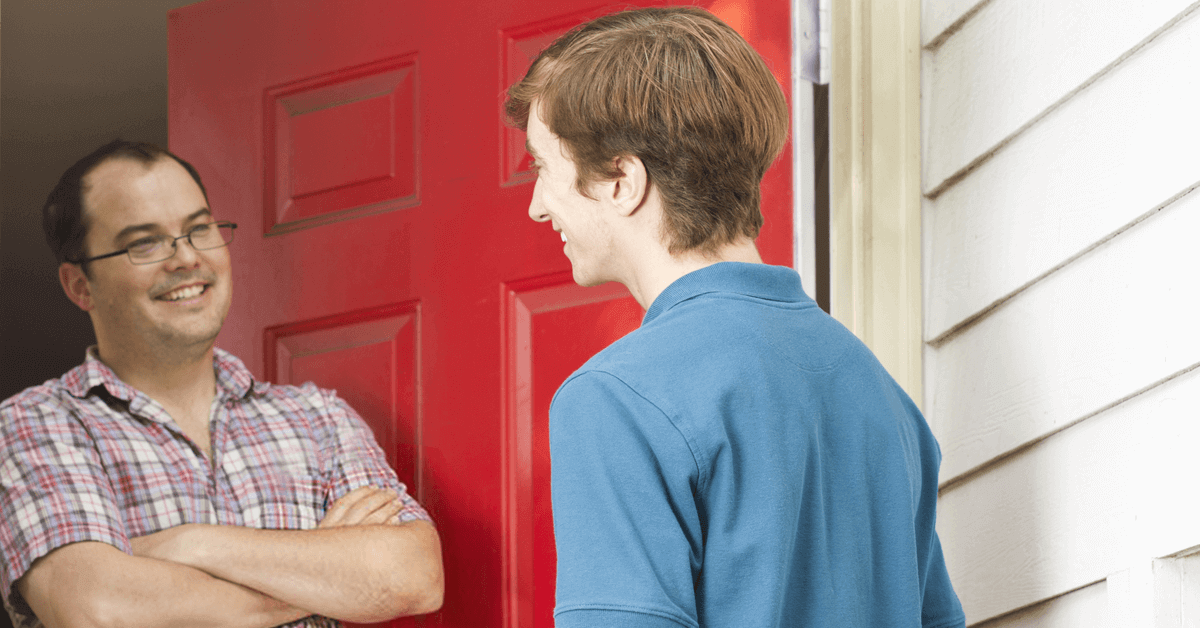 Have you ever had a candidate or campaign volunteer knock on your door, call you, or text you? If so, you were a targeted voter in that campaign's field program! Developing a strong field program is critical to any campaign's success, but how does it fit into your overall campaign plan and how can you execute an efficient and effective field program? We will answer those questions and more in this blog, but first, let's start by defining what field is.
What is Field?
Field (sometimes called a field program or political field organizing) is composed of several voter outreach activities, including canvassing, phone banking, and text banking. All these activities are focused on identifying supporters, persuading voters to support your campaign, and mobilizing those supporters to get out and vote on or before Election Day. After you create your targeted voter universe in VAN based on the number of votes you need to hit your win number, you will want to build out your field program to determine how to contact your entire voter universe (hopefully several times) through the methods we outline above.
How Does a Field Plan Fit Into Political Campaigning?  
Your campaign plan is your roadmap to success! It's a comprehensive document of everything your campaign will do from the day you declare your candidacy to the day you get election results and beyond. A documented campaign plan helps keep your team focused on the important things you'll need to do at every step of your race. So, how does your field program fit into it?
A strong field plan is one of the most integral pieces of a political campaign plan because you must contact voters to win your election. While other things like fundraising programs and communication plans are important, a strong field program is how you get out the vote to win your election.
Choose Your Voter Outreach Strategies
While it's up to your campaign to choose your voter outreach strategies, it's typically best to employ as many as you can. Some voters may not respond well at the door, but they may to a phone call or text message. Employing a multichannel approach to your field program will help you contact more voters so you can gather more data to act on later in the campaign. You will also likely have other targeted and supplemental efforts to inform these voters about who you are and what you stand for (like mail and digital advertising), but one-on-one conversations are usually the best opportunity to chat with voters to speak to the issues that are important to them in a way that can't always be done via other methods.
Field Tools for Political Campaigns
The most important field tool for political campaigns is MiniVAN, our mobile canvassing application. Before MiniVAN was created, canvassing involved (sometimes) giant paper packets that were a pain for volunteers to sort through as they navigated from door to door. Not to mention that campaign staff had to sort through all those pages to manually enter all the data on those packets back into VAN. Fortunately, MiniVAN made it easy for volunteers to have guided conversations with voters, enter Survey Responses, navigate easily to the next door, and sync data back to VAN for the campaign to act on later in the campaign – all from the palm of your volunteer's hand!
Smarter Canvassing
MiniVAN offers many built-in features that make it easier for your volunteers to effectively canvass. For instance, rather than following a linear script that is limited in its adaptability, MiniVAN allows you to use branched scripts that guide canvassers' conversations with voters by programmatically showing the next question on the script based on the answer to the first. So, if someone indicates they plan to support your campaign, you can ask if they'd be interested in volunteering. But, if they haven't decided who they'll support, you can ask about what issues are important to them to try and connect them back to your campaign and convince them to support your campaign.
You can also create Distributed Contacts Campaigns which are MiniVAN lists that are automatically distributed based on your canvassers' locations. These lists are particularly helpful when you're using a MiniVAN Manager as a valuable monitoring tool to keep track of your canvassers and their activities in the field. MiniVAN Manager allows you to easily check top-line statistics for your campaign, including the number of canvassers on a turf, their contact rates, how many doors they've knocked, and more.
Fun Fact: During the 2022 election cycle, over 90% of the 169 million doors knocked by campaigns and causes nationwide were logged through MiniVAN!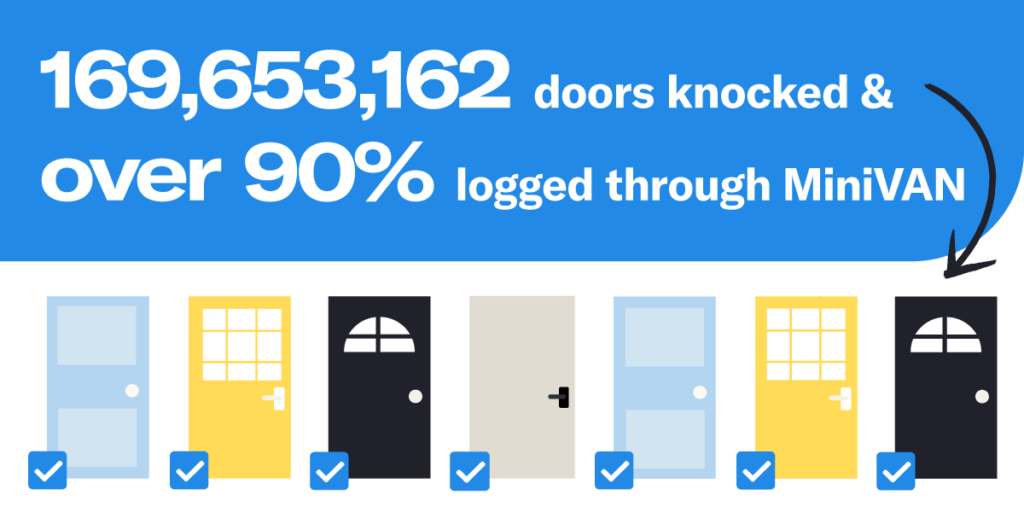 Impactful Phone Banking Tools 
In addition to our popular canvassing tools, we offer impactful phone banking tools within VAN and SmartVAN. Virtual Phone Banks allow campaigns to easily create targeted phone banks that can be shared with staff and volunteers within VAN or shared widely by publishing them to openvpb.com. By creating an Open Virtual Phone Bank (OpenVPB), you'll have a link that can be shared with anyone to make calls from wherever they are to a targeted group of voters with scripts you create. You can also contact more voters faster with VPB Connect that offers click-to-dial functionality within OpenVPB.
Recruit and Organize Volunteers
Whether you're starting out with a large volunteer base or not, Mobilize can help you power your volunteer recruitment efforts to help achieve your campaign goals. Through its built-in features and automations, Mobilize has provided up to a 40% increase in event RSVPs (like those for canvasses or phone banks) for campaigns and causes across the country. Mobilize also has several valuable resources for volunteer recruitment and volunteer management that can help you recruit and retain volunteers to power your voter outreach efforts.
In addition to its impactful platform features and automations, Mobilize offers a VAN integration that can automatically sync attendance data back to VAN to act on later in the campaign cycle. In VAN, you can also use the Volunteer Management Dashboard to easily scan through valuable volunteer information, reach out to new and existing volunteers, and more. By using Mobilize and VAN together, you can effectively recruit and manage more volunteers to help you efficiently and effectively execute your field plan.
Now that you understand how a field plan fits into your campaign plan and the NGP VAN tools that can help you achieve your field goals, it's time to develop and execute your field plan!
Execute Your Field Plan
Your field plan will be based around the conversations you need to have with your targeted voter universe(s) to convince and mobilize enough voters to win on Election Day. In other words, do you need to mobilize enough Democrats and other likely supporters to get to the polls on or before Election Day to win? Or do you need to convince more voters to support your campaign?
Those questions often inform your outreach strategy to different universes of voters called mobilization and persuasion universes. Once you develop your universe(s), you will then create your field plan to contact those voters (potentially multiple times if needed) with relevant messaging to gather more data to see if they plan to support your campaign. Typically, campaigns focus on their persuasion universe (those who need to be convinced to support the campaign) earlier in the general election cycle and then shift to their mobilization universe as the election nears. All the supporters you identify in your persuasion universe will become targets in your mobilization universe because you want to mobilize all your identified and likely supporters to get out and vote on or before Election Day.
You should then break down your field plan into a specific timeline with goals that you can measure against to ensure you're on track to achieve your field goals regularly. Setting goals early will allow you to easily measure your progress and adjust outreach if necessary. While candidates and a few strong supporters may help achieve these field goals, many field plans involve knocking on thousands of doors across a district which means you need to recruit and manage volunteers for your campaign.
Learn More About How Our Tools Can Help Execute Your Field Plan
After reading this blog, you should better understand what a field program is, the best voter outreach tools to use during your campaign, and how to build and execute your field plan. If you want to equip yourself with the best tools to run a winning campaign, request a demo today!