Better Canvassing and Voter Contact with MiniVAN 9
March 11, 2022 | Jennifer Willis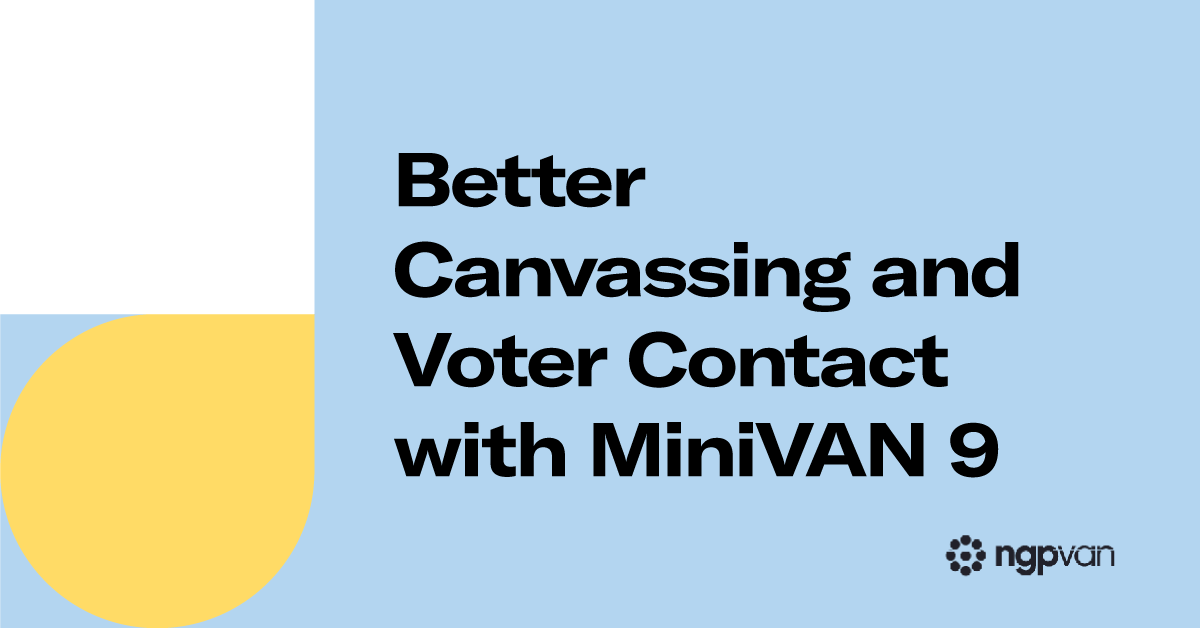 Beep beep! We're excited to announce updates to our beloved mobile canvassing app MiniVAN. After extensive user research focused on the first-time canvasser experience, we've updated the core canvassing workflows in the app to make navigating turf more intuitive for new canvassers and more efficient for everyone. We're releasing these updates in advance of the midterms to help you canvass more efficiently, have better conversations with voters, and elect more Democrats and progressives to office—let's go for a drive and we'll give you the scoop on the past, present, and future of MiniVAN. (Gatorades and granola bars are in the back.)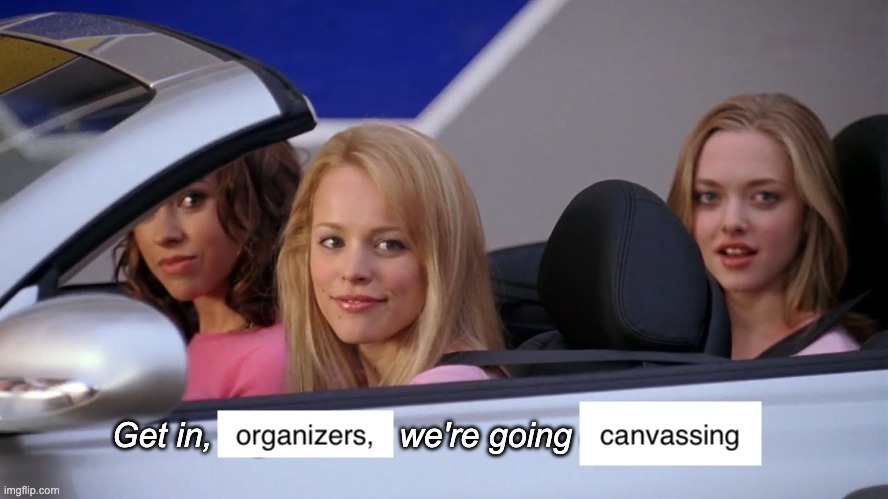 The past
Since the start, we've built MiniVAN to help campaigns save time and resources. No matter how long you've been using it, MiniVAN has always existed to answer the same question: how can we help make a canvass more efficient? We want to help volunteers navigate their turf and have those important conversations with voters, and we also want to save organizers the reams of paper and the hours (and hours, and hours) of time we know it takes to print out turf packets and enter volunteer results.
Some of you might remember that MiniVAN was first born as a Palm Pilot app in the early 2000s, back when Palm Pilots didn't even have map integrations.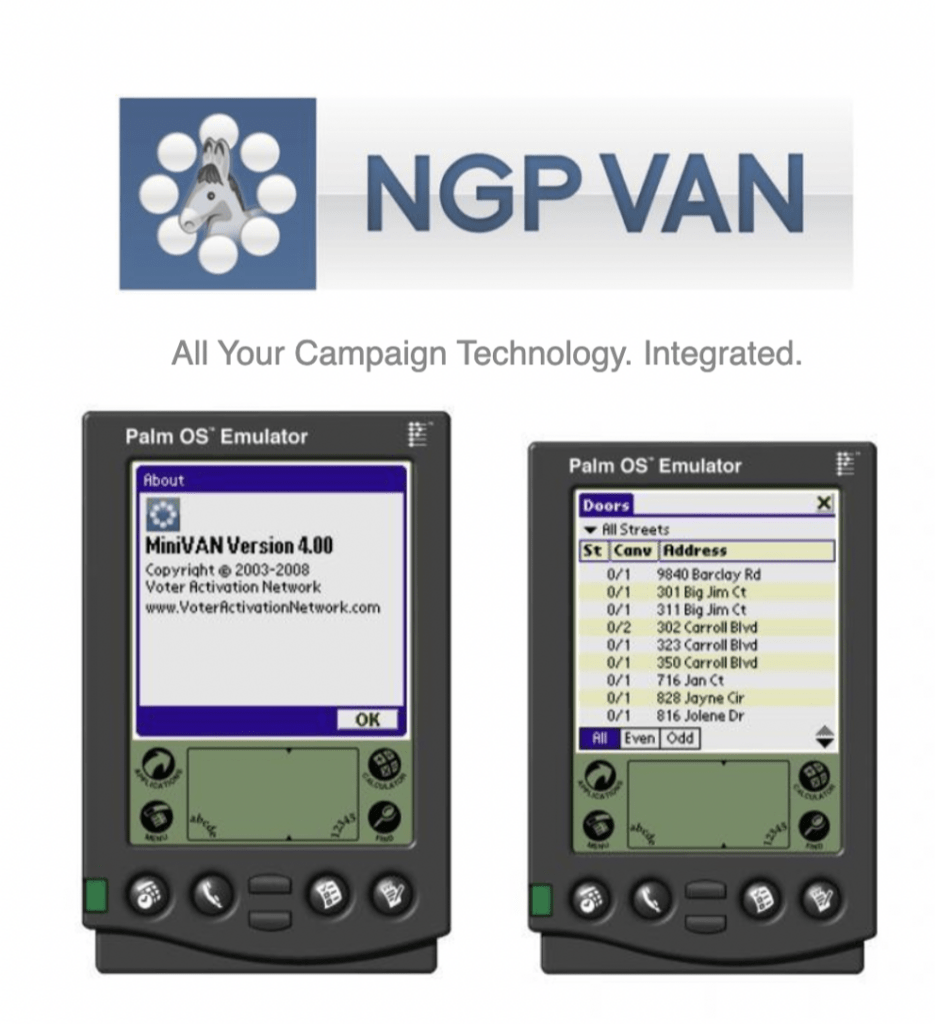 Skip forward a few years to the early 2010s, around the time the App Store took off, and that's when MiniVAN as it exists today really came to life. Now that we live in a world where most of us are navigating with our smartphones, canvassing with MiniVAN feels a lot like taking your packet and putting it right in your pocket.
For the past several years, our focus has been on helping campaigns transition away from using paper and toward using MiniVAN. In 2014, MiniVAN usage made up under 20 percent of all canvass attempts. However, after years of iteration and consistent investment in MiniVAN and the supporting canvassing workflows, that number finally hit over 90 percent in January of 2020 during the presidential primary.
A usage change of that size is massive, but it doesn't happen overnight—here's how we helped campaigns make the shift and hit that 90 percent number:
We built out the Create an ActionID workflow on the app—which meant folks wouldn't need a user account to use the app.
We improved the user experience (UX) in the app, including adding features like auto-sync, optimized routing, jobs sorting, and team canvassing. (Fun fact: we actually worked out the data model for team canvassing—which is how you can see your partner's canvass results on your device—while we were out on turf ourselves in Manchester, New Hampshire in 2016!)
We updated the experience for organizers launching canvasses—over the past 8 years, we've made changes to tools like Turf Manager, MiniVAN Campaigns, and MiniVAN Manager.
We got buy-in from the people actually using MiniVAN—which sometimes meant heading off to a field office to help launch MiniVAN canvasses ourselves!
After developing best practices with those campaign stakeholders, we codified them in the MiniVANual to make it easier for folks to get their operations off of paper.
We really credit all aspects of this work—the close campaign collaboration, the updates, and the best practice documentation—with helping drive up MiniVAN usage. This brings us to the present: here's what's in the new release, and why it matters.
The present
Two years ago, when we saw usage numbers for MiniVAN hit 90 percent during the 2020 presidential primaries, we decided to do a deep dive into the user experience and rebuild the app based on the findings. We strategically paused most MiniVAN development during 2020 in order to focus on phone tools, like OpenVPB and VPB Connect, to help Democrats win up and down the ballot. Long story short, these MiniVAN updates have been about two years coming.
At their highest level, these updates are the result of extensive research into the UX, with a special focus on first-time users. From that deep dive, we learned that three things were really top priority for helping MiniVAN users succeed: removing simple blockers; providing more contextual training; and helping folks get the most out of all our features.
1. The biggest use issues are the simplest ones.
App Store passwords
One of our biggest findings was that the number one blocker to MiniVAN usage for volunteers was not having their App Store passwords.
Sounds pretty simple, but if someone didn't have their App Store password, they couldn't download the app, which meant their canvassing experience couldn't happen in MiniVAN. Despite that blocker, our deep dive told us that once people downloaded the app, they found it pretty easy to use.
We've updated the MiniVANual to share this finding with campaigns and organizers, so they can revamp their volunteer messaging to help more folks show up prepared. For example, we really recommend asking volunteers to download the app before they arrive at the canvass; including links to the Apple and Google Play stores in your reminder messages so first-time users can easily download the app; and reminding returning users to confirm that they're running the most up-to-date version of the app.
Screen-switching
Another important but simple finding from the research was that folks were doing a lot of screen-switching between the map and household views. (We had a hunch about this one from canvassing ourselves, but it was nice to see the data back that up.)
Because people use MiniVAN for such long periods of time—a typical canvassing shift is two or three hours—streamlining the amount of navigation folks have to do in the app is an incredible opportunity for efficiency. The main place you'll see this streamlining is in the combined map and household views: now, you can see them both in the same place without actually having to switch screens. Ultimately, reducing the number of clicks in the app like this means users can focus on having better conversations with voters.
2. More training, in context.
The second change we made was to build in more contextualized training within the app. This will especially help new users get the most out of the tools, and help them have a smoother canvassing experience.
We've added in some tool tips and tricks to let users know about quick action workflows or reinforce best practices, like explaining some of the canvass results or reminding people to mark a result for everybody at a household, even if they only talk to one person. We also changed some of the iconography to make the meaning more obvious, especially to new users. The goal with these changes is, again, efficiency: improving the MiniVAN user experience, especially for first-timers, means volunteers can focus on talking to voters instead of figuring out how to use the app.
3. Some of the existing features deserve more attention!
The third type of improvement we made was to surface existing features that were not being used to their full potential. Our research told us that some of the features we built into the app over the years were being underutilized—not because they were difficult to use, but because they were difficult to find.
Better visibility for existing functionality
In this MiniVAN update, some of the features we focused on bringing to the forefront include ones that volunteers may not have gotten the opportunity to use during the very unique 2020 election cycle:
• Progress through your list,
• List filtering (i.e., on odd and even addresses,)
• Find My Next Door, and
• Optimized Routing.
This update also highlights other features folks may not know about, like:
• Branched scripts;
• Spanish language and Search the Voter File functionalities, which we released in March 2020; and
• Adding a quick mark for Lit Drop.
More visible metrics
MiniVAN has always tracked and displayed how many people you've talked to as a canvasser; we've just updated the app to make these metrics easier to find. We did something similar with our optimized routing tools: we've made them more obvious in order to help volunteers spend less time navigating their turf and more time having those deeply important conversations with voters.
Easier app navigation
It turns out navigation patterns for canvassing, like other trends, can be cyclical! I've been using MiniVAN long enough now to see navigation styles come back into vogue that are, in many ways, very similar to what we saw used in MiniVAN in 2012. No matter your preferences for navigating the doors, we created a new tab navigation that does things like surface the progress tab to make it more obvious.
The future
Needless to say, we're excited about this new release—but we're not stopping now.
Looking to the future, we're identifying more ways to implement this research. For example, now that we have data that proves how important it is for volunteers to have their app store passwords, we want to help people save time by getting their password and downloading the app earlier. That might look like integrations we can do with other platforms, or using automation to send MiniVAN lists to folks that can include an app download link. There's still more to come from these findings.
We're also looking at how we can update the app to help save time and effort on the multiple passes workflow, since many campaigns are still using paper during GOTV to do multiple passes on the same list of voters. It's important to be able to capture yesterday's attempt at the doors compared to today's attempt, by either the same or a different canvasser. We're also looking to add an integration with Mobilize that will make it easier to re-shift volunteers from inside the app. Those are the next big workflows we're looking to solve on the app, so stay tuned.
Ultimately, the MiniVAN updates we're making now and in the future means that volunteers will be able to knock doors and organizers will be able to run a canvass more efficiently. Talking to voters can be hard enough on its own, so we're here to streamline the other parts of canvassing—from spending less on office supplies like paper and toner, to regaining more time in the day, which is something campaigns can always use. Keep fighting the good fight, and we'll see you out on the doors.
Want to see it for yourself? Download MiniVAN 9 from the Apple or Google Play store, read the updated MiniVANual, and get a demo to learn more about NGP VAN's full suite of tools that help Democrats get elected up and down the ballot.