5 MiniVAN Quick Tips for Your Next Canvass
September 9, 2022 | Brandon Blumenherst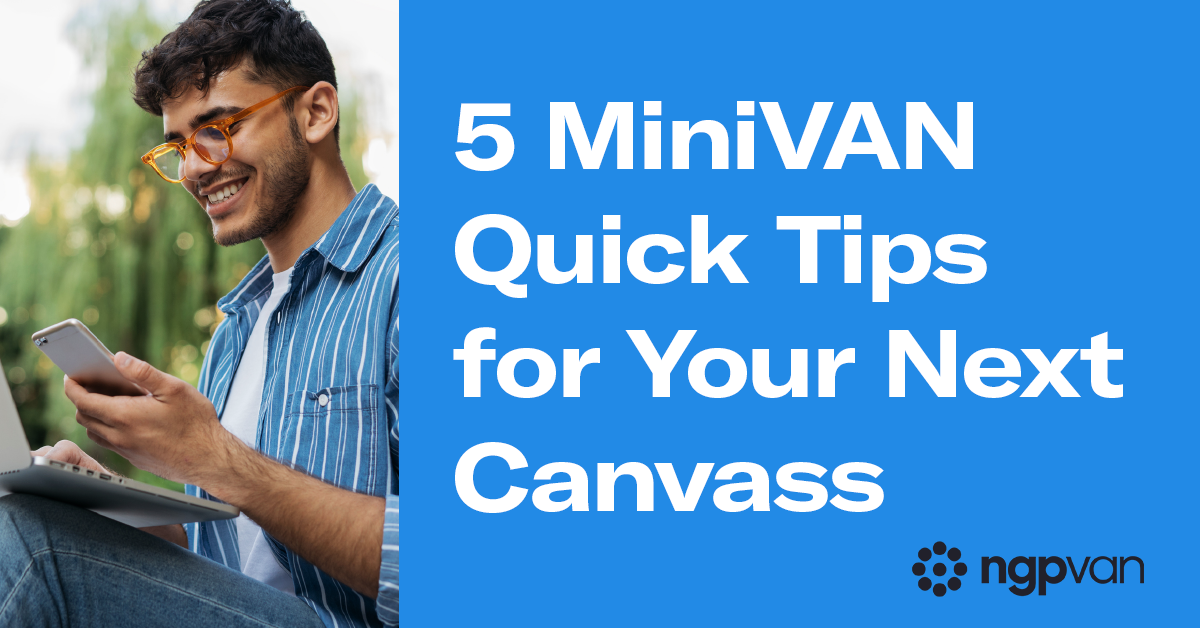 MiniVAN makes political canvassing easy by providing a user-friendly application that allows volunteers to have guided conversations with voters and enter relevant data that syncs back to VAN. There are a ton of features within MiniVAN, so we wanted to highlight a few in this blog that can help you make your next canvass launch even better.
1. Quick mark "Not Home" or "Lit Drop"
The most common response while canvassing is "Not Home." Perhaps people really aren't home (or they just don't want to come to the door), but regardless of the reason, there is a way to quickly mark that in MiniVAN.
Depending on the type of smartphone you are using for MiniVAN, you can either swipe right or press and hold on the contact or household to mark them as "Not Home (NH)." If you are doing a lit drop, you will also see "Lit Drop (LD)" as an option! This will save you a few extra taps on your screen!
2. Filter your doors to make sure it's easy for your team to split a turf
Canvassing pairs often choose opposite sides of the street to move through doors safely and efficiently in a turf. If you split your doors with another canvasser or only walk one side of a street, you can use the quick filter at the top of your list to view only the odd or even addresses in your list or map to see the doors you need to knock on one side of the street.
3. Explore the tabs to find and record more information in MiniVAN
You can click on the History tab to see previous canvass results to help inform your conversation with contacts. You can also use the Notes tab to add any additional details or helpful information from your conversation. Recording notes can help make future conversations more relevant to the voter.
4. Move to the next contact if you see a "Voted" icon
While this occurs closer to election dates, it is important for volunteers to know what this icon means. If there is a "Voted" icon, this contact has already voted. Volunteers should move to the next contact on their list to make sure they are using their time effectively.
5. Make sure canvassers sync one last time before they leave
While auto-sync is turned on by default, hitting sync one last time is a quick request for your volunteers that ensures you will have the data in VAN when you need to commit it later. It also gives you a chance to debrief with volunteers and hopefully re-shift them for an upcoming canvass.
With these five tips, you should be able save your volunteers a little bit of time and ensure your campaign has great data to act on in the future. MiniVAN is a great tool for campaigns of all sizes, and if you want to become a MiniVAN expert, download and read the MiniVANual.
MiniVAN Manager relays data in real time back to VAN to monitor canvassers out in the field, including their location, progress, and effectiveness.