Volunteer management 101 
April 20, 2023 | Brandon Blumenherst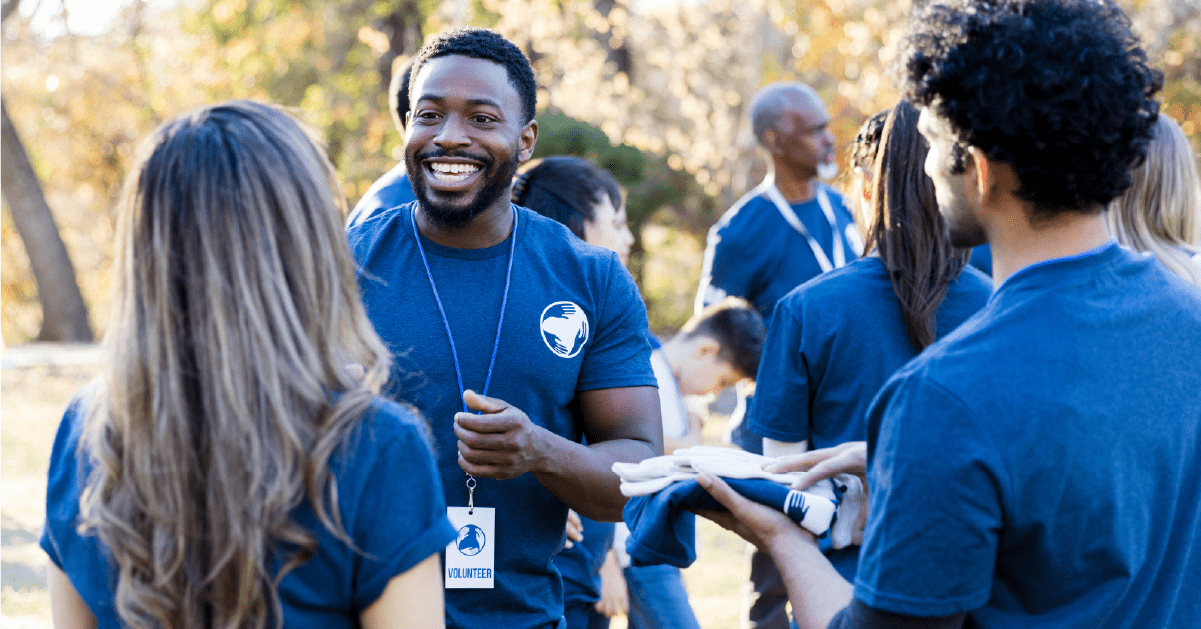 Whether you're part of a political campaign, labor union, PAC, or advocacy group, your work largely relies upon the help of volunteers. That's why having a comprehensive volunteer management strategy is so important to help recruit, engage, and retain supporters to help power your organization's work. Managing volunteers requires your organization to put in time and effort to build and maintain relationships with your volunteers; however, it will go far in helping you build a solid volunteer base to achieve your goals. First, let's start by defining the difference between volunteer recruitment and volunteer management and why both are important to build your volunteer base.
What's the difference between volunteer recruitment and volunteer management?
While the two may seem similar, volunteer recruitment and volunteer management are fairly different. Both involve building relationships with your supporters, but volunteer recruitment focuses on bringing new supporters into your volunteer base. It helps grow your volunteer capacity (your volunteer base and their associated skill sets) by increasing the number of volunteers supporting your organization. Volunteer recruitment also involves screening volunteers to ensure they're a good fit for the organization and the role they signed up for.
Volunteer management focuses on strengthening and maintaining relationships with volunteers to retain valuable support, train and empower them to assume leadership or other responsibilities, and continue driving action for your organization.
What does effective volunteer management look like? How is volunteer recruitment involved?
Effective volunteer management centers around recruitment, engagement, and retention. If you're starting from scratch, recruitment is a necessary first step toward building your volunteer base. However, if you have existing supporters already, you can start engaging them with new volunteering and training opportunities to deepen their relationship with your organization.
With your existing supporters or after volunteers sign up to get involved, it's up to your organization to keep them engaged. Effective volunteer management helps develop relationships with volunteers through engaging interactions. By reaching out consistently to check in with volunteers and share new opportunities to get involved, you will start building the foundation for a great volunteer program. Ideally, you want to increase your volunteer's level of engagement within your organization by encouraging them to volunteer more regularly or offering to train them for more advanced opportunities. However, respect the time and energy that your volunteers can give to your organization. While some volunteers may always be looking for additional ways to serve, many others have a limited capacity to help for several reasons. Respecting the boundaries set by your volunteers will help your organization decrease the risk of burnout and losing volunteers.
Finally, retaining volunteers is critical for any organization. Volunteer retention focuses on building a strong and respectful relationship with your volunteers and sharing appreciation for their efforts. While a regular thank-you message after completing a shift can go a long way, you may also want to give them a small gift or host volunteer appreciation events to ensure they understand how important they are to your organization and the goals you're trying to achieve.
Choosing your volunteer management software
Using volunteer management software will make it much easier to efficiently and effectively manage your relationship with volunteers from a centralized solution. Whether your organization has a dozen volunteers or thousands, volunteer management software will help you engage with your volunteers, track their participation and interactions with your organization, and present opportunities to help capacitate up-and-coming volunteer leaders.
Within VAN, SmartVAN, and Mobilize, you can easily track your volunteer's participation for your organization. In VAN and SmartVAN, My Campaign offers the Volunteer Management dashboard that identifies:
Active Volunteers: Volunteers who have completed at least one shift in the last 30 days.
Lapsed Volunteers: Past Active Volunteers that have not volunteered in the last 30 days.
Hot Leads: My Campaign records added in the last seven days who have not been scheduled for an event yet.
You can also create events and online sign-up forms in My Campaign to track attendance totals and add new supporters to your events. My Campaign allows you to build and track relationships with your supporters, making it easier to act on that data in the future. For instance, if you want to reach out to volunteers who volunteered for your organization in the past but haven't recently, you can easily pull that list in My Campaign (assuming you have past volunteer data to act on).
In addition to VAN and SmartVAN, Mobilize offers time-saving and impactful features and automations to help you build your volunteer base and engage your existing supporters to increase event and action registrations by up to 40%! Some of these features include:
Promotions

Promotions allow you to ask like-minded organizations to promote your actions on Mobilize and vice versa! If approved, your event will be shown in that organization's Mobilize feed, potentially increasing your attendance at upcoming events and building your supporter list.

Weekly automated newsletter

Your organization's volunteer opportunities are shared with your supporters through a customizable email newsletter on a weekly basis.

Suggested events and bring-a-friend prompts

After signing up for an event, Mobilize suggests other events volunteers can sign up for with just one tap! Your organization can choose events to highlight, or Mobilize will fill them in for you. Mobilize also asks volunteers to share the event or action with their friends to help generate additional impact for your organization.

Follow-up messages

Mobilize also sends reminder messages to scheduled attendees to remind them of upcoming events to help decrease no-shows. The platform also sends follow-up messages to attendees after the event to gather feedback.
Mobilize also offers a VAN integration that makes it easy to employ Mobilize's features and automations while still recording valuable volunteer information into a centralized volunteer database like VAN or SmartVAN.
How does Mobilize help with volunteer recruitment?
Mobilize, our events management and volunteer recruitment platform, has powered over 22 million volunteer events and actions since 2017. With a network of over 5 million volunteers, Mobilize has built-in features and automations that help you recruit more volunteers, send follow-up messages to decrease no-shows (by up to 30%) and ask for post-event feedback, and increase event RSVPs (by up to 40%). It's a powerful platform that can help fulfill your organization's needs to recruit more volunteers, host events and actions, and empower your volunteers to host their own events for your organization and invite others to join the cause.
By developing your volunteer management strategy around effective recruiting, creating engaging interactions with volunteers, and retaining volunteers by showing your appreciation, you can build an impactful volunteer base that can help achieve your organization's goals.