What To Know About Volunteer Recruitment
October 2, 2023 | Brandon Blumenherst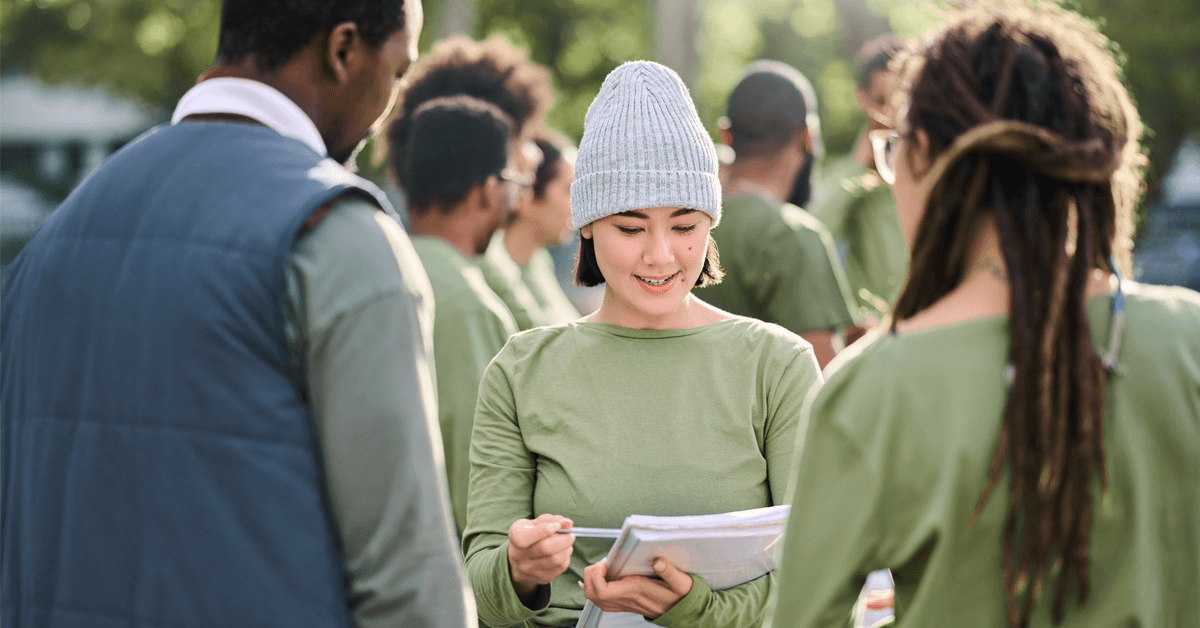 While political campaigns need donors to provide the financial resources to succeed, passionate individuals willing to volunteer their time are also valuable contributors to your campaign's success. With a solid base of volunteers, you'll have members of your community willing to knock on doors, make phone calls, raise money, and spread the word about your candidacy.
However, time is one of the most limited and valuable resources for your campaign, and your prospective and existing volunteers have busy schedules. Your recruitment strategies have to be solid to convince people that your campaign is worth the investment of their time to help you get elected.
Fortunately, your campaign can leverage proven tips to attract volunteers. Let's explore why volunteer recruitment is so important and the steps you can take to promote your campaign's volunteer program.
What is Volunteer Recruitment?
Volunteer recruitment is the process of connecting with potential volunteers and convincing them to sign up. Your volunteer recruitment process will vary based on several factors about your campaign, such as:
Location. Local volunteers are essential for connecting with voters in your community. However, remote volunteers can also be helpful for races that take place in large districts or at the statewide or national levels. These remote volunteers can organize themselves to launch their own campaigning efforts on your behalf like distributed canvassing. By offering in-person and remote volunteer opportunities, you can help increase the ways that people can get involved in your campaign.
The type of work involved. Volunteering for a political campaign often means talking to voters, whether in person or on the phone. But, there are a number of other roles that volunteers can fill that may not require talking to voters. For instance, some volunteers may help you raise money, staff your office, generate social media posts, or coordinate volunteers. All these roles are valuable to your campaign, but make sure your volunteers are comfortable with the responsibilities involved with those roles before they join in.
Training. While you always want to recruit new volunteers, experienced volunteers can help you train new volunteers and build your volunteer capacity. If you have roles on the campaigns with more responsibilities, try to recruit volunteers who have experience organizing other political campaigns to help onboard, coordinate, and train new volunteers.
What's the Importance of Volunteer Recruitment?
Whether you're a first-time candidate or campaign manager or a political campaign professional, you know that it can take a village to push your initiatives across the finish line, and volunteers are the most cost-effective option to do so. However, you can also leverage volunteer recruitment to:
Access fresh perspectives: While loyal volunteers are the backbone of your campaign, it's important to get original ideas from newcomers. Allowing new volunteers to join allows you to consider their new perspectives, improving your volunteer program's effectiveness and supporting your mission.
Maintain a robust volunteer base: As election season progresses, volunteers may have to take on more obligations at work or home and have less time for your campaign. Securing an influx of new volunteers allows you to adjust for lapsed volunteer shifts and achieve your goals.
Acquire new skills: As your organization evolves, the jobs available for your volunteers may as well. Fill any skill gaps and adapt to new trends by onboarding new volunteers to your program.
Expand networking opportunities: With more volunteers joining your campaign, the more people you can access through them. Your new volunteers can bring their own friends and family to your program and extend it even further.
But, volunteer recruitment is about more than the sheer number of people you add to your ranks. It's about recruiting a passionate and skilled group of advocates to support you in the long term. As long as you achieve that, you'll be able to power your campaign for years to come.
Getting Started: Strategies to Recruit Volunteers
Building comprehensive volunteer recruitment strategies is incredibly important for your campaign's success. By following these steps, you'll define your volunteer recruitment process, think about who could volunteer for your campaign, diversify your outreach through a multichannel approach, and understand how technology can help you simplify volunteering for your campaign.
Define Your Volunteer Recruitment Process
Having a clear and defined volunteer recruitment process will help you onboard your volunteers smoothly and lead to a better experience for them. Think through the different ways that people may get involved with your campaign and work through the follow-up process.
For instance, say someone submits a volunteer form on your campaign website – who should reach out to them to follow up and when? Can you set up an automated email that immediately shares a link to upcoming events they can attend? Or will you have someone from your campaign follow up within 24 hours to touch base with them?
Campaigns may also find new volunteers while phonebanking, canvassing, or hosting events, so make sure you develop a process to follow up with those prospective volunteers and get them plugged into the campaign.
How to Recruit Volunteers for Your Political Campaign
You may be wondering, "Where can I find volunteers to help on my campaign?" Thankfully, there are many different groups that may be able to help you out that you can reach out to directly!
Your family and friends are some of the first people you should contact for help. These individuals want to see you succeed, so they may be likely to help you get elected too (regardless of where you stand on the issues).
Local Democratic and progressive groups and committees can also be another source of valuable volunteers. Members of these groups likely align with your values, so now you just need to ask if they'd be willing to help with your campaign. Labor unions, advocacy groups, civic organizations, and other community-oriented groups can also be potential sources of volunteers. And don't forget: all these volunteers likely know other people who may want to get involved, so ask them to bring their peers next time!
In addition to directly reaching out to those groups, you should also set up a volunteer sign-up form on your website to make it easy for prospective volunteers to get involved with your campaign.
Use a Multichannel Recruitment Approach
To recruit volunteers, you need to get in touch with them. While the time leading up to and the days immediately after your campaign launch may be one of the best opportunities for attracting passionate volunteers, you can and should always be looking for ways to help scale up your volunteer program. By using a multichannel recruitment approach, you can expand the number of ways you reach out to your volunteers, hopefully leading to additional volunteers joining your campaign. Craft strategies for each of these channels that let your community know about your campaign and how they can volunteer:
Email is a tried and true recruitment tool that allows you to pack a lot of information in a digestible and convenient digital format. Promote your email newsletter on your website and construct an email list where you can provide interested supporters with information about your campaign and call on them to consider volunteering.
Phonebanking empowers your volunteers to reach other prospective volunteers wherever, whenever. Hosting a phone bank allows you to spread the word about your campaign and connect with potential volunteers. It can be more convenient for volunteers than canvassing and allows you to reach potential supporters even when they're away from home.
Social media allows you to leverage social proof, which is when people are inspired to support a cause because their loved one is. You can leverage this phenomenon by asking loyal volunteers to share your campaign posts to their networks, which not only boosts your visibility but your reputation, too. Your volunteers may also have other people in their networks who may be interested in learning more or volunteering with the campaign as well.
Canvassing allows you to have one-on-one conversations with voters and ask supporters to see if they'd be willing to volunteer for the campaign. By asking identified supporters to get involved while canvassing, your volunteers can help you build volunteer capacity for your campaign.
Hosting volunteer sign-up forms on your website can also be a valuable way to help you recruit more volunteers. Prospective supporters and volunteers may find your campaign website so you want to ensure they have a way to get involved when they're inspired to take action for your campaign.
Using Mobilize is another way to help you boost your volunteer numbers. With a volunteer network of over 5.5 million supporters, Mobilize is the destination for millions of volunteers looking to take action for campaigns and causes across the country. By sharing your events on Mobilize, you can help volunteers find an opportunity to get plugged into your campaign with user-friendly sign-up forms and help you increase your volunteer capacity heading into Election Day.
Offer Technology to Simplify Volunteering
Modern political campaigns rely on technology to reach more voters, stay organized, and allow volunteers to operate even while working on the other side of the state.
Apps like MiniVAN and OpenVPB are core tools Democratic and progressive campaigns have used to connect with their volunteers. With it, volunteers can onboard quicker, act more independently, and do more work for your campaign.
No matter how volunteers discover your campaign, make finding more information about your platform as easy as possible. Maintain a professional, user-friendly website where potential volunteers can learn exactly who they'll be supporting and what they can do to help you get elected.
Recruit Volunteers to Help Get Elected
There are hundreds of passionate advocates out there, and it's up to you to bridge the gap and connect them to your campaign. By using these top recruitment strategies, you can figure out where to find volunteers, how to reach them, and leverage their determination to get elected.