Volunteer Engagement: Strategies to Keep Supporters Involved
October 16, 2023 | Brandon Blumenherst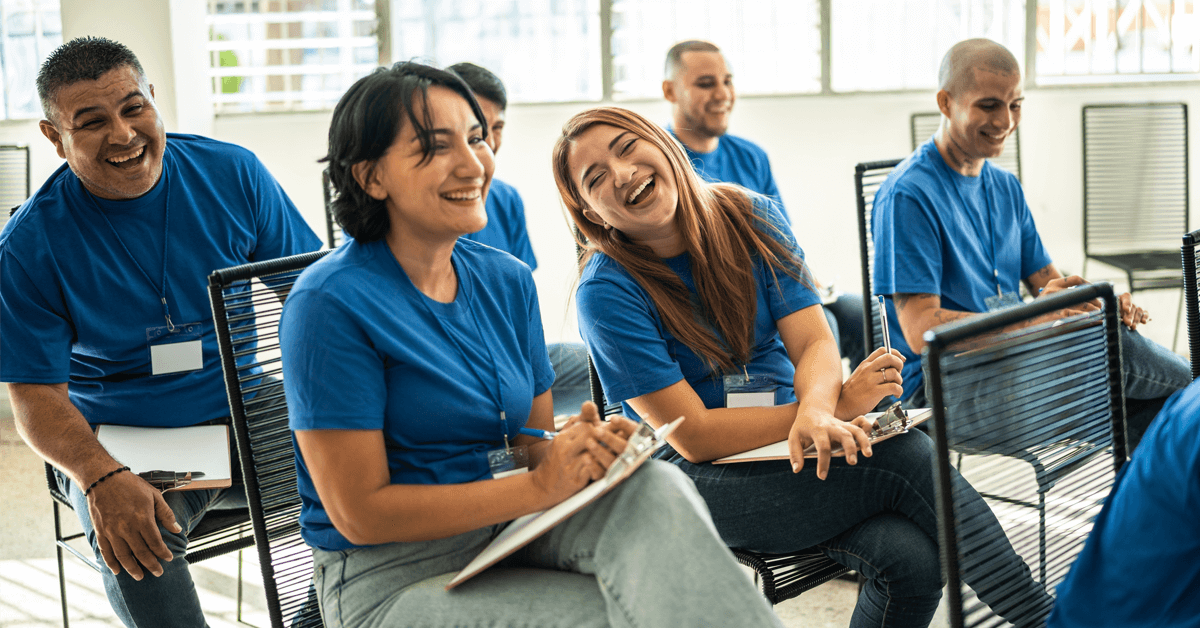 For many political campaigns, volunteer engagement can be a challenge. Enlisting volunteers to join your campaign's forces is only the first step — keeping them engaged throughout the entire election cycle and building a community of advocates is how you'll retain their long-term support. Your campaign has its own unique community, and these tips and ideas can help you engage voters who want to do more by volunteering to help you win your race.
What is Volunteer Engagement?
Volunteer engagement occurs when political campaign managers or volunteer coordinators implement initiatives and strategies to make volunteers feel more connected to their work. Volunteer engagement can look different for different campaigns based on the:
Values & Organizational Culture
Your campaign's culture should reflect your values. In other words, candidates who speak about the importance of community action, working together, and tolerance should have diverse volunteer teams who are committed to each other's success.
Type of Work
The roles and responsibilities of each volunteer can dictate their schedule, interpersonal communication, and more. Campaigns should have a variety of roles that volunteers can help with. Whether that's phonebanking, canvassing, staffing the office, entering data, or something else, each of these roles will require different levels of engagement with voters, volunteers, and other members of the campaign team.
Size and Scale
The structure and size of a campaign impacts how you build relationships and interact with volunteers. For instance, smaller, more local campaigns might offer volunteers more chances to communicate with each other on a regular basis. In contrast, larger campaigns with numerous branches may need to rely on individual groups of volunteers organizing themselves with some level of guidance from the campaign.
Demographics
The age, race, gender, and location of your community can greatly influence your volunteer engagement tactics. For instance, a campaign with a tech-savvy volunteer base might respond better to texts or digital outreach as an engagement strategy than a more traditional base who may prefer a phone call or in-person request.
Tech Stack
Campaigns that use more digital tools can support different engagement strategies than those that don't. For instance, solutions like those provided by NGP VAN allow you to make phonebanking and canvassing convenient for volunteers to take on, which makes it easier to stay engaged.
These are far from the only factors that shape volunteer engagement. Determine the best engagement strategies for your campaign by collecting volunteer feedback and staying mindful of your values and goals.
Why is Volunteer Engagement Important?
Consider the following reasons why your campaign should prioritize volunteer engagement:
Cost of retention versus recruitment: We know the easiest volunteer to schedule is the one you already have. It's far more efficient for campaigns to retain existing volunteers from one campaign to another than to spend time and money on recruiting new ones. In between and throughout election cycles, continue communicating with volunteers to maintain your relationships and increase the chances they'll sign up to help again during your next campaign. It's also helpful to keep track of these volunteers in a database like SmartVAN or VoteBuilder.
Increased knowledge: Volunteers who gain experience canvassing, phonebanking, and helping your campaign in other ways are one of your campaign's strongest resources. These volunteers can train newer recruits and leverage their skills to handle more complex tasks and potentially even become volunteer coordinators themselves.
Innovation: While your seasoned volunteers have a strong grasp of how your previous campaigns operated, it helps to get fresh ideas about how to engage voters from new volunteers with different perspectives.
Now that you understand why volunteer engagement is so crucial, let's review the steps you can use to create your own strategies.
8 Volunteer Engagement Strategy Ideas
Consider the following volunteer engagement strategies and how they could benefit your campaign:
Onboard volunteers seamlessly: Bringing new volunteers into your campaign is important to achieve your campaign goals. By providing a seamless onboarding experience, you can help ensure that volunteers will leave their first training or shift with a great impression, hopefully increasing the chance of them returning for another shift.
Leverage user-friendly technology: Using canvassing software like MiniVAN and virtual phone banking software like OpenVPB allows you to easily onboard and train new users , helping them feel more tuned into your campaign.
Provide opportunities for advancement: For your most passionate volunteers, offer opportunities for advancement to help them deepen their relationship with the campaign. For instance, you could start a program where volunteers work alongside your staff after expressing interest in taking on additional responsibilities.
Improve your volunteer thank-you efforts: Showing your appreciation for your volunteers' hard work lets them know that you care about them and value the effort they've put into your campaign. Add new elements to your approach, such as sending eCards, delivering small campaign thank-you gifts, and giving awards to standout volunteers.
Offer flexible volunteering opportunities: Get more volunteers involved by providing multiple ways to help your campaign. For instance, for remote volunteers who don't live close enough to canvass conveniently or have limited transportation options, offer volunteering options they can work on at home or online so they can easily participate from anywhere.
Provide resources to build skills over time: Giving your volunteers chances to develop their talents can help them build connections with your campaign's team and empower them to take on new roles with greater responsibility. For instance, if your organization can provide call coaching and scripts for volunteers, you can help boost their confidence and make them more effective advocates.
Recognize volunteer milestones: You can commend your volunteers for both personal and campaign milestones. For instance, you might celebrate a volunteer for completing 50 canvassing shifts for your campaign or their birthday. Celebrating these moments shows your volunteers that you care about them, both in personal and campaign settings. It's helpful to have effective volunteer management software to track and report on these milestones.
Organizing social events outside of volunteer shifts: Though bonding over your campaign can bring your volunteers together, you can make their connection even stronger by giving them the chance to get to know each other outside of the campaign. For instance, you could organize a weekly dinner after volunteer shifts, throw a holiday party, or even start interest groups such as a book club. Engagement depends on personal relationships, so empowering your volunteers to deepen their connections can make them more comfortable and effective advocates.
By incorporating these engagement strategies into your campaign plan, you can provide a more fulfilling experience for your volunteers and encourage them to sign up to help again when you're up for re-election or doing work between election cycles. Now, let's talk about how you can measure volunteer engagement on your campaign to hopefully track your improvement as you implement volunteer engagement strategies.
6 Ways to Measure Volunteer Engagement
Volunteer engagement can be difficult to measure if you aren't sure what to look for. However, here are six metrics that can be helpful in measuring the level of engagement among your volunteers.
Reshifting rates: The best time to ask your volunteers to sign up for another shift is right after they complete one. After asking how their shift went and thanking them for their help, ask them when they can volunteer again. A reshifting rate is the percentage of volunteers who make a commitment to volunteer again after completing their shift.
Retention rates: In addition to reshifting rates, retention rates are another good measure of volunteer engagement. It's the percentage of volunteers who continue to volunteer with your campaign after a set period of time (sometimes measured on a monthly or quarterly basis).
Active volunteers: This is a measure within VAN that accounts for the number of volunteers who have completed a shift within the last 30 days. Active volunteers are the lifeblood of your campaign so ideally you want this number to maintain or increase on a regular basis.
Lapsed volunteers: On the other hand, lapsed volunteers are another measure within VAN that shares the number of previously active volunteers who have not completed a shift in the past 30 days. These individuals are prime targets for outreach to check in and see if they'd be willing to volunteer again for the campaign.
Hot leads: This is another metric within VAN that measures the number of records that have been added to My Campaign in the last seven days that have not been scheduled for an event. These individuals are a prime opportunity for onboarding new volunteers and offering an exceptional first volunteer opportunity with your campaign.
Post-event feedback: While feedback is usually gathered after every shift anyways, tools like Mobilize can automate the feedback process, offering another opportunity for your volunteers to engage with your campaign. Regardless if the feedback is positive or negative, you can use this feedback to adjust your events and actions to provide a better experience for your volunteers.
All six of these metrics are helpful in measuring your volunteer engagement so you can understand the engagement level before, during, and after you implement your volunteer engagement strategies. By checking these metrics regularly, you can also take action to improve engagement (like checking in with lapsed volunteers or people who didn't sign up for another shift) if you need to.
Build Your Campaign Through Effective Volunteer Engagement
Ultimately, the strength of your volunteer engagement strategies relies on the effort you put into making your campaign community as welcoming and fulfilling as possible. By investing in your volunteers' success and satisfaction today, you can ensure a more devoted and effective campaign community in the future.