Virtual Events on Zoom: Best Practices & NGP VAN Integration
April 30, 2020 | NGP VAN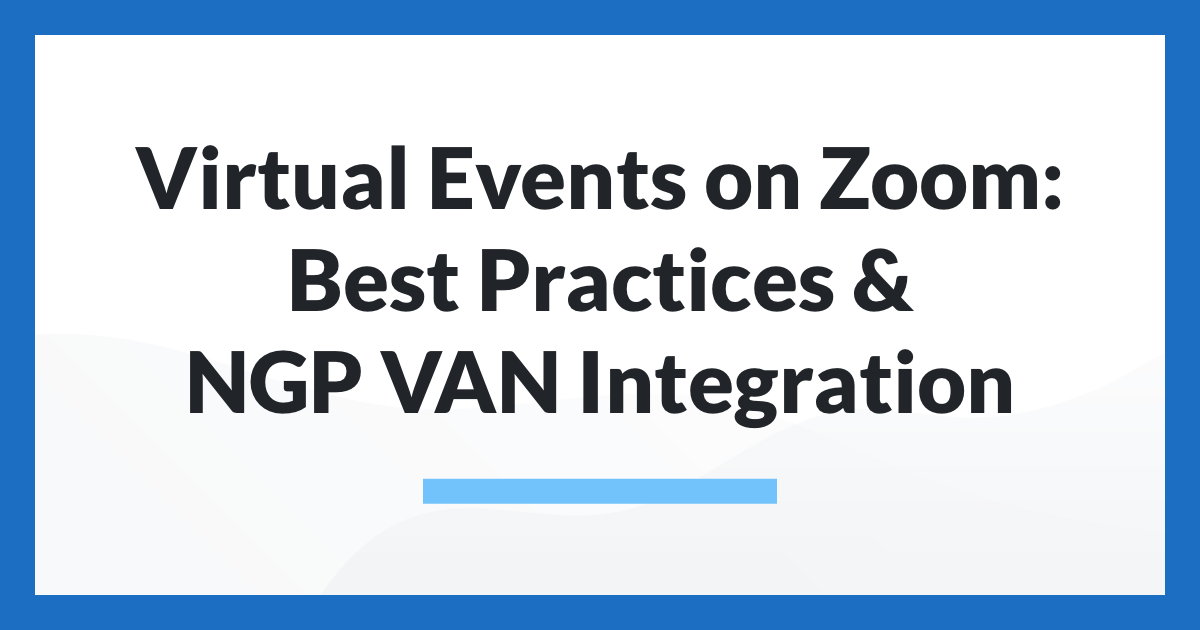 Using Zoom for everything these days? We hear you. The product team at NGP VAN has been busy building an integration to make Zoom and our event management tools work together seamlessly.
Web-conferencing software like Zoom has become one of the most effective tools for engaging with supporters. The integration is LIVE NOW, and we've got some tips to help you get the most out of all your virtual organizing, engagement, and fundraising activities.

Whether your team is already using Zoom for virtual events or you are thinking of giving it a try, there are two questions you should keep in mind when setting up your event:
How can I balance security and accessibility?
How can I ensure that data from Zoom gets into my database reliably?
_______________________________________
Balancing Security and Accessibility
There are many ways to host a secure and smooth Zoom event. Zoom has an overview of their security options and you can also dive into their security helpdocs for even more info, but we would like to highlight what we think is most important for common types of events:
Basic Security Tips:
Always require a password.
Why? Password protected events cannot be randomly found by hackers.
How? Enable it in your settings, during the creation of your meeting/webinar.
FYI: By default, the password is embedded in the join link for confirmed registrants, so they don't have to enter it manually.
Lock Participants Names.
Why? Locked names ensure that you, as the host, know who everyone is.
How? There is a setting for "allow participants to rename themselves" from the security menu when you start your Meeting/Webinar. If you turn this off when you start your meeting, then the name that your participants registered with is the name that will display throughout the meeting.
Use the Waiting Room.
Why? You can clearly spot anyone you weren't expecting before they can join the event.
How? Set this up during meeting/webinar creation.
High Security Settings:
Manually Approve Registrants.
Why? You can fully vet every registrant before they have access to the event.
Also: You have control over when you send the confirmation email. It will only go out once you approve the registration, which can be delayed until near the event to keep your meeting link secure.
How? After you create the meeting or webinar, at the bottom of the page there is a group of settings called "Registration Options" in which you can change Approval to Manual rather than Automatic.
Getting data from Zoom into your database
As your CRM and digital platform provider, data practices are near and dear to our hearts! We want to help you target your asks and grow your programs, by making sure you're capturing all the people who are engaged in your events.
Maybe it goes without saying, but employing good registration and security practices also enables good data practices. On top of the security practices mentioned, to ensure that you collect actionable data from your virtual event, you should:
Require Registration.
Why? Although it may be tempting to directly send your invitees a link to your Zoom event, requiring Zoom registration will ensure that your attendees can be easily identified. This is true for manual data processing, and it will also be required for our integration to function.
How?
How can I manage registration?

Right now, you can capture registrations by using Zoom's built-in registration forms or manually uploading registrant data to Zoom. With our integration, you'll be able to use NGP VAN's event tools and the signups will be automatically sent to Zoom.
We believe that the easiest way for you to manage registration will be with our Online Action forms, because they provide the most flexibility for branding, sharing, and data collection.
Ask for a phone number.
Why? Requiring a phone number during registration guarantees that you can track the participation of supporters who dial into your event.
How? Include phone number as a required form field on the Zoom, Online Actions or other event registration from.
Develop a consistent plan for getting data into NGP VAN.
Why? Being meticulous with your event participant data allows you to act on that data quickly and easily. You can be confident in your targeting of future invites and your history of interactions.
How? While right now this can be accomplished by bulk uploading Zoom Webinar Report data to your database, once the integration is enabled, Registrations and Attendance will automatically sync from Zoom for both Webinars and Meetings. This syncing, paired with the other best practices above, will outperform what you can do manually, take less time, and decrease the amount of duplicate or unloadable data.
Looking forward to the integration? Here is a quick summary of what it will offer:
Linking Zoom Meetings and Webinars to events in the NGP VAN platform, which enables:
Syncing Zoom Registrations with NGP VAN Event Signups
Tracking attendance at your Zoom event automatically (like a virtual attendee check-in!)
Backfilling NGP VAN Events with registrations and attendance from Zoom meetings and webinars that have already occurred
Ready to get started? Reach out to your Account Executive. Need more info? Send us an email at community@ngpvan.com
We're excited to hear about all the ways you use Zoom in tandem with our platform to grow your programs during social distancing. Please don't hesitate to share the successes and ideas you have as you fight the good fight with our tools. You can reach us at @NGPVAN on Twitter, or email us at community@ngpvan.com.