10 Political Fundraising Ideas for Your Campaign
July 24, 2023 | Brandon Blumenherst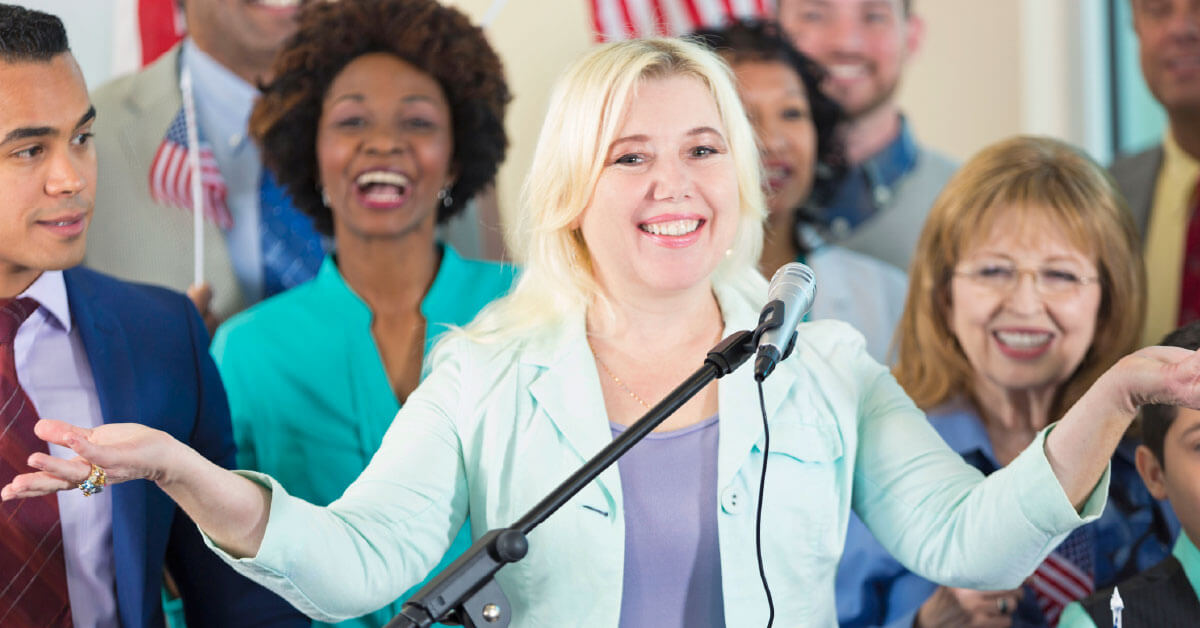 Looking for exciting political fundraising ideas for your campaign? Want to raise more money and reach your fundraising goals? Look no further! We've got a fantastic list of 10 ideas that will help you set your campaign up for success!
1. Fundraising Events for Your Political Campaign
When most people think of political fundraising ideas, they usually think about hosting fundraising events. Events are designed to help campaigns raise money, expand their donor networks, and hone fundraising messaging to resonate with other potential donors. These events can vary in size and scope from extravagant galas with special guests and silent auctions to simple happy hour fundraisers or backyard barbecues.
Similarly, ticket prices to these events can vary widely – from maximum contribution limits to whatever amount donors can chip in. It's typically best practice to set a fundraising goal for every event, estimate the number of attendees you expect, and set your ticket prices or donation amounts accordingly to hit your goal. But even within fundraising events overall, there are different ideas you could use to help boost your fundraising totals.
Political Campaign Event Ideas
Whether you're hosting a traditional campaign fundraiser at a supporter's house or local bar, a karaoke night, or a Virtual Princess Bride Reunion, there's simply no shortage of political campaign fundraising ideas. Nearly any event can become a fundraiser for your campaign, but these are typically split into two different categories:: in-person and virtual events.
In-Person Events
In-person fundraising events continue to serve as a part of many campaigns' finance plans. These events typically require more planning and last longer than virtual events, but they are also a valuable way to expand your donor list and raise more money with donors you may not have connected with otherwise. As we mentioned previously, nearly any event can become a campaign fundraiser. From 5K runs to bar crawls to extravagant soirees, in-person events can take many forms and also raise varying amounts of money.
Regardless of what form the in-person event takes, you'll want to work through the logistics of the event well in advance of when it takes place. How will people check in at the venue? Can people only pay online in advance or will you need a cash box to accept cash and check donations the day of the event? What type of food (if any) will be served and what drinks will be available for attendees?
Some campaigns will ask for a volunteer to serve as an event planner or even pay for a professional event planner and other campaign staff to help answer these types of questions and help coordinate fundraising events to set themselves up for success. In addition to in-person events, you could also consider hosting a virtual event to raise money for your campaign.
Virtual Events
Even prior to the pandemic when we saw a surge of virtual events and initiatives for obvious reasons, virtual fundraising events were prevalent to help raise money for campaigns across the country. These events are valuable, particularly for races that have supporters in different geographic locations. For instance, some candidates may receive support from different regions of a state if they're in a highly competitive race or if they're originally from a different part of the state. Virtual events can help connect supporters to campaigns regardless of where they are.
While these events can sometimes require less planning, there are still technical details and requirements that need to be taken care of for the event to be successful. For instance, who will be speaking and when? How and when will attendees receive a link to the video call? How long will the event last? Planning these events in advance and figuring out those logistics early will help your virtual event go smoothly, hopefully leading to an efficient and effective fundraiser for your campaign.
Lastly, ensure that you're following relevant campaign finance laws at all your campaign fundraising events (whether in-person or virtual) to prevent any campaign finance violations and hefty fines associated with them.
2. Use Call Time to Kick-Start Your Political Fundraising
Call time is a tried-and-true way to raise a significant amount of money for your campaign. Not to mention that it's easy and inexpensive to start. While you want to create a script that explains why donors should give to your campaign, you can simply start with a list of donors with their contact information and an ask amount attached to each donor's name. You'll then call through this list of donors hoping to connect with these potential donors and convince them to give to your campaign.
However, as you begin calling through that list of donors multiple times, you'll quickly understand why it's worth investing in a dedicated fundraising and compliance software to track attempted contacts, giving history, pledges, fundraising progress, and more to help make outreach even more effective in the future. It's an added bonus if that software also has a dedicated call time solution (like Call Time Mobile) that can make it easier for candidates and campaigns to reach out to donors and follow up on their contacts.
However, if they don't answer your phone call, try a different outreach method to increase your odds of connecting with them and securing a donation.
3. Engage with Donors through Multichannel Outreach
Multichannel outreach is an impactful way to diversify your fundraising efforts to meet donors where they are and encourage them to donate to your campaign. As an example, some donors may not receive an email or see a digital ad, but they'd be willing to donate if you give them a call or send them something in the mail. If you can't connect with a donor through one communication channel, try another. As you track your fundraising efforts and which channels they're made through, you can optimize your outreach to more efficiently reach your donors and supporters to generate more donations in the future. You could also engage with those donors through their preferred channels and execute the next fundraising tactic on our list of political fundraising ideas!
4. Call on Your Supporters to Ask Their Peers to Donate
In a similar manner to peer-to-peer fundraising in the nonprofit space, asking your supporters to reach out to their peers to try and generate additional donations can be a helpful way to build your donor network and raise money. Your supporters likely know others in their communities who would be willing to give to your campaign, but they may not reach out to them initially. By encouraging them to do so, you can potentially gain new supporters that may give multiple times over the course of the election cycle.
5. Mention Specific Items or Activities During Donor Outreach
Donors are driven to give for different reasons. They may give to your campaign because you're related to them or they share the same values as you. However, some donors want to know what their money will be used for. Whether it's a tangible item (like yard signs or campaign literature) or something else (like digital ads that will be seen by thousands of targeted voters), some donors may want to connect their donation to something that will benefit the campaign. When you're creating your campaign finance plan and budget, you should detail many of these types of expenses that you can also use in your conversations with donors. If you need to raise $1,000 for enough campaign literature to get through your campaign, use that number or any other expenses in your conversations with donors.
6. Discover Political Campaign Fundraising Insights with Donor Target Scores and Reports
With Donor Target Scores and Reports, NGP models a contact's likelihood to donate and giving potential specifically for your campaign. These two scores are then combined into a Suggested Fundraising Effort, a measure that can help you prioritize your donor outreach from those who are the most likely to give and have the highest capacity to give ($$$$) to those who are the least likely to give and have the lowest capacity to give ($). Donor Target Reports also allow you to easily identify prospective donors, donors who gave this cycle but could be asked again, and those who gave last cycle but have not given this cycle. By using these two powerful innovations in NGP, you can easily gain more insight and act on those insights to help raise more money for your campaign.
7. Secure Endorsements from PACs or Labor Unions
Some PACs and labor unions offer financial support to their endorsed candidates in both primary and general elections. While being endorsed by these groups does not guarantee a contribution, some of them do give to some or all the candidates they want to win. These groups both typically have formal endorsement procedures that must be followed before any financial contributions can be made. Follow those procedures and make the case as to why you're the best candidate for the job. These organizations will then typically send you a notice if you've been endorsed, which may sometimes include a check to your campaign.
8. Ask Donors to Give to a Matching Fund
Find a few donors who are willing to contribute to a matching fund. To be clear, these matching fund donors are simply contributing to your campaigns as individuals. However, some donors may be more willing to donate to your campaign if someone else is donating as well, doubling the amount of money given to the campaign overall.
9. Experiment with Digital Advertising to Acquire or Engage with New and Existing Supporters
Digital advertising can also offer another avenue to acquire new donors or engage with existing supporters to raise more money. By using data from NGP, you can use your supporters' email addresses for retargeting, lookalike, or suppression purposes on Facebook to easily target customized ads for your supporters online. You can also easily track ROI and pull customizable reports to measure your fundraising progress through your digital fundraising campaigns.
10. Encourage Donors to Give Again
Asking your existing donors to give again is another great way to help raise more money for your campaign. Your supporters don't need to be convinced to support your campaign again, but they do need to be asked to give again. Make sure to thank them for their support so far during the campaign, explain that you still need to raise more money to hit your fundraising goals, and ask them to give again.
After reading through this list of political fundraising ideas, determine which ones you think you could execute for your campaign and start planning them. Early planning can be critical to your fundraising success.
Happy Fundraising!
We know fundraising for your political campaign can be challenging (especially for first-time candidates), but by using some of the political fundraising ideas we shared in this blog, you should be able to start raising money in no time. Want to learn more about political fundraising for your campaign? Book a consultation to learn how NGP VAN can help!