How to Plan Your Political Virtual Event
October 26, 2023 | Brandon Blumenherst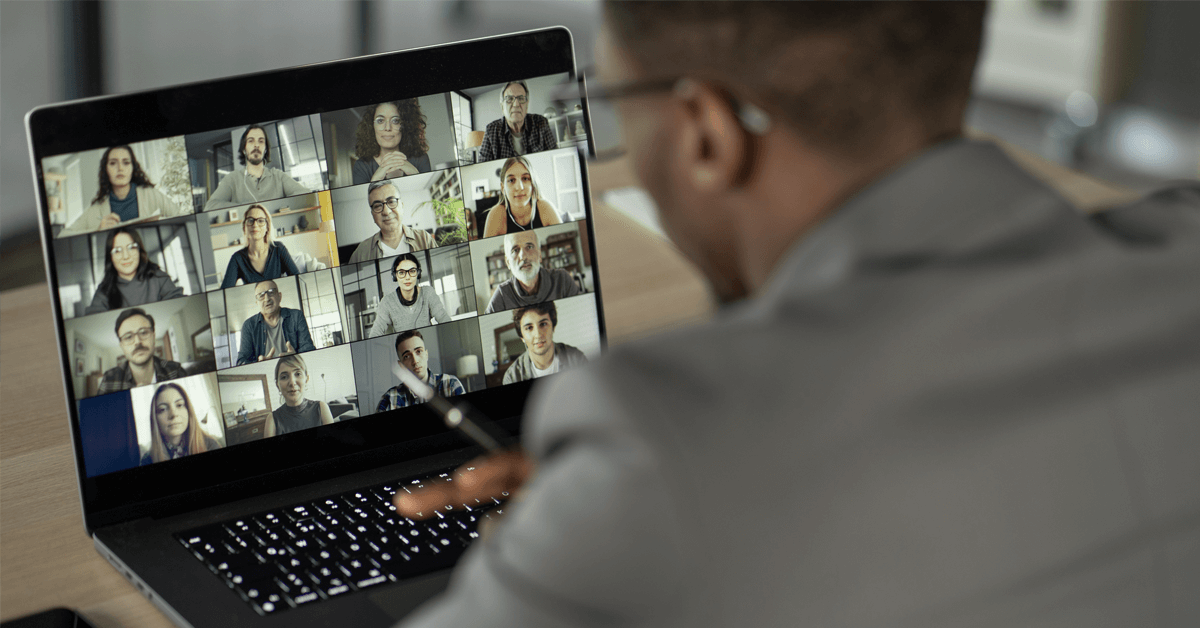 Political campaigns rely on getting to know supporters on a personal level, and building those connections is much easier face-to-face. As part of a well-rounded communication strategy, campaign events give your community the chance to get to know your candidate and allow your staff to foster relationships with donors and supporters.
These benefits aren't limited to in-person events – in recent years, virtual events have become some of the most effective tools for engaging supporters. This article walks through the key aspects of virtual event planning that your Democratic or progressive campaign can use to successfully set up and host your virtual event.
How Do Virtual Events Work?
Virtual campaign events can work in a variety of ways, as long as they take place online rather than in person. Organizers host these events using a dedicated event platform or free or low-cost web conferencing software like Zoom. Virtual events can take the form of livestreams, webinars, community discussions, and more. Many types of political events can be run virtually, such as:
While these events may look different online than they do in person, they can still be highly successful ways to engage donors, voters, and supporters.
Benefits of Hosting Virtual Events
Adding virtual events to your campaign's digital strategy allows you to easily connect with voters, donors, and volunteers face-to-face without asking too much of supporters or breaking your budget. Virtual events can offer the following benefits for campaigns like yours:
Increased Accessibility and Higher Turnout
Guests can join virtual events from their homes or on the go, which makes it easier for them to attend and increases the likelihood that you can hit your attendance goals. Other accessibility features like live captions and the ability to increase screen size make virtual events even more inclusive.
Cost-Effective and Easy to Host
Virtual events often require fewer resources, fewer volunteers, and lower costs than in-person events. Your staff doesn't have to worry about typical expenses like catering and venue rental, and there's much less setup needed for virtual events.
Chance to Collect Actionable Data
Virtual event platforms allow you to easily collect participant data which you can use to personalize future communications. With this donor and voter data, you can be confident in targeting emails and invites based on their past event attendance.
Additionally, virtual events don't have to exist in a vacuum. If you create a varied event schedule for your campaign that includes both in-person, hybrid, and online events, your virtual events will add more touchpoints that help you build relationships with supporters throughout your campaign.
How to Plan a Virtual Event
Virtual event planning often isn't as complex as planning an in-person or hybrid event. Navigate the planning process by following these four steps:
Determine Your Target Audience and Goals
Start by deciding exactly who you want to attend your virtual campaign event. This could be prospective or existing donors, voters, volunteers, or other community members. Then, set goals for registration, attendance, or fundraising revenue. However, because there's no need to travel to a virtual event, you can expand your audience beyond your local supporters to help advance toward your goals more effectively.
Building Your Virtual Event Audience
With virtual events, people can join from anywhere as long as they have internet access, greatly expanding the number of attendees who could attend your event. For example, there may be people who are interested in helping another democrat get elected into the state legislature, but they may not be able to attend an in-person fundraiser or event because of their distance to your district. Or you may have a group of supporters in your hometown or in a different state who wouldn't be able to attend an in-person event either. Hosting a virtual event can get supporters involved in your campaign from outside your local areas.
Decide What Type of Event to Host
Choose an event that will support both your campaign's goals and your audience's interests. Use the donor engagement data you've collected already to determine what might interest them, or send out a quick survey to gauge their preferences. If you discover that key donors have enjoyed hearing from other elected officials from around your state, think about asking an elected official to serve as your guest speaker for an upcoming virtual event. Because it's hosted online, they can join from wherever they are, requiring less coordination, travel, and effort from your campaign and theirs.
Choose a Virtual Event Platform to Use
Where will you host your virtual event? Consider free or low-cost tools like Zoom and more robust software that includes features like automated fundraising thermometers or built-in reporting dashboards. Evaluate your budget, existing technology, and any must-have features to help you make your decision.
Plan Your Event's Schedule
Once you have the infrastructure in place, you can plan the event's activities. Remember that virtual guests may have more limited attention spans than in-person ones, so plan a series of engaging activities that will hold their attention without taking up too much of their time.
After planning the event itself, determine how you'll promote it. Choose a variety of channels to advertise your event on, such as email, social media, and direct mail. Then, use audience targeting strategies to get your promotions in front of the right people through a multichannel approach.
3 Tips for Successful Virtual Event Planning
No matter what type of virtual event you're planning, the following tips will help you get the most out of all your virtual organizing, engagement, and fundraising activities:
1. Plan Multiple Ways to Engage Guests
Virtual events can seem more restrictive in terms of activities since guests aren't in the same room together. However, that just makes it more important to provide plenty of opportunities for attendees to play an active role in the event.
Engaging, interactive elements you can add to your virtual events include:
Question & answer sessions: Whether you're hosting a webinar, press conference, or fundraising event, letting guests ask questions via chat or the hand-raise function gives them the chance to personally interact with your candidate.
Breakout rooms for mingling: Zoom breakout rooms at the beginning or end of events provide space for guests to mingle, network, and discuss your campaign with each other.
Fundraising gamification: If you're raising funds at the event, simply displaying a live fundraising thermometer or leaderboard on screen can help guests stay engaged and excited to participate.
Virtual event planning offers plenty of ways to creatively engage your supporters, as long as you have the right tools. For additional ideas, look to virtual events hosted by other campaigns and causes.
2. Prioritize Online Security
There are many ways to host a secure virtual event, whether you use event software or a web conferencing tool. Follow these best practices to ensure the safety of your campaign staff and your guests:
Always require a password: Password-protected events cannot be found by hackers. Make sure to enable password protection in your settings when you create and schedule the event. By default, the password is often embedded in the join link for confirmed registrants, so they don't have to enter it manually.
Use the waiting room: Waiting rooms allow you to identify and remove anyone who isn't registered for the event.
Manually approve registrants: You can fully vet every registrant before they have access to the event. You even have control over when you send the confirmation email. It will only go out once you approve the registration, which can be delayed until near the event to keep your meeting link secure.
Lock participants' names: Locked names ensure that you, as the host, know who everyone is and that no one can change their name during the event. The name that your participants registered with is the name that will be displayed throughout the event.
Although it may be tempting to directly send your invitees a link to your event, requiring registration will keep the event secure by ensuring that your attendees can be easily identified. Additionally, requiring a phone number on your registration form guarantees that you can identify and track supporters who dial into your event.
If you use Zoom, you can capture registrations by using Zoom's built-in registration forms, manually uploading registrant data to Zoom, or using a virtual event planning tool that integrates with Zoom to upload data automatically, like NGP's Event Management feature.
3. Use a Virtual Event Planning Tool that Integrates with Zoom
One of the benefits of hosting virtual campaign events is the supporter data you can collect and use to build stronger relationships. You can simplify this data collection and streamline your virtual events by using event planning software that integrates with Zoom.
For instance, NGP's Event Management feature provides Democratic and progressive campaigns with a variety of in-person and virtual event planning capabilities, including a Zoom integration.
Manage event registration with Online Actions forms, which offer flexibility for branding, sharing, and data collection. Then, by linking Zoom meetings and webinars to events in NGP, the integration enables three key actions:
The platform automatically sends signups from NGP registration forms to Zoom.
Event Management automatically syncs Zoom attendance data with NGP.
The integration backfills NGP events with registrations and attendance from Zoom meetings and webinars that have already occurred.
This syncing will outperform what you can do manually, take less time, and decrease the amount of duplicate or unloadable data you collect from your events.
Get Started with NGP VAN's Event Management with Zoom
NGP's Event Management feature and Zoom work together seamlessly to ensure you can host impactful campaign events and collect actionable data. Ready to see what our event planning tools can do for you? Schedule a demo to learn more about how NGP VAN software can help you engage supporters.