Distributed organizing for campaigns and organizations
April 27, 2023 | Brandon Blumenherst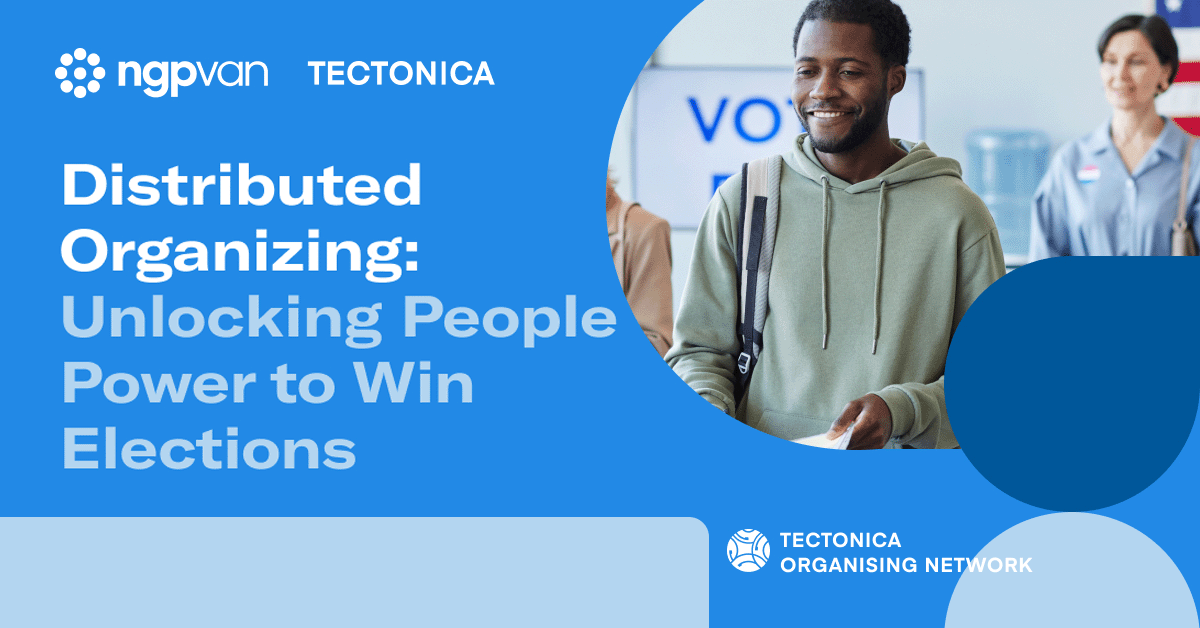 As campaigns and organizations decide how they plan to organize for upcoming elections, several of them may choose to use an organizing strategy known as distributed organizing to unlock people power to win elections everywhere. In addition to our webinar with Tectonica (which you can view below), in this blog, we will dive into what distributed organizing is, whether you should use it for your campaign or organization, the tools that support it, and how it can help you get out the vote to win elections for campaigns and causes up and down the ballot.
What is distributed organizing?
Distributed organizing is one way to tap into a deeply powerful and fundamentally democratic force: people power. Here are a few ways it differs from traditional organizing.
It has the potential for scale.

Organizing efforts can eventually self-scale after an initial investment from the campaign in developing volunteer leaders who can help tap into their own networks to bring in new volunteers.

It has the potential to shift power from elites to communities.

Candidates and causes are rooted in their communities through distributed organizing efforts, allowing them to be more accessible and focused on the needs of their communities.

It reaches more deeply into communities beyond traditional messaging and persuasion communications.

Many times, campaigns and organizations place staffers into communities that aren't familiar to them. But, the participation of local supporters in a distributed organizing program allows connection to their own communities.

Supporters bring their full potential to the strategic capacity of the campaign.

Groups can develop their own strategy, content, and issues, fine-tuning messaging and delivery through those who are already organizing in those communities.

Campaigns with supporter participation and ownership are more protected from the common attacks of distrust.

It's easier to discredit a candidate or cause standing alone. Having supporters defend your candidate or cause online and offline is one of the best ways to combat misinformation and reinforce that your candidate or cause is supported by others in the community.

It can help inform the campaign's direction and strategy.

Local supporters can highlight emerging issues that a campaign needs to address, and provide local input that can help inform and influence the response to the issue at hand.
While distributed organizing offers several benefits to campaigns and organizations who choose to use it, it's not for everyone.
Should you use distributed organizing to advance your campaign or cause?
While distributed organizing is an effective way to organize for change, it's not for every campaign or cause. Here are a few questions you should consider when determining if you should use it.
Is it central to your strategy?

Many campaigns can achieve their goals without implementing a distributed organizing program. If it's not central to you strategy, you may not be able to adequately communicate with your supporters about why they need to get involved.

Is your community behind you?

Distributed organizing is only possible with active and engaged supporters. While you certainly want to grow your supporter base, you need to start with substantial support for your distributed organizing program to take hold and flourish.

Are you willing to cede power and take risks?

Distributed organizing is, to a certain extent, decentralized in its leadership and execution. It cedes power and requires campaigns to take certain risks. If you're not comfortable with taking some risks for potential rewards, distributed organizing may not be for your campaign.
After you decide that distributed organizing is the best approach for your campaign, you'll want to find the best software available to support your organizing efforts.
What software supports distributed organizing?
NGP VAN and Mobilize offer powerful workflows and features that can help support your distributed organizing program. NGP VAN offers organizing tools in VAN and SmartVAN that make it easy to build voter outreach programs through phone banking and canvassing for your campaign or organization. And with built-in features and automations that help increase and maintain engagement with your volunteers and recruit more of them, Mobilize is an impactful platform that can help you take your distributed organizing efforts to the next level.
NGP VAN
NGP VAN software also supports distributed organizing activities like phone banking and canvassing. With our Open Virtual Phone Banks (OpenVPB), you can easily cut a list of targeted voters in VAN or SmartVAN, create your script, and send it to your volunteers to start contacting voters or volunteers. Distributed Contacts Campaigns in VAN and SmartVAN completely automate the turf cutting process, saving hours of valuable time for campaign staff and allowing increased flexibility for volunteers. All you need to do is set your universe and the number of doors you want volunteers to knock, and MiniVAN will do the rest. Volunteers will enter the list number, and MiniVAN will select the doors closest to them. While Open Virtual Phone Banks and Distributed Contacts Campaigns are two of the most prominent features that support distributed organizing efforts, you can also easily pull reports, share saved searches, set up distributed fundraising programs, and more through NGP VAN software to further expand your distributed organizing efforts.
Mobilize
Mobilize, our events management and volunteer recruitment platform, makes it easy to support distributed organizing groups in your community or across the country. By offering a full range of event types (like canvassing and phone banking) and online actions (like signing petitions or communicating directly with elected officials), Mobilize can empower your volunteers to host events or actions on behalf of your campaign or organization. Through supporter-hosted events, hosts can expand the geographic reach of your campaign or organization and offer a low barrier to entry for prospective volunteers. Distributed groups are also supported by Mobilize, allowing local hosts to create and cultivate local chapters to take action across the country.
And most importantly, Mobilize offers built-in features and automations that can increase your event RSVPs by up to 40%!
How can distributed organizing help mobilize voters and get out the vote?
Executing an effective distributed organizing program will allow your campaign or organization to identify supporters and volunteers and mobilize them to take action. Ideally, you will have planned for and built a sustainable and independent operation that can help propel your campaign leading up to Election Day. In the last few weeks before the election, your distributed organizing program will be instrumental in your campaign's final GOTV efforts, contacting identified supporters to vote to support the change they want to see in their community.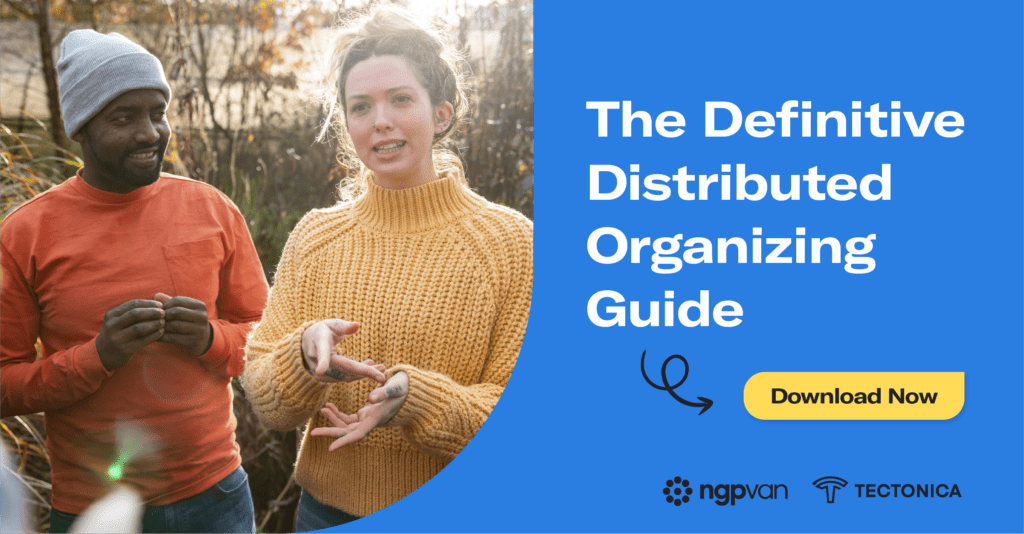 Additional Resources
Want to learn more about how NGP VAN software can support your campaign? Here are a few additional resources to help you manage your canvassers, recruit more volunteers, and win your race!