What is Political Canvassing? A Comprehensive Guide
July 3, 2023 | Brandon Blumenherst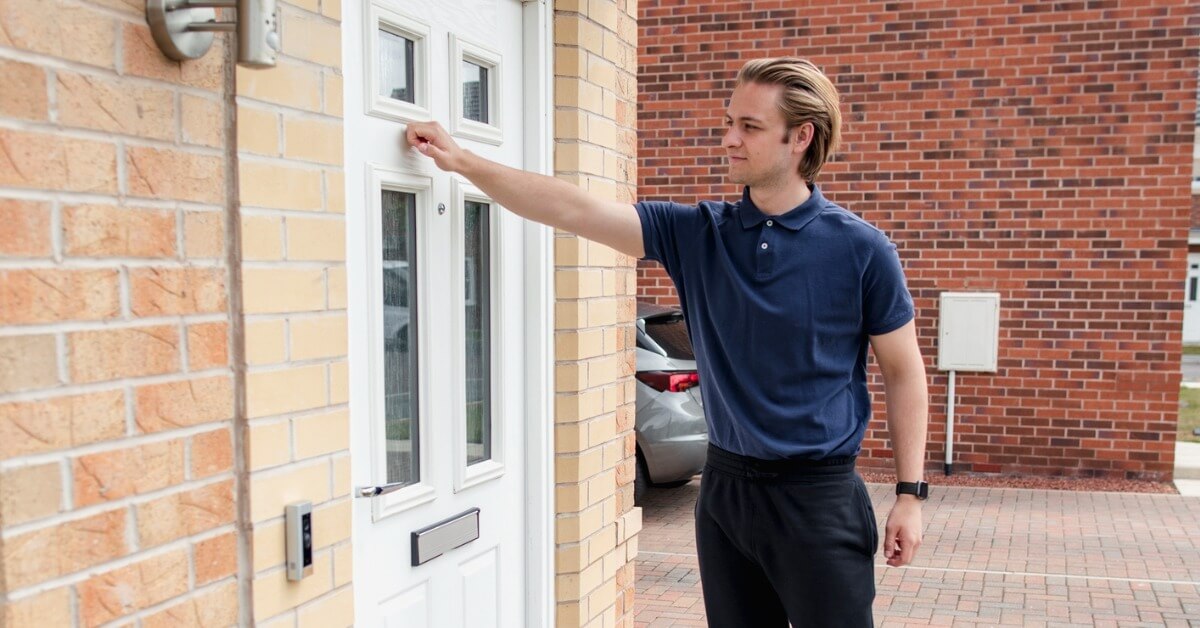 Political campaign managers know that elections are won and lost based on how well their candidate is able to connect with voters. One time-tested strategy campaigns can use to form one-on-one connections with voters is canvassing.
Whether your campaign uses a canvassing app like MiniVAN or paper lists and clipboards, this guide will explain the basics of political canvassing, share tips for your next canvassing campaign, and discuss need-to-know laws to ensure your campaign maintains compliance. Let's get started!
Defining Political Canvassing
Political canvassing is the act of surveying voters in a given political district to ask about their voting plans in an upcoming election. It's an awareness-building and information gathering strategy launched to inform voters about upcoming elections, convince undecided voters to support a specific candidate, encourage voter registration, and mobilize supportive voters to get out and vote.
In the past, canvassing was traditionally conducted by volunteers going door-to-door with pens and clipboards. However, advances in advocacy software have made it possible for volunteers to canvass and record information in MiniVAN.
When Does Canvassing Typically Happen?
Canvassing usually begins several months before an election, with activities ramping up about two months before the election. During the first few months, canvassing campaigns generally focus on information gathering and encouraging voter registration. Being mindful of voter registration deadlines ensures the unregistered voters your volunteers talk to will have plenty of time to sign up to vote. Here are some of the phases that campaigns use to structure their canvassing operations around:
Voter Identification
During initial outreach to voters, campaigns usually have targeted universes (or groups) of voters that they have identified that they need to support their campaign to win. Initial outreach to these voters usually involves asking what issues are important to them and then attempting to match those important issues to where their candidate stands on the issue. Questions can be helpful when targeting voter outreach in the future, so it's helpful to log this information into a centralized database. After discussing the important issues, volunteers will then ask if voters plan to vote for the candidate. By logging these responses from voters, campaigns can conduct more targeted outreach in the future.
Mobilize for Early Voting
Once early voting begins, campaigns typically focus on mobilizing their identified and likely supporters to vote early. Campaigns want to mobilize supporters early because they can score votes for their campaign, remove those voters from contact lists to focus on voters who haven't voted yet, and ask those supporters to help get out the vote for the campaign.
Get Out The Vote (GOTV)
The final stretch of mobilizing voters is called get out the vote (or GOTV). During this time, campaigns only focus on mobilizing their supporters to get out and vote. While there still will be a push to get them to vote early, these conversations with voters will typically center around how people plan to vote on Election Day.
Before launching your canvassing operations, you'll want to build your field plan. A field plan includes the voter outreach strategies you intend to use – such as canvassing and phone banking – to identify potential voters, mobilize supporters, and recruit volunteers. The main goal of your field plan is to organize and energize the voters you need to win your election through multiple outreach channels. For example, your field plan might focus on targeting undecided voters through door-to-door canvassing or energizing your own base with peer-to-peer texting. However, you will want to use as many outreach channels as possible to gather information from voters to act on in the future.
Campaign Canvassing Benefits
While canvassing is a time-consuming activity, it provides a number of benefits to campaigns through face-to-face conversations with voters and speaking directly to voters' concerns.
Raises Awareness of Your Candidate
Studies have found that door-to-door canvassing can raise voter turnout by 6%, which, given how close many elections are, can be the determining factor in your candidate's victory. This is especially true for midterm elections, which tend to have lower voter turnout and are not as heavily promoted in the media.
By speaking with voters directly, you increase awareness about your candidate and what they stand for. Not only will you reach the voters you speak to, but also anyone in their personal network they might talk to about your campaign.
Builds a Support Network
Canvassing is about understanding the general political attitudes in a community. When surveying voters, you can explain the details of your campaign, share your research on their community, and persuade them to help make a difference by supporting your cause. Along with voting, supporters can also help by donating, sharing information about your campaign with others, and even becoming volunteers themselves.
When establishing your field plan, you will want to know how many voters you need to convince based on your win number compared to the likely and identified supporters you need to motivate to get out and vote. You'll also want to consider which voters are likely to be persuaded by your canvassers and how they might help you in return. Persuadable voters can generally be sorted into three political persuasion groups:
People who don't know about your campaign. Voters who are not aware of the election or have yet to research candidates are often the most persuadable by canvassers. Ensure your volunteers have plenty of educational materials on hand and can talk about how to get registered to vote.
Members of another political party. While many members of the opposite political party may be uninterested in supporting your candidate, some of them may be unhappy with the current direction of their party. Having a polite, open conversation with these voters can sometimes be enough to persuade them to try voting for a different party.
People who are unlikely to support your campaign. Some voters are unlikely to support your candidate for other reasons. These are often voters who care specifically about one issue your candidate has an opposing view on. However, that doesn't mean they aren't worth targeting. When approaching these voters, consider what other approach you can take, such as discussing the candidate's other policy views or asking open-ended questions about the issue in question to politely attempt to change their minds.
Additionally, don't forget about your own base who already supports your candidate. Galvanizing these voters by emphasizing the importance of the election or the closeness of the race can motivate them to get to the polls.
Demonstrates Your Organization's Commitment & Dedication
Part of a political campaign is demonstrating your candidate's commitment to voters' communities and determination to make a difference. With canvassing, highly motivated volunteers who are happy to talk about upcoming elections and policy issues show voters that your candidate is running a dynamic, committed campaign.
High volunteer activity may also shape voters' perceptions of which candidate is likely to win. After all, if an undecided voter only gets canvassed by volunteers for one candidate, they may be more likely to vote for that candidate than the one they haven't heard about.
Canvassing Tips
If you're preparing to launch your first canvass, here are a few tips you should consider.
Train Your Volunteers
Your canvassers represent your organization, and how they conduct themselves will directly impact how voters feel about your cause. Even the most passionate volunteers need guidance to ensure they hit the major talking points you want to share with voters and are able to start conversations that will lead to support.
You can prepare your volunteers by:
Hosting onboarding sessions. Before sending your volunteers to voters' doors, gather them together to host training sessions. These training sessions can be conducted online or in person based on your volunteers' availability. Regardless of their format, use these sessions as an opportunity to answer volunteers' questions, instruct them on proper canvassing procedures, and encourage them to connect with other volunteers.
Preparing scripts. While canvassing, volunteers will likely have similar conversations with most voters. Prepare them for common questions and talking points by creating canvassing scripts. These scripts should aim to help volunteers guide the conversation and provide reminders of facts and statistics they should share. Of course, encourage your volunteers to improvise as needed to hold meaningful conversations with voters.
Directing them to follow canvassing laws. Look up local and state laws surrounding canvassing for your area, and relay relevant ones to your volunteers. This should include both straightforward laws, like avoiding homes with a "No Trespassing" sign, as well as general policies that improve legal safety, such as backing off if a voter makes it clear that they do not wish to be canvassed.
Additionally, if a situation arises that volunteers cannot resolve on their own, ensure they know who to contact at your organization. Volunteers should have a staff member's phone number in case of emergencies. Whether it is a technical or safety issue, an open line of communication is critical in ensuring everyone feels included and safe.
Assign Canvassers to Their Communities
Canvassing is at its most effective when your volunteers are able to build meaningful relationships with voters. You may increase the odds that voters will speak with your canvassers if your volunteers are familiar with or from the area they're canvassing. Your volunteers will likely be more comfortable with these areas, and voters may be more likely to talk to someone they already know or have seen in their neighborhood.
This strategy can also more easily lead to deep canvassing, which is the process of forging connections with voters in the brief moments your volunteers talk with them. Essentially, deep canvassing requires creating an open space where voters feel comfortable sharing their thoughts on your cause.
Teach your volunteers how to build this type of environment by being active listeners, asking open-ended questions, and working with voters to find common ground. While any dedicated, sociable volunteer can do this, the process is smoother when your canvasser already knows the voters they're engaging with.
Show All Voters Appreciation
Regardless of whether a conversation went well or not, direct your volunteers to thank voters for their time. They didn't have to answer their door, but they chose to come out and hear what a volunteer had to say. While it's a simple strategy, being polite and showing gratitude leaves voters with a positive impression of your cause and organization.
Use Canvassing Software
While clipboards, pens, and paper are traditional canvassing tools, they do come with their drawbacks. It can be difficult to read volunteers' handwriting and time-consuming to enter pages of voter data. You also risk losing voter information if a list is lost or damaged. This is why many political campaigns now use canvassing software.
One of the top canvassing apps is MiniVAN with use rates of over 90% in January of 2020 during the presidential primary. MiniVAN is trusted by so many progressive and Democratic campaigns for good reason, powering canvassers with the following features and improvements:
We built out the Create an ActionID workflow on the app, which means canvassers don't need a user account to access the app.
We improved the user experience (UX) in the app, including adding features like auto-sync, optimized routing, jobs sorting, and team canvassing.
We updated the experience for organizers launching canvasses to improve our suite of campaign management tools, including Turf Manager, MiniVAN Campaigns, and MiniVAN Manager.
We got buy-in from the people actually using MiniVAN, which sometimes meant heading off to a field office to help launch MiniVAN canvasses ourselves!
We credit all aspects of this work—the close campaign collaboration, the updates, and the best practice documentation—with helping increase MiniVAN usage. Moving forward, we plan to continue updating MiniVAN with easier downloading, improved screen-switching, in-app training, and an easy-to-navigate user experience.
Is Political Canvassing Legal?
Yes, political canvassing is legal for most organizations. Be mindful that some groups, such as nonprofit organizations, do have restrictions on their ability to endorse political candidates and partisan legislation. It's ultimately up to each organization to understand relevant election laws pertaining to what they can and cannot do.
Before launching your canvassing operations, check your local laws for information on running a canvassing campaign. Occasionally, police unfamiliar with canvassing laws stop volunteers or mistake them for solicitors. Ensure your canvassers have the proper knowledge to follow local regulations and politely explain their purpose if the need arises. If the situation becomes too tense, it's usually best to leave and contact the campaign to let them know what happened.
While local laws vary, the following laws will apply to most canvassing campaigns:
Avoid Putting Campaign Leaflets & Other Materials in Mailboxes
During volunteer onboarding, go over where to leave campaign literature and why canvassers should avoid mailboxes. Putting campaign literature in mailboxes is a crime that can result in hefty fines. The best place for volunteers to place walk cards or campaign literature is on door handles (folding them in half can help!) or between the door and the weatherstrip seal.
We suggest leaving campaign literature at every door to "leave a message" for those voters that volunteers didn't get a chance to talk to. By doing so, volunteers are delivering a campaign message to voters and, depending on the scale of a campaign's canvassing efforts, this could leave thousands of pieces of literature at targeted voter households across the district.
Canvassers Do Not Need Solicitor's Permits
Canvassing is not considered soliciting, and your volunteers are legally allowed to approach houses with "No Soliciting" signs. That being said, homes with signs warning against solicitors may not wish to be disturbed in general and may not respond positively to your canvassers.
Adhere to Trespassing Signs
In contrast to the previous points, canvassers should not approach homes with "No Trespassing" signs as doing so is illegal. Additionally, after a canvasser is asked to leave a voter's private property, they must do so promptly to avoid trespassing.
Following trespassing laws will keep your canvassers safe and show your campaign's respect to voters who do not wish to engage with your volunteers.
Have Volunteers Carry Identification that Work for a Political Candidate
Be clear about which candidate your volunteers are canvassing on behalf of to maintain transparency with voters. A few ways you can make identification clear are:
Label all campaign literature with your candidate's name and a phone number and website where people can contact your campaign
Have volunteers wear clothing or buttons with your candidate's name on them
Direct volunteers to introduce themselves as canvassing on behalf of your candidate when approaching voters
These strategies will prevent your volunteers from being mistaken for solicitors and build trust with voters.
Political Canvassing with MiniVAN Manager: Schedule a Demo today!
With MiniVAN Manager, campaigns can track their canvassers' effectiveness out in the field. Real-time reporting allows you to see where your canvassers are, what their contact rate is, and more, ensuring accountability during the busy election season. And because canvassing is one of the most important activities your campaign will conduct, you want everything to go according to plan to help you win your race.
Your canvassing campaigns have the power to influence voters, build a grassroots network, and get progressive candidates elected. Do your research on local canvassing laws ahead of time, maintain open communication with your volunteers, and leverage the software you need to supercharge your voter outreach this upcoming election season.
Interested in learning more about how MiniVAN and NGP VAN can improve your political campaign? Schedule a demo and meet with our team to discuss how you can leverage MiniVAN during your next campaign.