Running For Local Office? You Need This Number to Win
December 22, 2022 | NGP VAN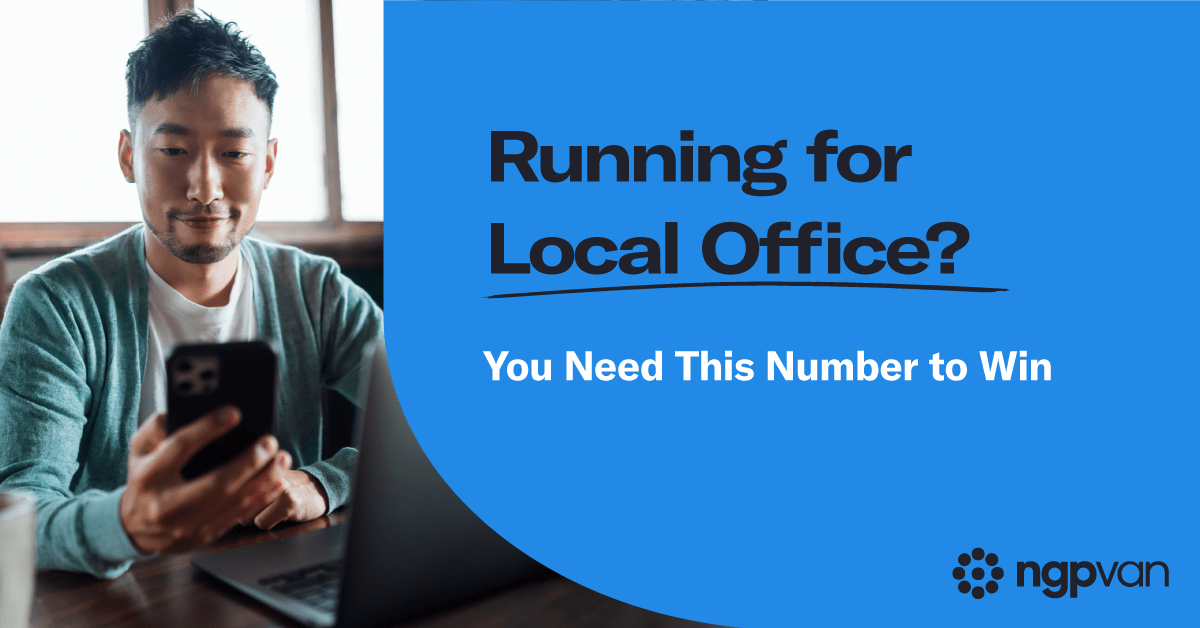 Your win number is the number that runs your campaign. It's your guiding star, your compass, your map to victory. Quite simply, your win number is the number of votes you need to get elected.
There are plenty of ways to calculate this number depending on the resources you have at hand – but if you get caught up with pretty projections and clever calculations, by the time you've got a perfect model, it'll be November and you'll be too late!
If you're running your campaign on a tight budget, then we've got the guide for you to calculate your win number and so much more. This is a simple, sure-fire way to get a useful win number that you can use to plan your victory. And with 100% of winning Democratic senators and governors using at least one platform from NGP VAN in the 2022 cycle, our software helped power victories up and down the ballot.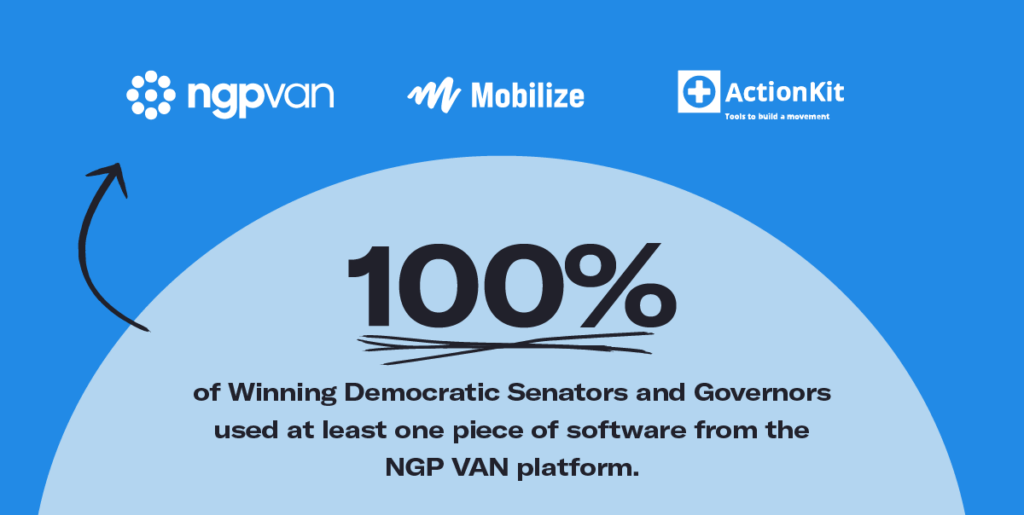 Calculate The Expected Vote
How many people will come out to vote, and how many ballots will they cast?
There are a few ways to get a solid, workable turnout prediction. One of the more reliable techniques is to average out the actual ballots received for the relevant office in the last three similar elections. Remember, a similar election isn't necessarily the last election – a presidential election year will have higher turnout than a midterm, for example. However, if you think one particular election year (like the most recent one) may be more accurate, feel free to use that turnout percentage in your calculations. Let's say that based on your calculations, you determine that a 72% voter turnout is expected this year. You can then multiply the total number of voters in your district by 72% to estimate the number of votes that will be cast in the upcoming election.

Example: 0.72 (expected voter turnout as a decimal) x 26,400 (total number of registered voters in your district) = 19,008 expected votes
Once you've calculated turnout, you might want to adjust it by a few percentage points to account for unique conditions – for example, is your turnout expected to be higher because of a hotly contested election further up (or down) the ballot? Let's say you want to adjust your overall margin by 3% – simply add that 3% to your expected voter turnout as a decimal.
Calculate Your Win Number
This is the number of votes you need to win. In a general election, this is a simple majority: 50% + 1. To calculate your win number, take the number of expected votes that you just calculated, multiply it by 50%, and then add one.
Example: ((19,008 (expected votes) x 0.5) + 1) = 9,505
9,505 is your win number! A simple majority is what you need to win, but most campaigns add a margin to ensure they account for other factors that may impact turnout. You can increase this margin if you're worried about unpredictable factors that might upend things on Election Day. For instance, if you wanted to add a 3% margin, you would simply add that to your calculation.
Example: ((19,008 (expected votes) x 0.53) + 1) = 10,075
Regardless of how you calculate your win number, you can then break it down into individual vote goals on a precinct-by-precinct basis to more effectively identify where you may need to boost turnout, flip competitive precincts, and stop the bleeding in more Republican areas. You can read more about this precinct breakdown and more detailed calculations in our How to Win Your Local Election Guide.
What if There's More Than Two Candidates?
In a race with more than two candidates, things become much more complicated. In a race with three candidates, for example, simply getting more than a third of the vote might not be enough to win. If one candidate collects just 5% of the vote, you and the other candidate are left to fight over the remaining 95%.
To calculate your win number with multiple candidates, it's matter of determining how many viable candidates there are in the race at any given moment, and then using this to calculate your winning share of the vote. These numbers are constantly changing in real time, and are complicated to track and calculate without experience and guesswork.
In order to develop a sound strategy in a complex race, you'll need more data, software to process it, and experienced assistance.
Conclusion
Now you've got your win number, you've built the basis of your campaign. All ads, lawn signs, door knocking and other tactics are simply in aid of hitting that win number, and getting elected.
Tip: If you want to get even deeper into the nitty-gritty, you can use this same math on a granular basis – for instance, calculating these numbers by precinct or other divisions so you know how many votes you need in each area. You can use this information to plan your outreach strategies, and keep you on track to achieving your vote goal block by block, street by street.
Ready for the next steps? Get the in-depth guide to calculating your winning number and so much more.
---
Download our How to Win Your Local Election Guide to learn how to:
Calculate your win number.
Create a targeted voter universe to hit your win number.
And so much more!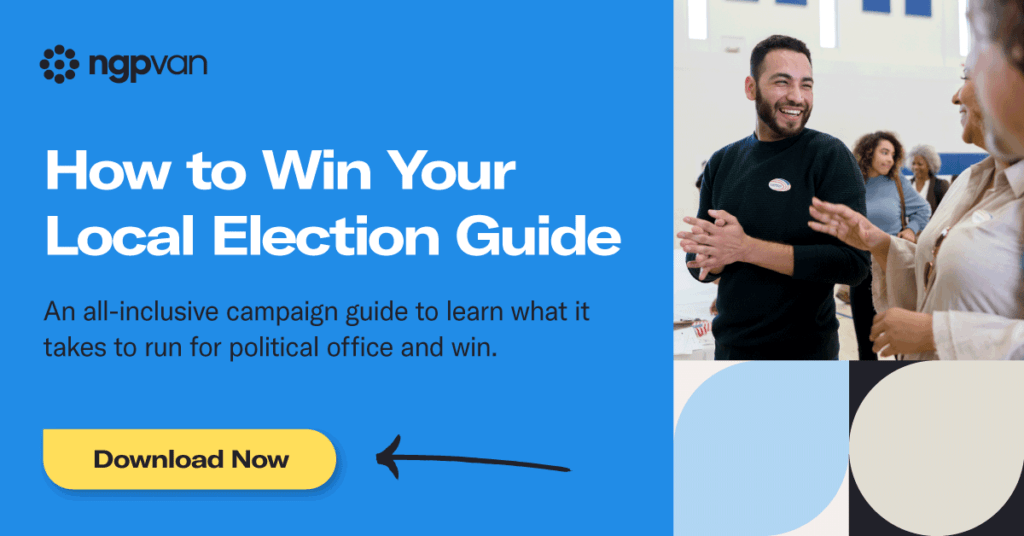 Download our new Distributed Organizing Guide to learn:
What distributed organizing is.
The opportunities and obstacles of distributed organizing.
How distributed organizing can help you hit your win number.

This post was updated with information from the 2022 election cycle.