An ActionID is your gateway to NGP VAN applications, training, support, and feature tutorials. Volunteers and campaign staff members who use tools like VAN, Votebuilder, NGP, and MiniVAn have accounts tied to their ActionID. This helps keep your account secure and your profile standardized across our ecosystem. There is no cost to set up an ActionID, and registration takes just a few moments.
Checking to See If You Have An Existing ActionID
Existing users with an ActionID can visit the ActionID login page to get started. If you're not sure whether you have an existing ActionID, you can click the link "Forgot your Password" and type your email address in the box. If an account is tied to that email, you'll get a link to reset your password.
As a security measure, you will not be notified on the password reset screen if there is NOT an account registered under that email. However, if you do not receive a password reset email within 5 minutes, it's likely there is no account registered under that email address. In that situation, it's best to create a new ActionID using the setup an ActionID instructions below.
Setup an ActionID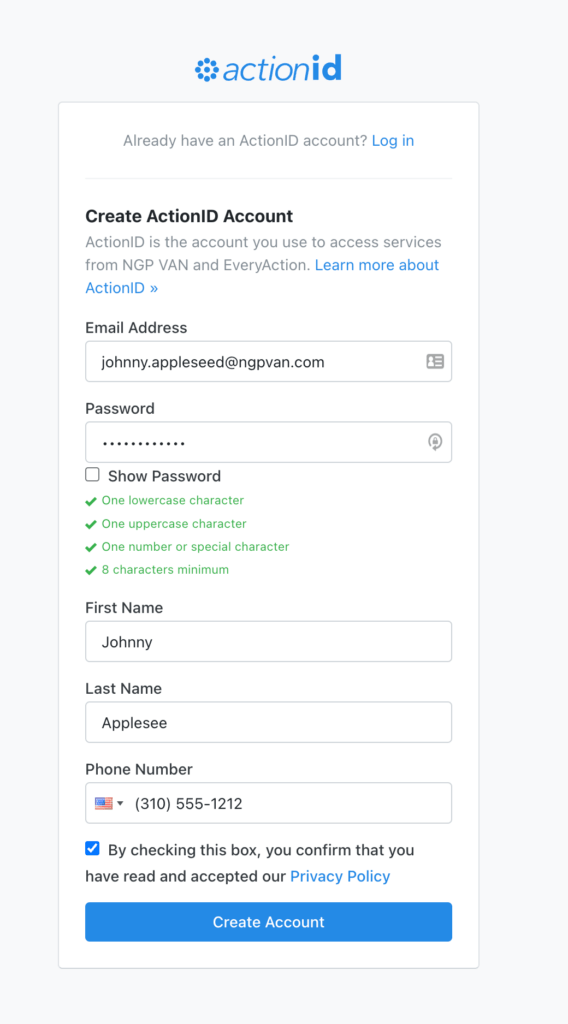 Visit the ActionID registration page to create a new account.
An ActionID requires just a few pieces of information:
Email Address
Password
First and Last Name
Phone Number
When all form fields have been entered correctly, the CREATE ACCOUNT button will turn blue. Click that button, and you're all set.
After creating your account, you'll have the option to set 2-factor authentication, making your account even more secure.
2-factor authentication requires a phone number for text verification or a third-party app like 1-Password, Last Pass, or Google Authenticator, for example. If you're not ready to set up 2-factor security, you can skip that step and continue to your account.
Once registered, a verification email will be sent to the address you used during the signup process. Click the link in that email to verify your account.
Enjoy Your ActionID
You're all set! Now you can use your ActionID with NGP VAN apps and tools and view the NGP VAN knowledgebase and support portals.
You can always return to your ActionID account to edit your profile or change 2-factor authentication methods.
Getting Help with Your ActionID
If you run into trouble or need help setting up your account, please email support@ngpvan.com.