Political Canvassing: 6 Tips for Your Volunteers
July 13, 2022 | Brandon Blumenherst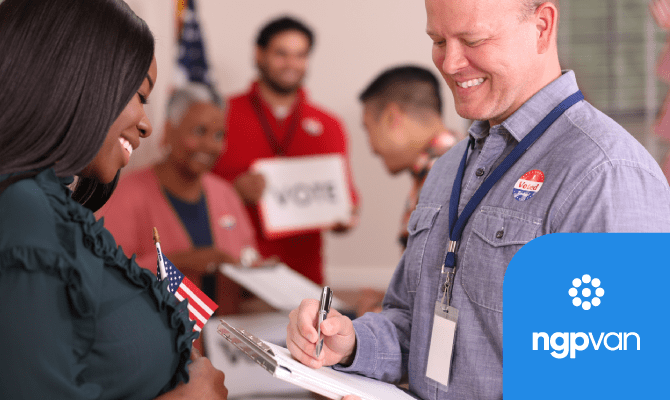 Political canvassing is one of the most effective ways to contact voters. With MiniVAN, our canvassing app, volunteers can quickly input data as they walk from one door to another, which saves campaign staff hours of data entry. However, if you are still using clipboards with printed lists, that's fine too (just make sure to have extra pens on standby). In addition to giving your volunteers campaign literature (a.k.a. lit) and a list number for MiniVAN or a paper list, here are six tips staff should share before sending everyone out to knock doors.
1. Read through the script and review the turf
Your political canvassing program will run much more efficiently if volunteers know what they need to say and where they need to go. By reviewing the script with volunteers before they head out, staff provide a better understanding of what questions to ask, what to say about the candidate or campaign, and how to convince people to take more action. For example, if a volunteer identifies a supporter while canvassing, encourage volunteers to ask the supporter if they would be willing to help with voter outreach or put a yard sign out before the election. And don't forget to ask volunteers to document those answers to gather more data for campaign staff to follow up on.
Reviewing the turf with volunteers helps them make sure they know where they are going and what route they should take through the turf. MiniVAN also offers Optimized Routing that can guide volunteers from door to door efficiently. It is best to send out volunteers in pairs for safety and efficiency purposes. We encourage staff to create these pairs and encourage volunteers to knock on opposite sides of the street. This helps volunteers move through doors quickly while also keeping their partners nearby in case a situation arises in which one of them needs help.
2. Give them a staff member's phone number
Volunteers should have a staff member's phone number in case they need to contact staff. Whether it is a technical or safety issue, opening the line of communication for volunteers is critical in ensuring everyone feels included and safe if anything were to happen. Also, make sure to answer any questions volunteers have before they head out to try to cut down on the number of calls and texts staff will get once people get out to their turfs!
3. Encourage volunteers to observe their surroundings
Volunteers can learn a lot about a person before they even walk up to a voter's door. Aside from the information in MiniVAN (like the voter's name, age, etc.), there are many things volunteers can look for to learn more about voters. The flags that fly outside their house, the bumper stickers on their cars, or items in their yard or around their house may help provide useful points for discussion. For example, if they have toys in their yard, volunteers could talk about education or affordable childcare. By observing their surroundings, volunteers can have more relevant conversations with voters and hopefully convince them to support the campaign.
P.S. If voters have a "No Trespassing" or "No Solicitors" sign in their yard or on their house, let volunteers know that it's best to move to the next house on the list.
4. Remind volunteers not to spend too much time at one door
Most canvassers can average about 20 doors an hour. With this in mind, staff should remind volunteers that they should aim to spend one to three minutes per door. Some volunteers can get sidetracked by long conversations with supporters or people who explicitly say they won't support the campaign.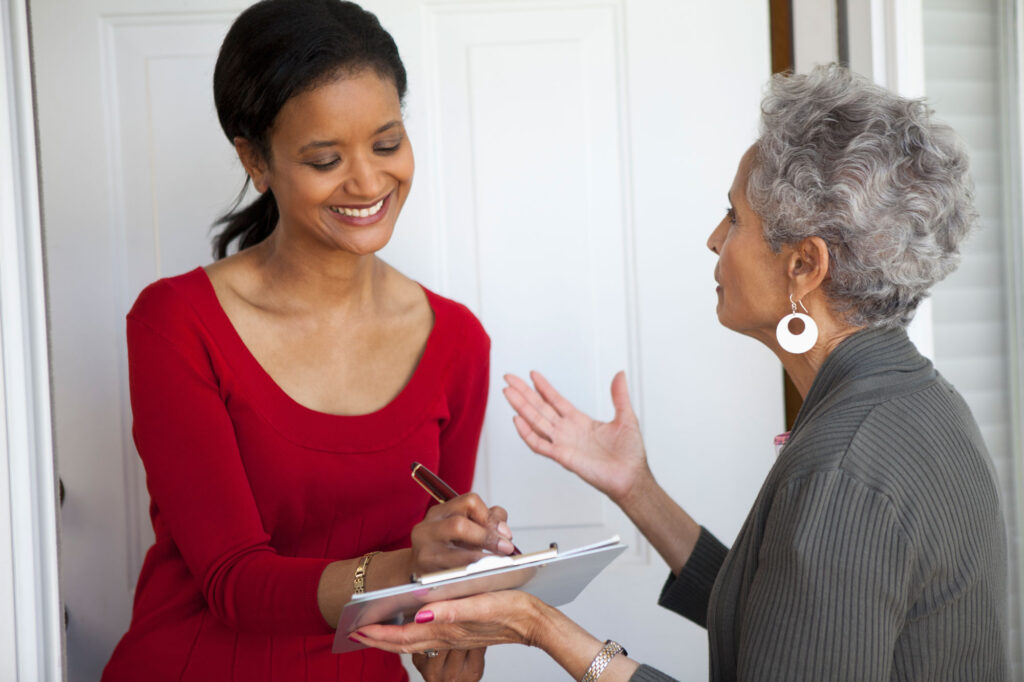 In many situations, once you get the answers you need, it's best to thank the voter for their time and move to the next house. Volunteers' efforts are probably more effective in talking to undecided voters rather than people who are decided on which candidate they will support. Lastly, remind political canvassing volunteers to not wait longer than a minute for a voter to open their door before moving to the next house!
5. Tell them to put lit on doors, not mailboxes!
Putting lit in mailboxes is actually a crime that can result in hefty fines for a campaign. The best place for volunteers to place walk cards or campaign literature is on door handles (folding them in half can help!) or between the door and the weatherstrip seal. We suggest leaving lit at every door to "leave a message" for those voters that volunteers didn't get a chance to talk to. By doing so, volunteers are delivering a campaign message to voters and, depending on the scale of a campaign's canvassing efforts, this could be thousands of free lit drops across the district. But make sure volunteers know to put lit on doors, not mailboxes!
6. Ask volunteers to thank voters for their time!
Regardless of whether a conversation went well or not, we want to thank voters for their time. They didn't have to answer their door, but they chose to come out and hear what a volunteer had to say. It's a simple task, but it hopefully leaves voters with a positive impression before your volunteer moves to the next house.
At the end of a canvassing shift, campaign staff should always check in with volunteers to debrief. Debriefing is a great opportunity to build a connection with volunteers, touch base on any interactions that require follow-up, thank the volunteers for their time, and ask them to commit to another shift in the future. Finally, staff should close out volunteer shifts, schedule reshifts, and enter and commit any outstanding data in VAN. And just remember, if it's not in VAN, it does not exist 😉
---
Learn More About Political Canvassing and Managing Campaign Volunteers
If you'd like to learn more about managing your volunteers (and even your paid political canvassing program) check out MiniVAN Manager — which gives you real-time data from the field, so you'll know what's happening street-by-street, and neighborhood-by-neighborhood. Also, check out Mobilize's Ultimate Guide to Volunteer Management, an extensive guide to managing every aspect of your volunteer recruitment and engagement program.