Apple Mail, Deliverability, and You
August 11, 2021 | Mike Liddell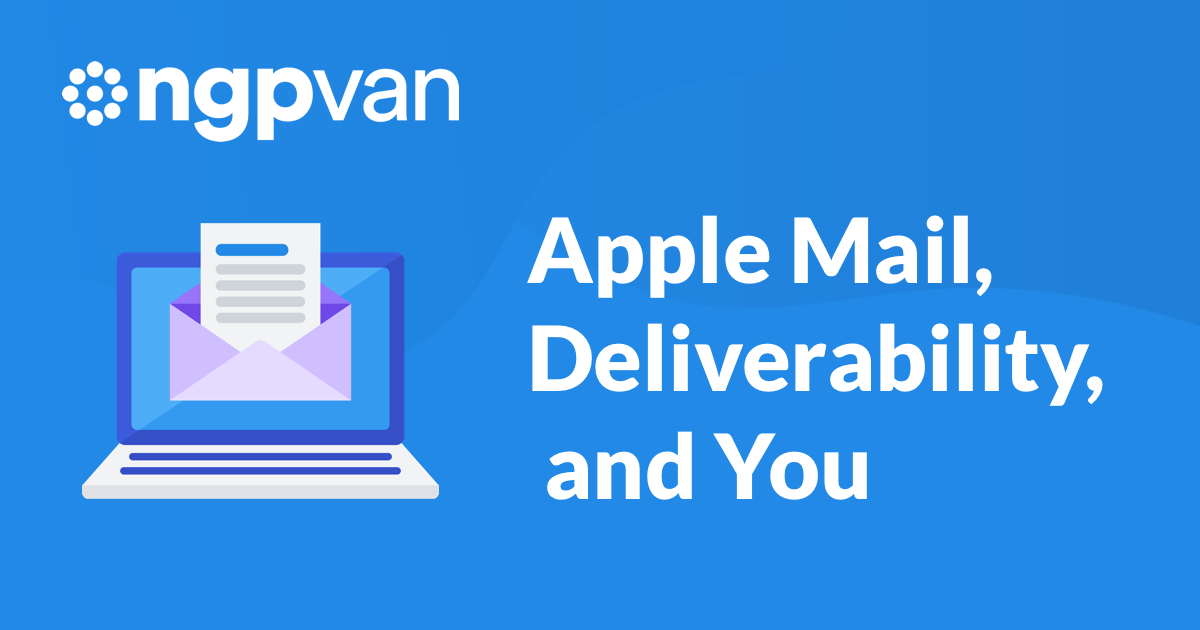 With the news that Apple will be asking their users if they want to disable open pixel tracking among other email tracking tools, we've heard from clients that are concerned that they won't be able to use opens as a reliable metric for gauging interest.
This is a fair concern and is unfortunately true: opens as a metric are becoming even more unreliable. According to metrics from Sparkpost, Apple users account for roughly 38% of all interactions with inboxes. Furthermore, statistics from Flurry tracking opt-ins to the iOS 14.5 App Tracking privacy tool showed that when presented with the option to allow Apps to continue to track their data, only 4% of users opted into being tracked (meaning 96% opted out). Assuming these trends hold true as Apple implements its new privacy features, we expect a significant portion of your email list could no longer have reliable open statistics.
We at NGP VAN are working to implement various features to minimize cached opens over-capturing the engagement of your recipients (changes and updates will be tracked here), but in losing a key metric for a third of you there is one thing you take away from this is that click data is emerging as a very useful metric, but not as a wholesale replacement for open data. By using NGP VAN as your email provider, you can access to a whole host of metrics (and domain specific metrics!) from bounces and unsubscribes, to quick-access contribution stats, to help you adapt to these changes, and make positive improvements in your email programs going forward your recipients, it's pretty clear we won't be able to rely on opens as an approximation to how interested someone is in your email program.
What you can do to prepare your future emails are wanted in a world where opens are a less reliable performance indicator:
Be clear with your email recipients about what they are signing up for when submitting a form.

This can be done by simply providing an obvious checkbox giving the supporter the ability to opt-in to your list, providing folks with ability to opt-out of your list, and implementing confirmed opt-in for portions, if not all, of your means of acquisition.
Furthermore, test how each opt-in type affects your list. When someone submits through a tacit, explicit, or confirmed opt-in enabled form: how likely are they to engage again? how likely are they to convert? You should be able to see trends that will help you make the best decision for your program.

Ensure other means of acquisition are tested and their impact on your list is understood.

If you're importing lists of emails, make sure you're segmenting new contacts and tracking how they engage and perform. It's important to ensure these folks understand how they came to your list and that they will positively interact with your program.
A best practice metric to watch for is a negative reaction threshold of .1%. If at least one in a thousand are marking your emails as spam or negatively interacting with your email, you'll likely run into deliverability issues.

Implement a multi-email welcome series.

Using a welcome series is always a great way to get folks engaged with your email program. By implementing a welcome series, you can provide your recipients with more information about what to expect from your program, ask them follow-up questions to understand their interests and preferences (see #4!), as well as ensure sustained interest and investment in your program by contacting them so closely to their immediate engagement.

Meet your supporters where they are. Ask and identify how your supporters prefer to be contacted.

Some but not all of the potential channels to reach out to your list: SMS, Email, Ads, Direct Mail, Events, Phone Calls, Door to Door, or Carrier Pigeon (okay maybe not Carrier Pigeons but it'd be cool!)
Find ways to collect how your supporters want to hear from you, how frequently they want to hear from you, and what made them interested in the first place, and then target them with those data points in mind (use a welcome series!). None of this is easier work and it might not increase your return on investment in the short term, but by building trust with the supporters on our lists who we rely on, we can ensure we remain relevant despite whatever changes come our way.

Use Origin Source Codes to group and track how folks come to your organization.

Throughout all of the above points, make sure your list is organized and tracked. Putting in the effort to ensure that you understand each supporter, how they came to your organization, and how they continue to interact will be vital to your program's viability in the long-term.
In addition to ensuring new supporters added to your list are interested from the start, here are some additional tips on how to handle folks currently on your list:
Implement the various onboarding strategies we outlined (from sign up to welcome series), but for your entire list.

Test the above strategies on folks currently engaging with your list. Ask your long-time supporters what you might be curious about implementing and see how they react to those questions. This also tends to be a good re-engagement strategy and could be useful in revitalizing less engaged folks.

Are you interested in starting up a new means of communicating with your supporters? Try it now!

Think through your list and determine those who should be engaged, but for whatever reason stopped responding to your email program. Now might be the perfect time to see if other means of communication are more successful for your program.
If there is one thing you take away from reading this, it should be that "click" data will continue to grow as an important metric with Apple's new changes. By using NGP VAN as your email provider, you can access to a whole host of metrics (and domain specific metrics!) from bounces and unsubscribes, to quick-access contribution stats, to help you adapt to these changes, and make positive improvements in your email programs going forward.
If you are having trouble viewing the help articles linked in this post, log in to your NGP VAN/EveryAction.