Launching your political campaign? Here's what you should do first.
January 17, 2023 | Brandon Blumenherst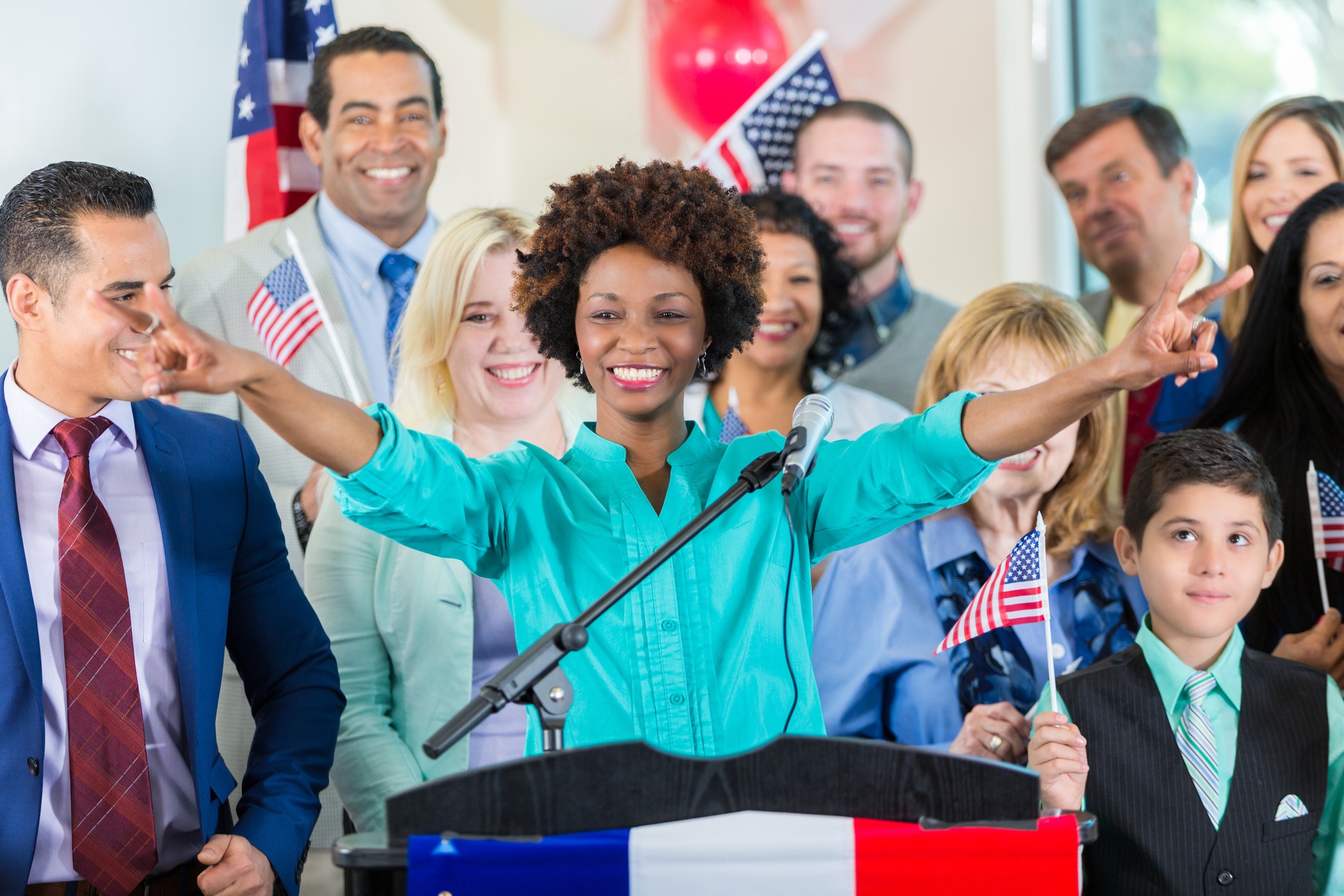 Every year, thousands of candidates launch their campaigns. Your political campaign launch is an excellent opportunity to build momentum to set your campaign up for success. So, if you're thinking of launching your campaign, here are a few steps you should take before you make your announcement!
Define your "why."
The number one question you will likely get asked on the campaign trail is, "why are you running for office?" While you may have several reasons as to why you wanted to run for office, you want to craft a concise answer to this question. Is there a local issue that you're running to resolve? Are you running to bring more representation to your local government? Are you frustrated by the passage of conservative policies? Defining your "why" early will allow you to answer this question quickly and frame the rest of your campaign and the issues you care about around why you're running for office.
Choose your political campaign's visual identity.
Every political campaign needs a logo, a color scheme, and some high-quality photos. Usually, your logo contains your name, the office or district you're running for, and maybe some graphic elements (lines, stars, etc.). Your logo is usually made up of the primary colors of your campaign. Once you decide on those colors, keep them consistent so your campaign is instantly recognizable just by the color scheme used on campaign materials and communications.
In addition to your logo and color scheme, get some photos taken by a professional photographer to use on your website, literature, and social media. By having some high-quality images available, you can create a better visual identity for yourself and your campaign.
Here are a few pictures that are helpful to have on hand:
A professional headshot
Photos with constituents
Family photos
Photos of you at notable landmarks or neighborhoods in your community
You can send these images to local media, groups may use them for endorsement graphics, and your campaign will need them for a variety of internal uses. It's great to have many high-quality photos available, but if you have around a dozen photos ready to use, you should be in good shape!
Build your website.
You want to be able to direct people to sign up to volunteer and make donations before, during, and after your political campaign launch. To do that easily, build your campaign website and make sure it works before your launch. It doesn't have to be perfect but having your main pages together so people can find more information and make donations is a great place to start.
The five important pages you will want to develop early for your website are:
A homepage

A homepage is the first page people see when they visit your website, so you want to make sure it's an appealing and well-functioning webpage. Most importantly, you want your homepage to drive action. Whether someone comes to your website to donate or find more information, you want the website to be easy to navigate and encourage additional action. By having a menu at the top of the website and links to different pages throughout the website, your visitors can easily navigate your site to find more information and take action for your campaign.

An "About" page

The "About" page typically has your headshot and a few other images of you in the community or you with your family accompanied by a biography and your "why." In your biography, you will want to highlight your professional career and any community groups you're involved in, and then describe how your background leads to your "why." After stating that connection, explain your "why" in detail so people understand why you're running to make change in your community.

An "Issues" page

This page states where you stand on relevant issues to your campaign. You want your stances to be easily explained and understood, even if you're discussing complex issues. Many candidates choose to summarize their stances in bullet points and then offer a longer explanation either below those summaries or on a different page. You can also create a form for people to ask questions or contact the campaign to ask questions about specific issues that are important to them.

A "Take Action" page

Your "Take Action" page contains a form that people can fill out to express interest in volunteering for your campaign. Typically, this form will list volunteering options like canvassing, phone banking, texting, hosting a fundraiser, supporting events, etc. Be sure to add any additional volunteer roles that are important to your campaign. If you can, redirect traffic from your "Take Action" page to your "Donation" page. If someone is signing up to volunteer, they want to see your campaign succeed, and hopefully, they will support your campaign financially as well.

A "Donation" page

Your "Donation" page or link to your donation platform is one of the most important things to add to your website before you launch. You want everyone who visits your website to have the ability to easily donate. You can also add a lightbox (or pop-up) window that asks everyone who visits your website to donate to start your campaign off on the right track! Some donation platforms also allow you to redirect traffic after donations are made. If that is possible, send donors to your "Take Action" page so they can sign up to volunteer as well!
Each of those pages should have a tab in your website's menu. In addition to your menu design that typically sits at the top of the website, you can also build out your footer (or the bottom of the website) that contains contact information or a contact form as well as an email subscription form if it's not already somewhere on your homepage. It's not a bad idea to have an email subscription box in the footer as well because it will be present on every page of your website, hopefully increasing your chances of gaining email list subscribers.
Finally, make sure to design your website with mobile visitors in mind. Over half of your web visitors will likely be viewing your webpage from a mobile device, and if your website isn't configured for mobile visitors, it will reflect poorly on your campaign. You want to ensure that everyone visiting your website has a good experience, and if you'd like some help building your campaign website, we can help!
Choose your political campaign software early.
On every political campaign, there are a variety of functions that you need to complete to be successful. You need a voter database that can quickly and easily help you find the voters you need to win your race. You need a fundraising and compliance system to maintain notes and connections with donors while also ensuring that you can quickly and easily file campaign finance reports. You need campaign tools that make it easy to contact voters and tell them about your campaign. Fortunately, NGP VAN provides the leading political campaign technology to Democratic and progressive campaigns across the country. By choosing your campaign software early, you can quickly get up to speed with how the software works and how it can benefit your campaign.
Our voter file solutions, VAN and SmartVAN, provide the best organizing platforms to find the voters you need to win, contact them efficiently, and record relevant information to act on for future conversations with those voters. With MiniVAN, our mobile canvassing application, and OpenVPB, our virtual phone banking software, available to all campaigns, these impactful voter contact tools allow you to easily contact voters at their doors or on their phones. Powerful reporting functionality allows you to quickly and easily analyze and measure progress toward your campaign goals. However, to contact the voters you need to win, you need to raise money.
NGP is the leading campaign fundraising and compliance software that allows campaigns to easily track contributions, connect with donors, and file reports in one place. As you start collecting information from donors, volunteers, and supporters, you want to act on that information to make a more personalized ask. It can be difficult to do that without a centralized database. NGP allows you to easily track information like giving history, contact attempts, pledges, and more to ensure your campaign has all the relevant donor information available in one place. You can also easily pull lists to find donors who haven't given recently, those who haven't maxed out to your campaign, and others to help you target your fundraising efforts to specific individuals. And, with tools like Targeted Email and Donor Target Scores and Donor Target Reports, NGP makes it even easier to raise more money to ensure you have the resources you need to win.
We've also got a full suite of tools you need to help you win your race. From click-to-dial functionality through VPB Connect, to volunteer recruitment and event management through Mobilize, to donation processing through Online Contributions, get a demo today to learn more about how we can help you win.

Host your political campaign launch.
After setting up some of the foundational elements of your campaign, it's time to plan your political campaign launch! Start by choosing your event venue, date, and time. Estimate how many people may attend and begin looking at venues with that audience size in mind. If you're going to have a big crowd, think about using a speaker system so that more people can hear you. Buy some decorations, get some campaign literature printed (by a union printer!), and plan as many logistics as possible so you can make sure everything is prepared for your launch event.
Typically, campaign launches last about an hour or two. While the timelines can shift, here's what a campaign launch typically looks like:
4 p.m. – Set up begins
6 p.m. – Campaign launch starts
6:15 p.m. – Speaker lineup starts
6:30 p.m. – Candidate speaks
6:45 p.m. – Candidate's speech concludes
6:45 p.m. – Candidate moves to speak to the media
7 p.m. – Candidate moves to speak with supporters and volunteers
7:30 p.m. – Launch concludes and tear down begins
It's great to have volunteers available to support your political campaign launch. Whether they are helping set up the event, processing donations, or making a final run to pick something up, volunteers can help a campaign launch go smoothly. Some volunteers are willing to do whatever is needed, while others are more comfortable completing certain tasks. Respect your volunteers' requests and assign them a task to complete during the launch. While your treasurer will likely be at the event to help process donations, it's a good idea to cross-train a few other volunteers to help out as well.
While it's typically best to direct people to donate online so you can gather their emails and other donor information, some donors may write you a check. Make sure your volunteers are aware of any information that needs to be collected with the check, so your campaign follows any relevant compliance laws.
Finally, send a press release the day before and the day of your campaign launch to make local media aware of your campaign launch to hopefully gain some media attention!
Capitalize on the launch of your political campaign.
Your campaign launch can set the tone for the rest of your campaign. Think about what you need to do before, during, and after your campaign launch. Choose your date and venue and then start promoting your launch date. Send emails and texts to your supporters and begin to build momentum leading up to your launch.
During your launch event, make sure to thank everyone for coming out to support your campaign. Take time to recognize and thank elected officials in the crowd as well. Ask everyone to visit your website to sign up to volunteer and, most importantly, make a donation. Make it clear that your campaign cannot be effective without their financial support. Whether they donate $5 or $5,000, everything counts towards your goals and provides you with the financial means to win.
The day after your political campaign launch, send an email with a picture of your launch event to your supporters to thank everyone for coming out and make another ask for people to visit your website to sign up to volunteer or donate. You can also add a note to ask your supporters to forward your email to other people who may support the campaign to help build your supporter list.
After your campaign launch, your campaign will start picking up speed as you head toward Election Day. But, by taking these steps for your launch event, you'll start your campaign off on the right track.

Additional Resources
Interested in learning more about the many ways NGP VAN software can support your campaign? Here are a few additional resources that help you build your email lists, engage supporters and donors, and win your race!
Learn How to Grow Your Political Email List–The Right Way! Discover ways to build your email list to raise more money and encourage more action from your supporters.
How to Make an Effective Call Time Ask. Call time is an important tool for every campaign and making an effective ask can help you raise more money fast. Hear from Antonia Koch, Director of Fundraising Campaigns at NGP VAN, about how to make an effective call time ask!
Distributed Organizing Guide from NGP VAN and Mobilize. Download our guide to find out more about distributed organizing and how NGP VAN and Mobilize can help you achieve your organizing goals.