Donor Target Scores and Donor Target Reports: Improve Your Political Fundraising with NGP VAN's New Features
August 24, 2022 | Brandon Blumenherst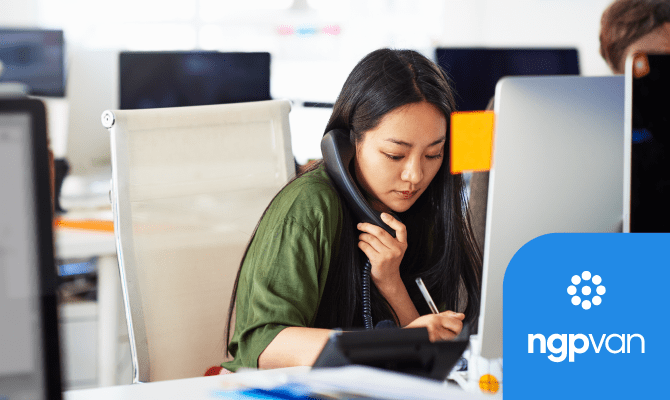 Raising money for political campaigns can be a tough endeavor. Traditionally, donor prospecting could take hours and require cross-referencing multiple data points. That work gets increasingly harder when public data sets get removed from the equation. Even with a number of ways to raise money—like call time, emails, and mobile messaging—it can be difficult to identify potential donors or, when you do identify enough of them, the right amount to ask for.
To help you answer these questions, we've come up with a solution to help your campaign make donor research less time intensive, to identify key targets and their giving capacity, and to help you build a more informed and effective fundraising program overall.
We are excited to share our two newest features in NGP, Donor Target Scores and Donor Target Reports!
Gain Insight from Donor Target Scores
Developed by our best-in-class fundraising team, Donor Target Scores utilize predictive analytics to match your existing contacts to our nationwide warehouse of tens of millions of donors and provide custom scores to model a contact's likelihood to donate and their capacity to give.
Moving forward, every contact in your existing database, and every contact you add in the future, will have two new provided scores: Likely to Donate and Giving Potential.
The first tells you the likelihood of that person to become a donor and the second score suggests that person's capacity to contribute. These scores are ranked in four categories (Top 10%, Next Top 30%, Middle 40%, and Bottom 20%) and then normalized to your specific committee.
Learn about the Technology Behind NGP VAN's Donor Target Scores
Donor Target Scores were developed using proprietary algorithms based on aggregated and anonymized data sets derived from across the NGP universe. Since privacy is always a top concern, it's important to note that no new names, contact information, or donation information will be shared as part of the score. Data derived from the FEC is not used as part of the score development.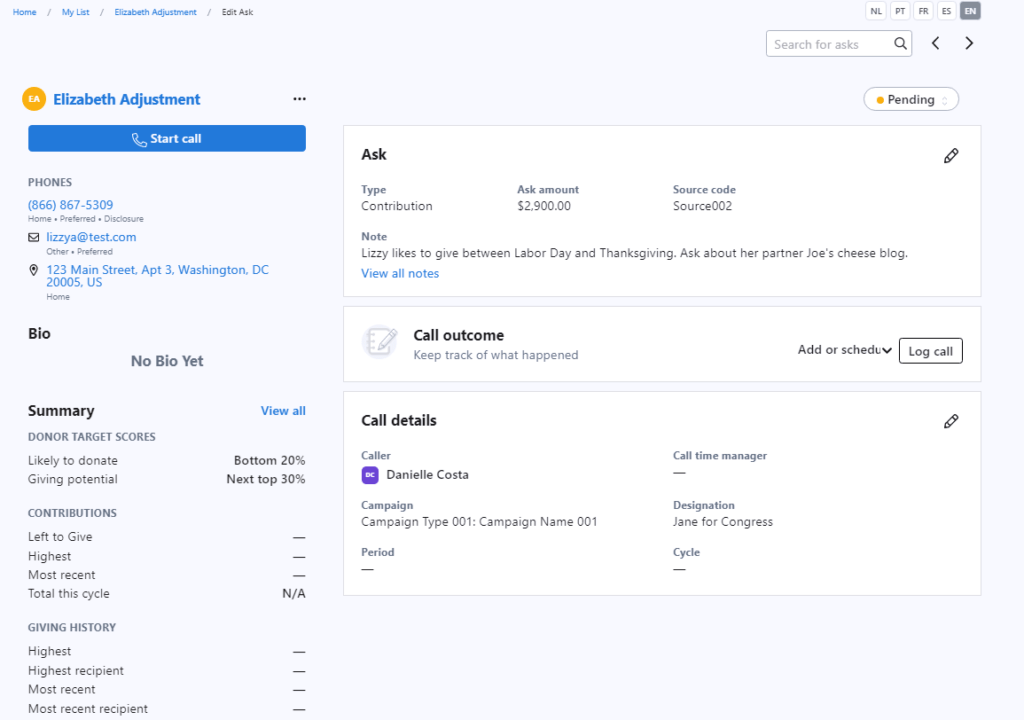 Take Action with Donor Target Reports
In addition to Donor Target Scores, we've created a few additional reports to make your call time and fundraising programs more efficient and user-friendly.
Donor Target Reports help you act on Donor Target Scores by providing several pre-segmented reports:
Prospects Targets Report: Identifies potential donors who have not given to your campaign.
This Cycle Resolicit Report: Identifies donors that have given this cycle and can legally give more.
Last Cycle Resolicit Report: Identifies donors that gave last cycle and have not given this cycle.
Note: Cycles and Limits must be set up properly in your committee for the Resolicit Reports to work properly. (If you are an existing NGP user, read this support article for setting up Cycles and Limits.)
Each of these new reports contains a Suggested Fundraising Effort, a metric based on a combination of the contact's Donor Target Scores Likely to Donate and Giving Potential. Suggested Fundraising Effort is marked in categories from "$" (low likelihood of donating and low capacity to give) to "$$$$" (high likelihood of donating and high capacity to give). Suggested Fundraising Effort also recommends different fundraising actions to make an informed ask from a particular contact.
In addition, these three new reports and many of our most used reports can Send to My List, allowing fundraisers to take immediate action on identified prospects, such as directly sending them to call time, adding them to an event-building universe, or sending them a mobile message.
Using the New Donor Target Scores and Donor Target Reports
By combining the two Donor Target Scores Likely to Donate and Giving Potential, the Suggested Fundraising Effort presented in Donor Target Reports helps give insight to fundraisers who have limited time available for donor prospecting and a very short timeline to raise money. If used effectively, both of these features make it easier for fundraisers and campaigns to raise the resources they need to win.
For example, contacts with a high Suggested Fundraising Effort should be added to candidate's call time list or invited to attend fundraising events. They are obvious prospects for early outreach. A contact with a lower Suggested Fundraising Effort might call for less personalized outreach—like an email solicitation or an invitation to a grassroots catch-all fundraiser. By using the Suggested Fundraising Effort, campaigns can quickly segment groups into different outreach methods in order to efficiently raise money for the campaign.

Utilize Donor Target Scores and Donor Target Reports on Any Campaign Now
Your fundraising team should have the tools they need to make the most informed appeal possible, at the right time, and through the right medium. We're happy to provide these two new features at no additional cost for all existing NGP clients. The best part is they're available in your system starting today!
With upcoming filing deadlines, we know how important it is to post impressive fundraising numbers to continue showing your campaign's viability and gain additional support from donors and other partners. By using our Donor Target Scores and Donor Target Reports, you can gain the insight you need to better identify people already on your list who are potential donors and to raise more money from existing donors.
Every minute counts as we head into the general election. We know that call time is a critical, and often time-consuming way to raise money. When you combine Donor Target Scores and Reports with tools like Call Time Connect and Call Time Mobile, your team will make more efficient and effective asks so you can maximize your fundraising time before Election Day.
The only thing left to do now is to log in to NGP and start pulling those new Donor Target Scores and Donor Target Reports for your campaign!

If you'd like to learn more about these features or to sign up to start your NGP account today, click here.
P.S. If you want some pointers on what call time should look like, check out our Campaign Chat with Antonia Koch, Director of Fundraising Campaigns, on How to Make an Effective Call Time Ask.