How to Get Weekly Recurring Donations Before the Election
October 7, 2014 | Jordan Quigley-Jones
By Jordan Quigley-Jones
Product Manager, Digital
We are less than a month away from the election. Every dollar your campaign raises matters, but the fundraising deadlines between now and election day can make or break a campaign.
Voters and supporters are starting to pay much more attention to the upcoming election and they understand the urgency of the final sprint for the campaigns they support.
With just four weeks until election day, now is a great time to add a weekly recurring donation ask to your ActionTag forms.
Converting one-time donors to recurring donors between now and the election will help your campaign raise more money. It will also help project incoming funds from recurring donors to help your campaign make operational decisions. Here's how to do it:
1. On Step 2 of Build Page of the 'Create Contribution Form' workflow, click the [Configure] button on the 'Contribution Information' section: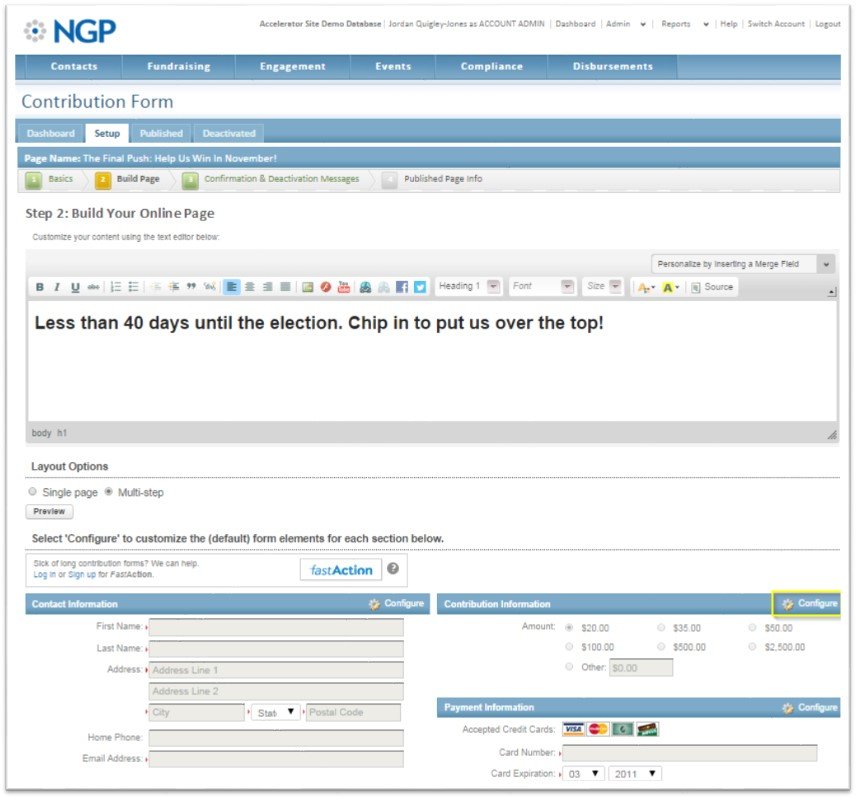 2. On the 'Configure Form Section' configuration settings, select the checkbox next to 'Enable Recurring Contribution Options':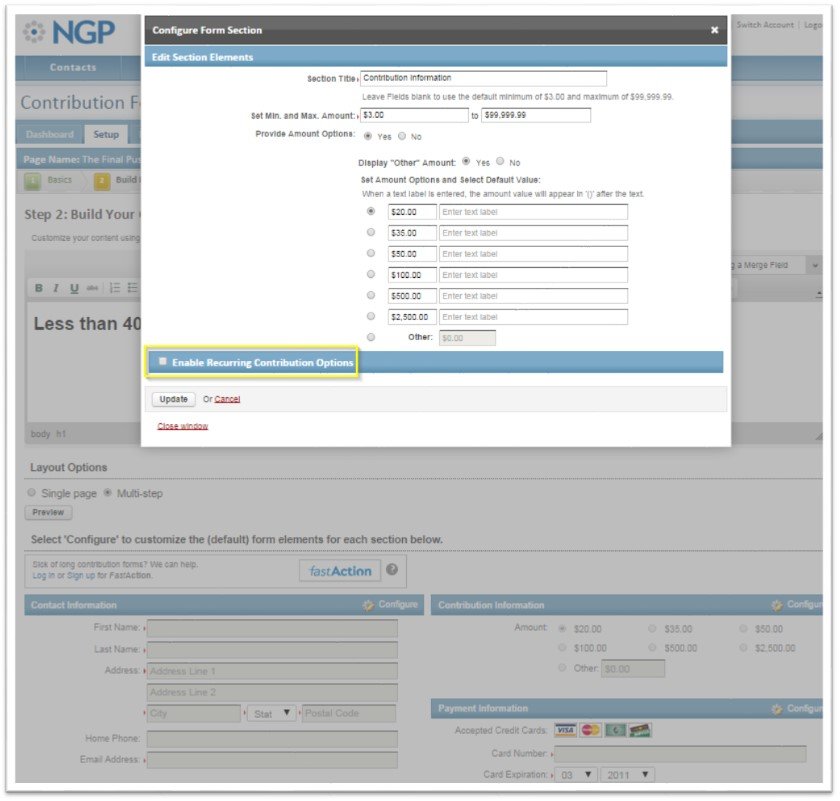 3. In the recurring contribution options, select the frequency field(s) you would like to ask donors to sign up for. It is recommended but not required that you only select one: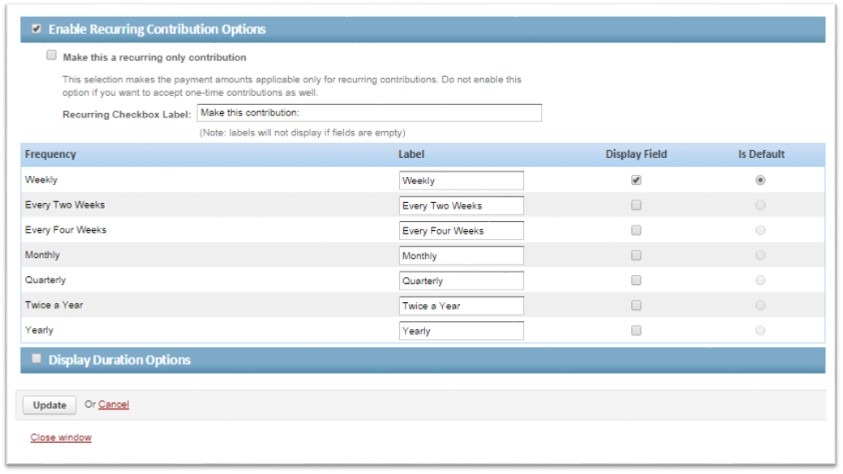 4. To ask a donor to give weekly until the election, select 'Weekly' as the frequency, and then select the check box next to 'Display Duration Options' and select the election date for the duration: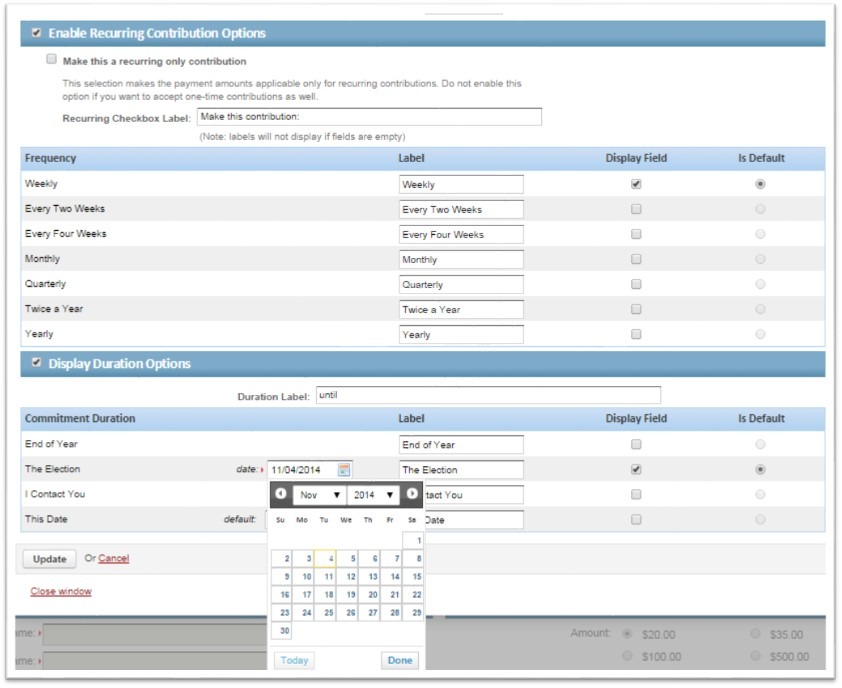 5. Select 'Update', and publish the form. The recurring donor ask will display as a checkbox on the ActionTag form: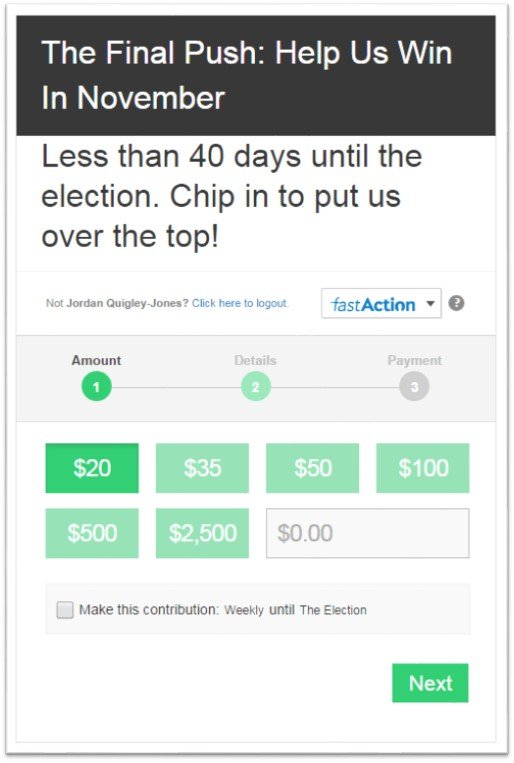 PRO TIP: The checkbox will not be pre-selected by default, but you can make it pre-selected so that the box is already checked when a supporter lands on the page by adding the query string ?r=1 after the form ID number in the URL you use to distribute the link through email, social media or other channels: