NGP VAN Invests in Innovation With Acquisition of Mobilize
November 30, 2020 | NGP VAN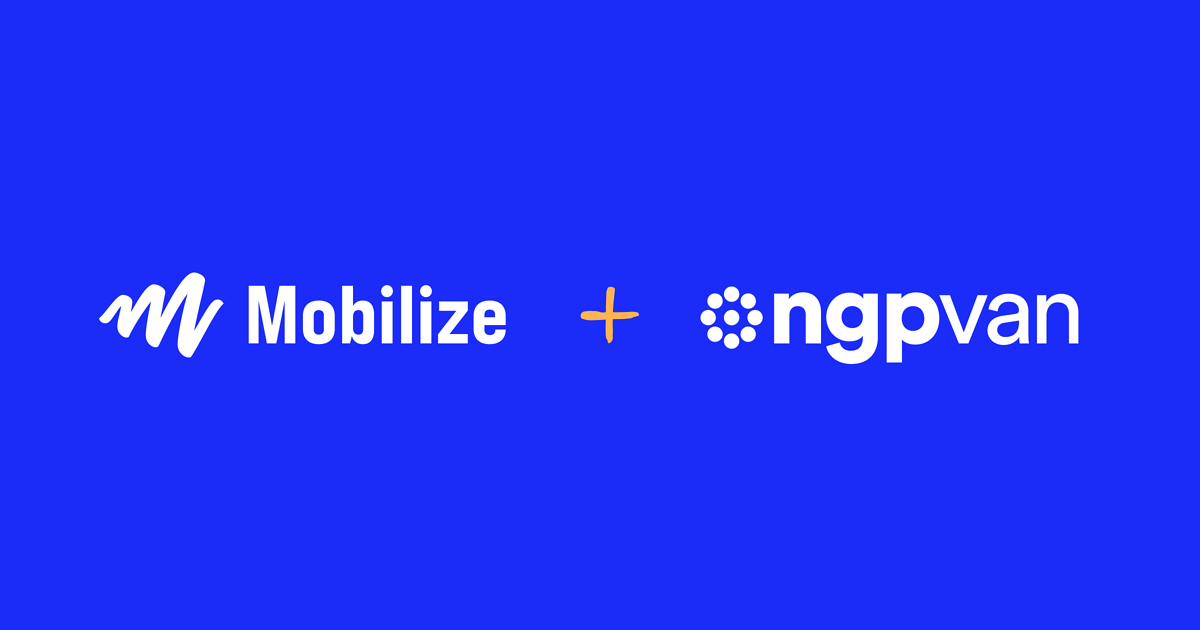 Washington, D.C., November 30, 2020 – EveryAction, a leading provider of software serving over 15,000 nonprofits and the parent company of NGP VAN, announced today that it has acquired Mobilize, the events management and volunteer recruitment platform that connects mission-driven organizations and their supporters. The acquisition follows EveryAction's strategy of bringing together the best people, and giving them the resources to create the best SaaS products that provide the most value to nonprofits.
This acquisition will allow organizations to take advantage of complementary best in class systems for online and offline organizing, virtual events management, and workflow automation. In a short period of time Mobilize has built a network of 3,000 organizations and 4 million volunteers. By combining that audience with NGP VAN's existing FastAction network of more than 100 million profiles Democratic campaigns and progressive organizations will see higher conversion rates and more holistic engagement from their supporters. This dovetails into a more robust picture of supporters within NGP VAN, where organizations can understand what drives supporters to engage, volunteer, donate, and take action.
Mobilize emerged from the 2016 election and has grown over the last 4 years to become a vital piece of Democratic and progressive tech infrastructure. Clients have already benefited from the integration between Mobilize and NGP VAN, with Mobilize utilizing NGP VAN's Innovation Platform from the onset of their product development. This partnership allows users of both products to take advantage of complementary offerings for online and offline organizing, virtual events management, and workflow automation that seamlessly engage supporters and drive more action, more impact, and more innovation.
"We're thrilled to join forces with Mobilize, and are excited about the opportunity to bring them into the EveryAction and NGP VAN family," said Amanda Coulombe, President of NGP VAN. "Their team has built an incredible product, and we've worked to provide modern digital organizing and volunteer engagement solutions to the thousands of campaigns that used both our tools in 2018 and 2020. We look forward to continuing to innovate in this space together, and to serving the progressive community for many years to come."
"NGP VAN is the backbone of Democratic campaigns and progressive organizations. Since the beginning of Mobilize, our tools have been closely integrated and jointly used. We look forward to joining EveryAction/NGP VAN to make organizing easier and more effective for our many shared clients" said Alfred Johnson, Mobilize's CEO, who will continue to run Mobilize as a unit of EveryAction. "Our deep collaboration has emerged over years and thousands of shared partners. Together, we'll be able to invest even more in the future of digital organizing," added Mobilize President Allen Kramer, who is joining as Deputy General Manager of Organizing. The full Mobilize team will stay on in the newly formed division.
Mobilize's acquisition will ensure the platform remains as core progressive tech infrastructure. NGP VAN has served as the leading technology provider to Democratic and progressive campaigns and organizations for more than 20 years. Both companies share a commitment to working with progressive organizations, declining to work with organizations that fight against racial justice, a woman's right to choose, LGBTQ rights, or climate change; a commitment to providing generous benefits to their employees; and are proudly Made in the USA without offshore development.
This joining of forces also underlines the success that EveryAction, with others like Higher Ground Labs, have had in fostering a robust and lasting progressive tech ecosystem that is able to operate outside the boom and bust cycle that challenges many companies working to bring smart, innovative tech to the political space. By investing in a flexible, freely accessible Innovation Platform, EveryAction has enabled many companies like Mobilize to build on top of their feature set to easily plug into clients' existing systems. EveryAction's position as a "backbone" progressive company with successful investors has created the opportunity for an exit where companies like Mobilize can sell their company and – critically – retain their values in perpetuity. Investors lean into spaces where exits are possible, so we're excited that this will fuel a positive cycle of innovation in the ecosystem.

About NGP VAN
NGP VAN is the campaign brand of EveryAction, which has grown into one of the largest and fastest growing providers of Digital, Fundraising, and Organizing SaaS tools to nonprofits and progressive campaigns. EveryAction powers some of the largest and most impactful organizations in the country, including the National Audubon Society, Planned Parenthood Federation of America, and the United Nations Foundation. Headquartered in Washington, D.C. EveryAction is fueled by passionate people who truly care about doing more good, with a love of important causes and innovative technology. For more information, visit ngpvan.com or follow us on Twitter @NGPVAN and @EveryActionHQ.

About Mobilize
Mobilize is the best-in-class events and supporter engagement platform that connects mission-driven organizations and their supporters. Baked into their powerful set of tools is an expansive network of organizations and mission-driven volunteers. Mobilize drives more action for thousands of organizations, including the Sierra Club, the National Education Association, the Human Rights campaign, and the City of New York. Learn more at join.mobilize.us or on Twitter @LetsMobilizeUS.