Share Your Message, Not Germs: Organizing During Social Distance
April 10, 2020 | NGP VAN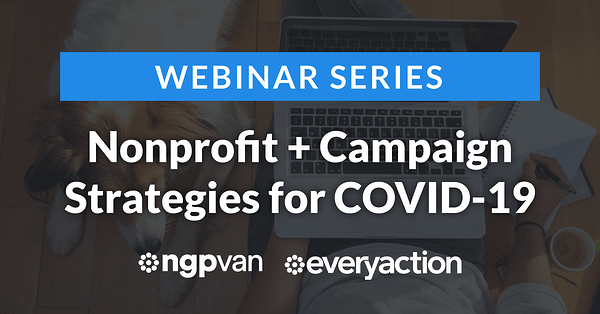 Organizing is hard work, and taking away face-to-face interactions has made it more complicated. But it is not impossible! Even 5 years ago organizing programs did not have the same capacity of remote outreach as we do today.
In our latest webinar series, Amanda Coulombe, General Manager of Organizing at NGP VAN, along with panelists from The Movement Cooperative and EveryTown for Gun Safety, guide you through how to navigate your current organizing challenges head on.
Take a look at our key learnings from the webinar and check out the full recording for in-depth information.
Find what works for YOU
Since you will most likely have to shake up your usual messaging, test new things and trust your instincts. Focus on your supporters and how your work is relevant to their life right now. We're all learning the best practices of this new reality, so don't be afraid to test, experiment, and follow what works.
Meet people where they are – online.
Adapt your everyday in-person activities using a multi-channel approach through email, social, and texting tools – whatever you already have on hand. Leveraging all of the tools at your disposal, find creative ways to take things like phone banking and canvassing online and keep volunteers engaged.
Make your message social
Tap into the larger networks of your supporters through social media – through spaces like online discussion boards for segmented groups. It is all about engaging people through your message and keeping it interesting. Pro tip: Train supporters and staff on social media best practices and set some goals.
Don't stop communicating, speak up!
It may feel like an uncomfortable time to continue with campaign communication, but many supporters want to hear from you more than ever. During the isolation of social distancing, phone contact rates have shot up, and many people are eager to have a conversation about what they want from their community and elected officials. Now is the time to share your campaign's message.
Trust in the efficacy of time-tested methods and focus on implementing those in digital spaces.
There's no need to reinvent the wheel – maximize your impact by taking your program online and using a multi-channel approach.
Above all, keep going. It is more important than ever that we win in 2020. Watch the full webinar on-demand for more detailed discussion and instruction on successful organizing during COVID-19.