States Matter: How the DLCC is Driving the Blue Wave
July 12, 2018 | NGP VAN
Today, there are more Democratic candidates running for state legislative offices than in any election since 1982. We have the Democratic Legislative Campaign Committee (DLCC) to thank for recruiting, training, and supporting these candidates. We sat down with the DLCC's Executive Director, Jessica Post, to talk about how technology is fueling their work as they prepare for redistricting.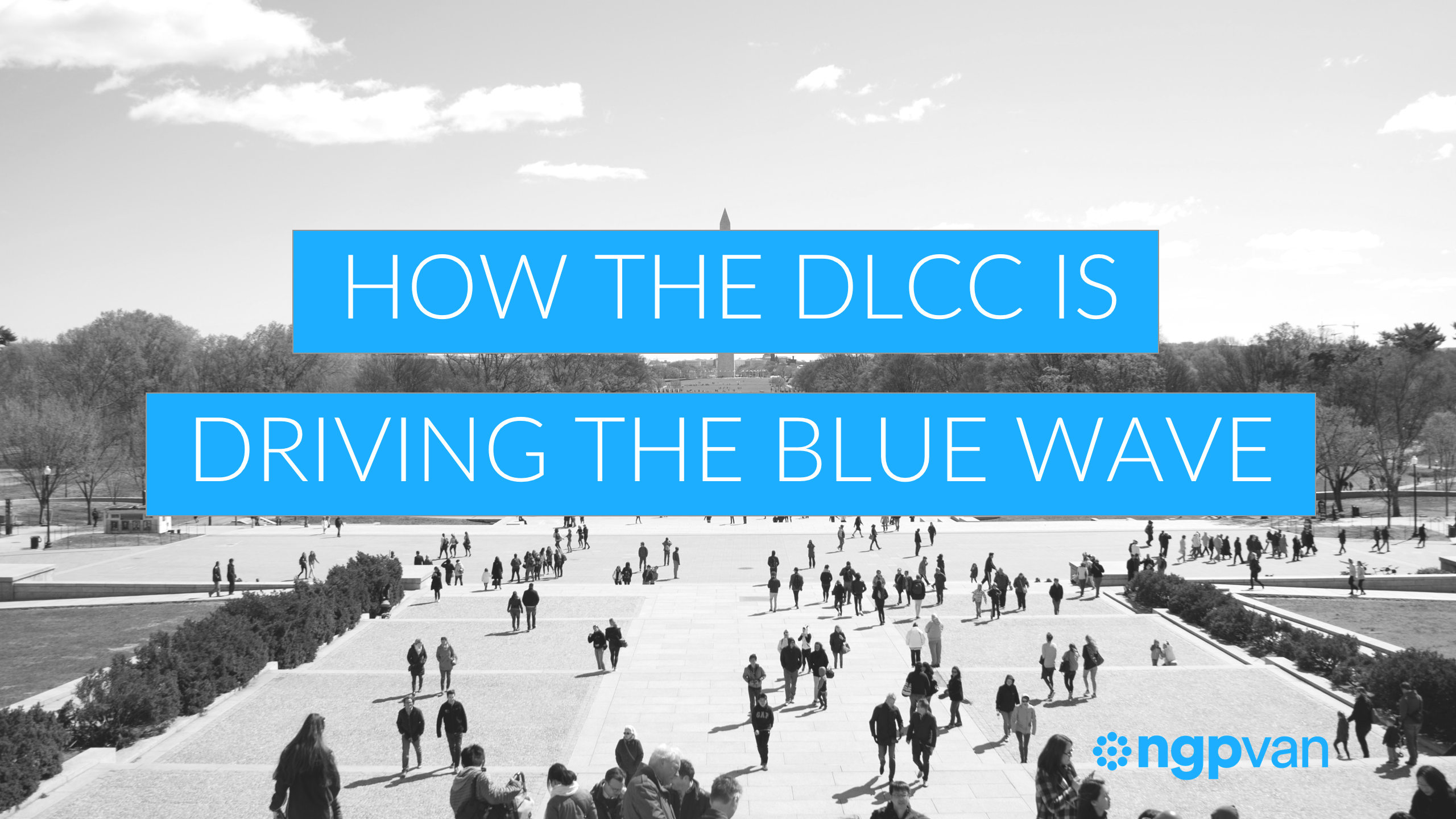 How is the Democratic Legislative Campaign Committee approaching this cycle as we prepare to head into redistricting in 2021?
In 2016, we flipped four chambers from red to blue: the Alaska house, both chambers in Nevada, and the New Mexico state house. Going into 2018, we knew that we needed to create a strong technology and data-driven framework to win back as many legislative chambers as possible. There are about 800 elected officials on the ballot this cycle who will have a role in redistricting.
We are focused on mobilizing this incredible Democratic resistance and directing their energies to our level of the ballot. We were hearing from Democratic activists around the country that they wanted to get involved in state legislative races because they're concerned about gerrymandering.
State legislatures affect everything from voting laws to the district lines, which control who goes to Congress. By winning back state legislatures, we can truly rebuild the foundation of democracy which is being destroyed at the Presidential level.
After flipping 44 seats since Trump took office, we decided that we would help build the blue wave narrative. We've invested more than $6million in building out Democratic campaign infrastructure across the country. In early June, we had a huge win in the Wisconsin Senate with Caleb Frostman. Now we're only 2 seats away from flipping the Wisconsin Senate, and 17 seats away nationwide from flipping 8 state legislative chambers this fall.
In Ohio, we're being outspent 4 to 1 by the Republicans. We've diversified our fundraising at the DLCC and there's a mirror of that in the states. We are working hard and we know we have strong candidates who will really listen to voters and hear their concerns.
We are growing our base of grassroots supporters, engaging donors, and telling the story of these campaigns. We're also talking to a lot of voters face-to-face. You need solid tools like NGP VAN to power all of that work.
How is the DLCC preparing new candidates to run technologically savvy, data-driven campaigns?
Today, there are more candidates running for the state legislature as Democrats than in any election since 1982. In 19 states and 20 chambers, we have Democrats running in one-hundred percent of seats. It's truly a high water mark going into the November elections.
We have so many first-time candidates and because of that, there are candidates who are not as familiar with campaign tools. So, we've collaborated with NGP VAN to provide appropriate tools for online fundraising and volunteer management through DLCC Go. We have been working together for a long time to make sure that these tools fit the unique needs of state house candidates and we're really proud of our partnership.
The DLCC has invested heavily in digital organizing at the national level. How has that investment shaped your work?
We're developing a robust Digital team to engage supporters nationally and make them aware of state legislatures in a way they never were before, but also to model what we'd like our state legislative candidates to do. We want our candidates to be authentic, have a strong digital presence, and make sure that they're using technology and data effectively.
One of the things we found in Virginia's 2017 cycle is that folks in New York wanted to help, but that they didn't feel a personal connection to a lot of the candidates. We realized that our videos can uplift their stories because after donors across the country saw these videos, they kept saying "Oh! The candidates in Virginia are so good!" In reality, there are impressive statehouse leaders across the country with compelling stories, but they weren't being broadcast on the screen of the iPad in someone's home. It's been really helpful to have a video team that can highlight their stories.
We've also created a Spotlight Races page so that national donors and activists can learn more about some of the strong Democrats running. Supporters can filter the list down by state or by issue. There are more than 6,000 state legislative races in the country this year and that number is growing with special elections, so we are making sure that people can connect with candidates across that massive electoral space.
With the recent retirement of Justice Kennedy from the Supreme Court, we know that decisions like Roe v. Wade are in jeopardy. How can state legislatures play a role in protecting and expanding our rights?
We know that the first wall of resistance against Trump is in the states. Many state legislative leaders have already passed proactive, progressive legislation. In 2017, we flipped Washington state Senate, by helping to elect state senator Manka Dhingra in a special election. Washington then passed legislation guaranteeing the right to access abortion. That also passed in Oregon, under house speaker Tina Kotek.
California is another good example. When the deportations started, way before the current family separation crisis, the California state legislature decided to train all of their legal aid attorneys on immigration law and asked those legal aid attorneys to help stop deportations. These policies make a real impact.
State house leaders from across the country are thinking about what pieces of legislation can be put into place to ensure that the rights of all Americans are protected. As we win back state legislatures, not only do we get the effect of incredible policy in states, we also get the broader effect of building long-term Congressional lines and voting environments that will help us win back Congress.
We're dedicated to expanding the Democrats' blue wall and we're making good progress. We're only 2 seats away from winning back the Wisconsin state senate and only 3 seats away from the Arizona state senate. We're also seeing incredible opportunities in Colorado, Minnesota, Maine, Iowa, Michigan, and Florida this year.

Jessica Post is the Executive Director of the Democratic Legislative Campaign Committee. She rejoined the DLCC after serving as the Senior Director of FOCUS 2020, the EMILY's List initiative to elect more pro-choice Democratic women to key state legislatures ahead of redistricting. Previously, Jessica served as the Political Advisor for the Midwest at EMILY's List, the National Field Director and Political Director at the DLCC, and the Statewide Field Director for the 2008 Minnesota Coordinated Campaign. Jessica got her start in the field, managing a state legislative race in her home state of Missouri.