[Webinar] The benefits of using NGP VAN tools together
March 16, 2023 | Brandon Blumenherst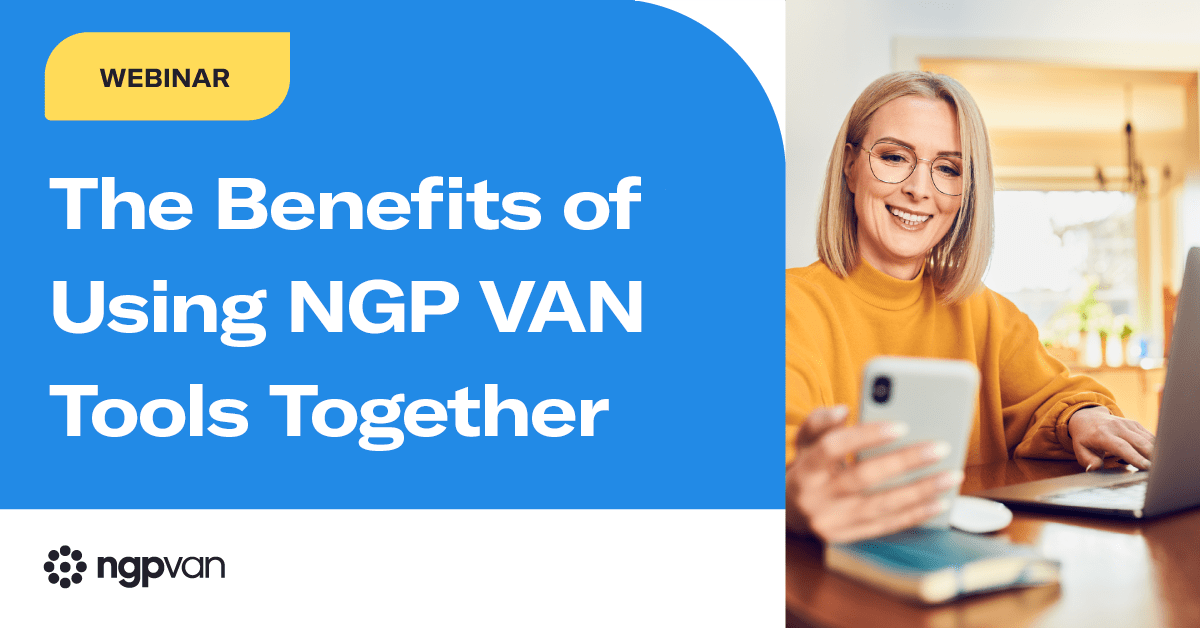 In this webinar, Craig Grella and Michael Murray discuss the benefits of using NGP VAN tools together to help set your campaign up for success. With a broad span of fundraising and organizing software and products available, NGP VAN has all the technology you need to win your political campaign.
Using NGP VAN tools together for fundraising and organizing
Increasing supporter engagement with NGP
In NGP, you can access a comprehensive view of all your contacts and engagement history across all mediums through your multichannel outreach efforts. Within NGP, you can record and act on interactions through email, Mobile Messaging, direct mail, Facebook ads, and our integrated advocacy tools.
With our new contact record, campaigns can easily view a donor's activity with your campaign and customize the stat bar at the top of the screen in NGP to show the numbers that are most important to you.
You can also use Mobile Messaging within NGP to contact supporters to increase donations and engagement. Similarly to Targeted Email, you can send customized text messages to your supporters to ask them to donate, attend an event, or volunteer for your campaign. Through multichannel outreach within NGP, you can likely boost your fundraising numbers by personalizing your asks to donors and reaching out through whatever medium they are most likely to respond through.
Fundraising in NGP
NGP is the most widely used and trusted compliance database for Democratic candidates throughout the country, with over 80 compliance reports (including all FEC reports and nearly all state filings) available for filing, built-in audit trails and errors flags, and bulk uploading and de-duplication functionality within the software. These compliance and reporting features help you file complete and accurate campaign finance reports to ensure your campaign remains compliant with relevant campaign finance laws.
Donor Target Scores are our newest innovations within NGP for your campaign to utilize predictive analytics to match your existing contacts and provide custom scores to model a contact's likelihood to donate and their giving potential. Donor Target Reports allow you to create reports of prospective and existing donors based on the Suggested Fundraising Effort (a combination of those two scores) to help boost your fundraising efforts. These new innovations offer a huge time-saving potential for all campaigns, and these features are free to all NGP users.
Connecting with more donors Call Time Mobile and Call Time Connect
Call Time Mobile and Call Time Connect work simultaneously to make call time more efficient. Call Time Connect offers click-to-dial functionality within NGP, allowing candidates and call time staff to contact supporters within NGP and Call Time Mobile. Call Time Mobile is our mobile call time app that lets candidates make fundraising calls wherever they are, whenever they have time. Call time staff can create lists in NGP and send them to the Call Time Mobile app, ensuring that candidates make specific calls to donors when they can. Call Time Mobile also allows multiple people to be on the same call and join or exit calls in progress. You can also send donors a templated email or SMS follow-up message to secure their donation.
Recruiting volunteers with forms and petitions
With NGP VAN tools, like our forms and petitions, you can encourage your supporters to take action by donating, volunteering, or signing petitions. With mobile-optimized forms that support PayPal and Apple Pay, you can more effectively encourage people to support your campaign. You can also customize these forms and petitions to match your themes before you send them out or embed them on your campaign website.

Organizing with NGP VAN tools
VAN and SmartVAN
Our voter file solutions, VAN and SmartVAN, allow you to effectively use voter data to define your targeted voter universe and contact them efficiently. We've got several canvassing and phone banking tools that enable you to act on voter data to identify your supporters and mobilize them to win your election. Our mobile canvassing app, MiniVAN, can help you navigate targeted voter households and have guided conversations with branched scripts that adapt to voters' responses. Data entered into MiniVAN also automatically syncs back to VAN, ensuring you keep the valuable data volunteers collect in the field.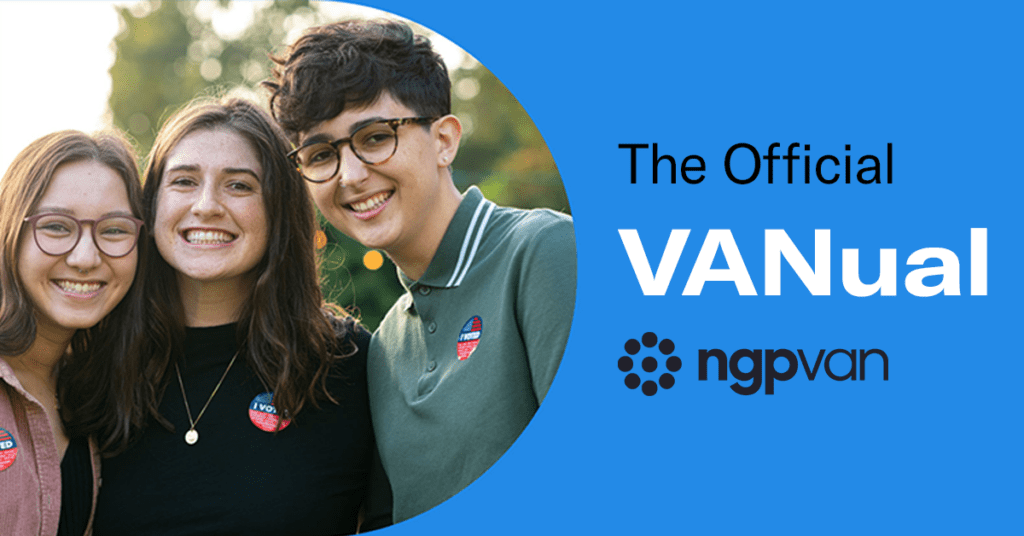 You can also easily create Open Virtual Phone Banks to share with supporters and volunteers to make calls from wherever they are. You can even use VPB Connect to offer click-to-dial functionality for your campaign to make more calls faster and route calls through a local, central caller ID. Again, the data logged through Open Virtual Phone Banks is auto-synced back to VAN, ensuring you keep any information your volunteers collect while making calls.
Mobilize
Mobilize is our volunteer recruitment and events management platform. Organizations using Mobilize have seen up to a 40% increase in their event and volunteer RSVPs from Mobilize features and automations. You can also save 5 – 10 hours per staff member each week and tap into the Mobilize network of over five million volunteers. Mobilize also has a VAN integration that automatically syncs information back to VAN for you to act on in the future.
Using NGP VAN tools to set your campaign up for success
NGP VAN has all the technology you need to set your campaign up for success. From our industry-leading fundraising and compliance software to our best-in-class organizing tools, NGP VAN offers a wide range of products to help your campaign win your election. Read more about our client's successes or request a demo today.

---
Additional Resources
Want to learn more about how NGP VAN software can support your campaign? Here are a few additional resources to help you build your email lists, engage supporters and donors, and win your race!
How to Win Your Local Election Guide. Read more about what it takes to run for political office and win in our all-inclusive campaign guide.
The VANual. Learn about VAN and how to use it to build your targeted voter universe and contact them efficiently and effectively.
The MiniVANual. Discover the best tips and tricks to use our mobile canvassing app, MiniVAN!