Workers at EveryAction Become Largest Progressive Tech Union
September 3, 2021 | NGP VAN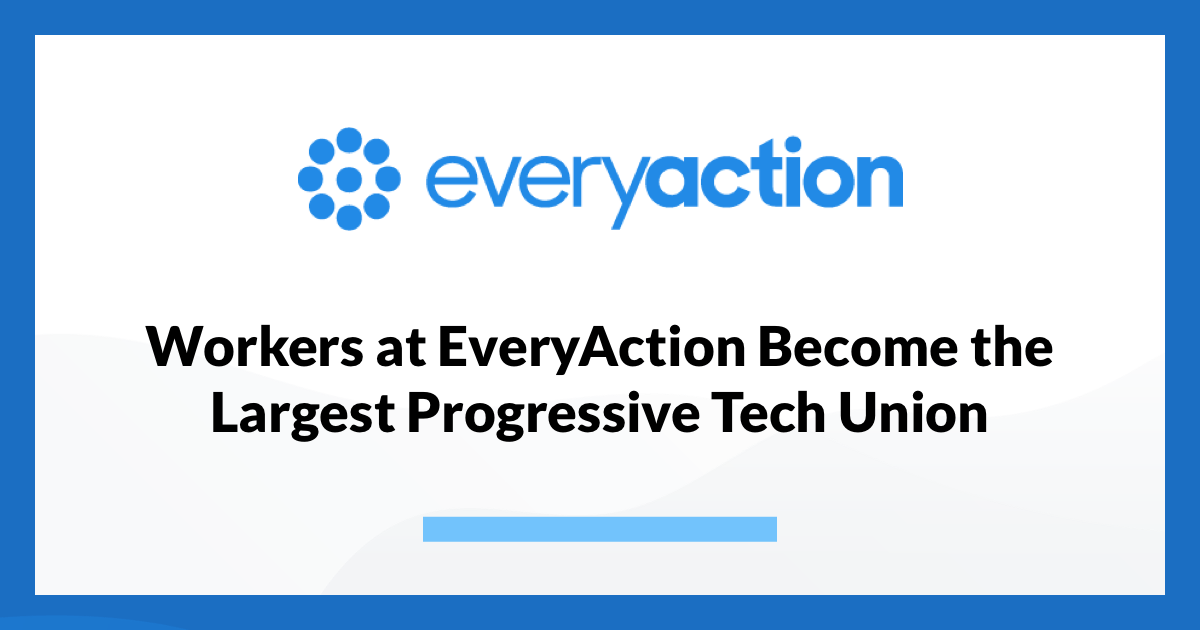 Washington, D.C. — Today, union representatives and management of EveryAction jointly announced that the company has voluntarily recognized the EveryAction Workers Union, with the Communications Workers of America's CODE-CWA project. EveryAction provides nonprofits with customer relationship management, donor management, and fundraising software tools. A supermajority, 67%, of the approximately 240 eligible EveryAction workers in the United States signed cards to establish the union. The union held a formal card count with the American Arbitration Association and received voluntary recognition from management, and is now the largest progressive tech union with majority traditional tech workers in the United States.
"At EveryAction we are building tools to help those in the fight for racial, reproductive, economic, and environmental justice. As workers at EveryAction we are committed to making the world a more just, inclusive and democratic place through technology." said Gabby Weiss, Digital Content Editor at EveryAction and member of the EveryAction Workers Union. "EveryAction is a leader in the progressive tech industry and our union joins the growing movement of unionized tech companies that are ensuring their workers have a real voice on the job in order to build workplaces that reflect our values and empower all of us."
EveryAction Workers Union includes software engineers, product managers, members of the sales team and other staffers. This newly formed union follows the successful unionization efforts at other progressive tech firms including Change.org, Blue State, Catalist and Mobilize, a recent acquisition of EveryAction. The EveryAction Workers Union reflects the growing trend of tech workers interested in the power of collective bargaining. Negotiations over a collective bargaining agreement will begin soon.
"We're proud that for more than two decades, EveryAction has been a progressive workplace and led the way in adopting progressive benefits, such as being a leader in adopting paid parental leave, paying 100% of health care premiums in a no deductible plan, and providing annual profit-sharing contributions to every staffer regardless of whether they can contribute to their 401k," said Amanda Coulombe, General Manager of EveryAction. "And we're proud that soon, we will be able to say that the EveryAction product is made by union members, and that we are continuing to set an example in the software space by voluntarily recognizing the EveryAction Workers Union. Our north star is doing what allows our clients to change the world, and we believe that this will do that."
The EveryAction workers will be members of CWA Local 1400 in Boston and CWA Local 2336 in Washington, D.C.
"We are glad to welcome the EveryAction workers as part of the growing tech worker membership of CWA Local 1400," said Don Trementozzi, President of CWA Local 1400, which also represents members of the Alphabet Workers Union. "By choosing to join our democratic, member-driven union they are bringing the democratic values they fight for every day to their workplace."
"By joining our union, workers from EveryAction are building a better workplace and bringing awareness to the importance of union organizing for all working people," said Terry Garner, President of CWA Local 2336. "We know that when workers have the opportunity to join a union without interference from management, it empowers them to have their voices heard in the workplace and that's what happened at EveryAction."
###
Follow the EveryAction Workers Union at @eaworkers_union.
The Campaign to Organize Digital Employees (CODE-CWA) is a network of worker-organizers and their staff working every single day to build the voice and power necessary to ensure the future of the tech, game, and digital industries in the United States and Canada. CODE-CWA is a project of the Communications Workers of America which represents hundreds of thousands of workers throughout tech, media, telecom, and other industries who stand together to fight for justice on the job and in our communities.
EveryAction provides the most innovative engagement platform, offering nonprofit Digital, Development, and Program/Volunteer departments best-in-class features, with an easy-to-use modern user interface. EveryAction's mission is to empower our nonprofit partners to be more effective in your mission and do more good, by providing you with the best omnichannel platform that optimizes interactions for the best outcomes, from raising more money to building more support.