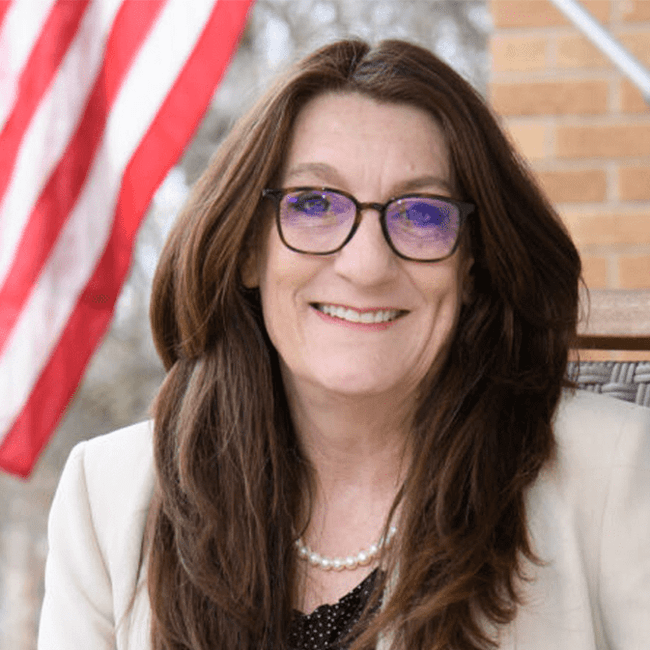 Case Study
How Veronica Klinefelt flipped a competitive Michigan State Senate seat 
In one of the most targeted and competitive state Senate races in Michigan, Veronica Klinefelt for State Senate used NGP VAN software to track her fundraising efforts, contact voters, and ultimately win her race, helping flip the Michigan Senate blue and achieving a Democratic trifecta in Michigan.
How Veronica Klinefelt won her election to the Michigan State Senate
After over two decades of service to her community at the local level, Veronica Klinefelt stepped up to run for the Michigan State Senate to build vibrant communities and a government that works for the people. After winning a competitive primary against another well-known elected official, she ran a full-fledged campaign in one of the most competitive districts in the state, ultimately winning with 53% of the vote in the general election. In her first session, State Senator Klinefelt and her Democratic colleagues in the Michigan State Senate have passed protections for the LGBTQ+ community, repealed Michigan's right-to-work law, and more.
Overall impact by the numbers
Klinefelt wins the primary election
$M+
raised and tracked through NGP for the competitive general election
Klinefelt wins general election

0%

of the votes
Investing in NGP VAN software early to run an efficient and effective campaign
After Michigan voters approved the creation of an independent redistricting commission in 2018, the commission created new legislative maps after the 2020 Census. These new maps offered Democrats the best opportunity to gain majorities in the legislature in decades, but many districts were drawn competitively, including State Senate District 11. This competitive district attracted two viable primary challengers, including then County Commissioner Veronica Klinefelt. After serving on her local school board and city council, Klinefelt served as a County Commissioner for a decade and decided to take her community advocacy to the Michigan State Senate.
Investing in campaign software in a contested primary helps save your campaign time during a busy organizing season. It allowed the Klinefelt campaign to learn how to use the software effectively, so they could focus on other activities to help get out the vote to win the primary to advance to the general election. The campaign knocked on thousands of doors and talked to voters across the district in the primary, which led to a decisive victory. After winning a competitive primary, the campaign had to scale up fundraising and organizing efforts heading into an even more competitive general election against a well-known incumbent.
As one of the most targeted races in the state and country, the Klinefelt campaign knew they needed to raise and track a significant sum of money to run a competitive campaign and contact tens of thousands of voters. Thankfully, after using NGP VAN software in the primary election, they knew how to act on the data they gathered during the primary election to raise and track money through NGP and contact voters through VAN effectively and efficiently. The campaign's early investment in NGP VAN software would quickly pay dividends due to the influx of online donations to their campaign from donors across the state and country.
Utilizing NGP VAN's political campaign management software
NGP VAN offers a full suite of tools to power your political campaign
After winning a competitive primary and advancing to a competitive general election, the Klinefelt campaign noticed a few Twitter users with large followings sharing a fundraising form (that split donations amongst several candidates) gaining traction on social media. This form quickly raised tens of thousands of dollars from those users' social media followers. Using NGP, the campaign easily tracked those donations for their campaign finance reports and reengaged those donors to raise more money. The Michigan State Senate was also a targeted legislative chamber to flip this cycle due to several factors, which brought in additional financial support from around the country. Accounting for this influx of contributions and ensuring compliance with applicable campaign finance laws would have been difficult without NGP.
In addition to NGP, the campaign had access to VAN, one of our voter file solutions, and Mobilize, our volunteer recruitment and event management platform, through the Michigan State Senate Democratic Caucus. VAN allowed them to target voters, cut turfs, and execute effective voter outreach across the district. The campaign focused primarily on knocking doors using MiniVAN, our mobile canvassing application, to easily guide conversations with voters and automatically sync voter responses back to VAN. Mobilize also allowed them to recruit additional volunteers to help contact more voters leading up to Election Day.
Democrats flip the Michigan State Senate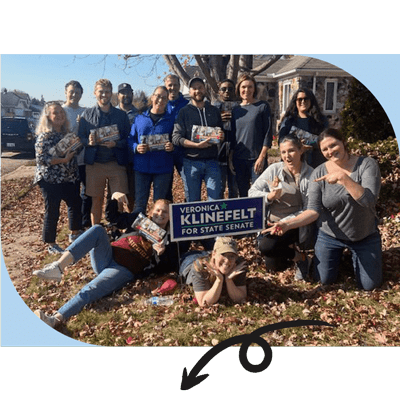 When Governor Gretchen Whitmer ran and won in 2018, both chambers of the state legislature were controlled by Republicans. After redistricting occurred in 2020, new opportunities presented themselves to flip both chambers to achieve a Democratic trifecta in Michigan. Now State Senator Klinefelt was running for one of the most competitive seats in the state, one that was critical to flip the Senate blue.
By creating a targeted voter universe in VAN and conducting multichannel outreach, the Klinefelt campaign contacted tens of thousands of voters to tell them where Veronica stood on the issues and mobilized them to get out the vote. Due to this effective voter outreach, State Senator Klinefelt won the general election with 53% of the vote, flipping one of four seats to achieve a Democratic majority in the Michigan State Senate.
After significant organizing and mobilizing efforts powered by NGP VAN software across the state, both legislative chambers flipped blue and Governor Whitmer cruised to re-election, forming the first Democratic trifecta in decades. Within the first few months of their legislative session, the Michigan Senate passed protections for the LGBTQ+ community, repealed Michigan's right-to-work legislation, and so much more.
State Senator Klinefelt continues to prioritize her work to protect reproductive freedom, advocate for working families, and expand voting access in her first session.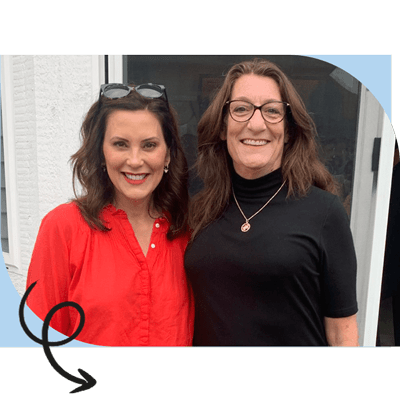 "Time is the most valuable commodity on any campaign, and you only have so much time to hit the metrics you need to win. If you want to run a serious campaign, you've got to use NGP VAN."
Andrew Ellison
Campaign Manager, Veronica Klinefelt for State Senate

NGP VAN powers winning campaigns
We're proud to partner with campaigns like Veronica Klinefelt for State Senate to empower state legislative campaigns to raise money, execute voter outreach, and build valuable databases efficiently and effectively.
When the time came to file campaign finance reports, NGP made it easy to file complete and accurate campaign finance reports. When they needed to develop their targeted voter universe to get out the vote, VAN made it easy to craft that universe and execute an effective voter contact program through MiniVAN. Lastly, when volunteers were needed most, Mobilize allowed them to boost their volunteer capacity to help contact more voters in the final days before the election. Investing early in campaign software saved the campaign valuable time that they invested in GOTV operations to flip the district blue and achieve a Democratic trifecta.