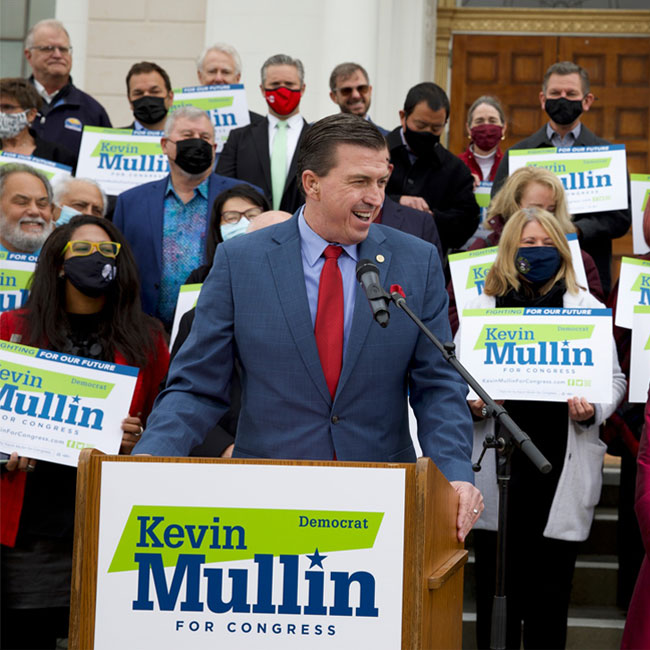 Case Study
Winning with SmartVAN, one of NGP VAN's powerful voter file solutions | Kevin Mullin for Congress 
Congressman Kevin Mullin used SmartVAN, one of our comprehensive voter file solutions, to effectively target voters after a crowded primary to win California's 15th Congressional District in a competitive general election.
After Congresswoman Jackie Speier announced she would not be running for re-election in 2022, several candidates filed to run for a rare opportunity to run for Congress in California's 15th Congressional District, a newly drawn district representing parts of San Mateo and San Francisco counties. Then State Assemblymember Kevin Mullin decided to file to run for the seat in a crowded field of candidates. In the primary election, Assemblymember Mullin received the most votes, winning 41% of the vote. However, despite the primary victory, the campaign experienced difficulties pulling reports and working through the massive amount of data they were collecting in the field. After hearing about SmartVAN's user-friendly and scalable capabilities, the campaign began using SmartVAN, one of our powerful, comprehensive voter file solutions. Building upon his success in the primary election, Congressman Mullin won the general election on November 8, 2022 with 55.5% of the vote. 
Overall impact by the numbers
Primary election vote shares for the top two candidates
+
Voter contact attempts through the 2022 cycle
Mullin wins the general election with

0%

of the votes
Winning in a crowded primary
Kevin Mullin's service to the Bay Area delivered results to strengthen voting rights, expand affordable housing options, fight climate change, and ban dark money from elections.
How Kevin Mullin's congressional campaign used SmartVAN to combine robust voter data with VAN organizing software to win in California
By making the switch to SmartVAN, the campaign and their volunteers had an easy-to-use platform that they could quickly train volunteers how to use to conduct targeted voter outreach throughout the district. As the campaign moved forward, staff could also easily pull progress reports to determine where additional support may be needed.  
SmartVAN offers many benefits to our customers, including: 
The most frequently updated, robust voter data for targeted voter outreach

 

Powerful organizing workflows that help you achieve maximum efficiency and effectiveness

 

Comprehensive reports that can help communicate progress and indicate where additional support may be needed

 
SmartVAN also provided an intuitive database that easily completed everyday tasks, like pulling progress reports, which allowed staff to focus more time on recruiting and onboarding new volunteers after many of their student volunteers moved away for college. By providing a user-friendly database, SmartVAN made it easy for the campaign to achieve their organizing goals to execute impressive voter outreach efforts. 
After knocking on 40,542 doors and making 67,106 calls to voters for the general election, now Congressman Mullin received 55.5% of the vote to win the race for California's 15th Congressional District and continue his public service to the Bay Area. From coast to coast, we're proud to partner with campaigns up and down the ballot by providing the best-in-class political software and technology to help them win their races. 
"The determining factor to make the switch was efficiency. I needed to be able to work on a platform that was user-friendly not just for myself, but for volunteers, and I needed to be able to work as quickly as I could and train people as quickly as I could."
Brian Rogers
Campaign Manager, Kevin Mullin for Congress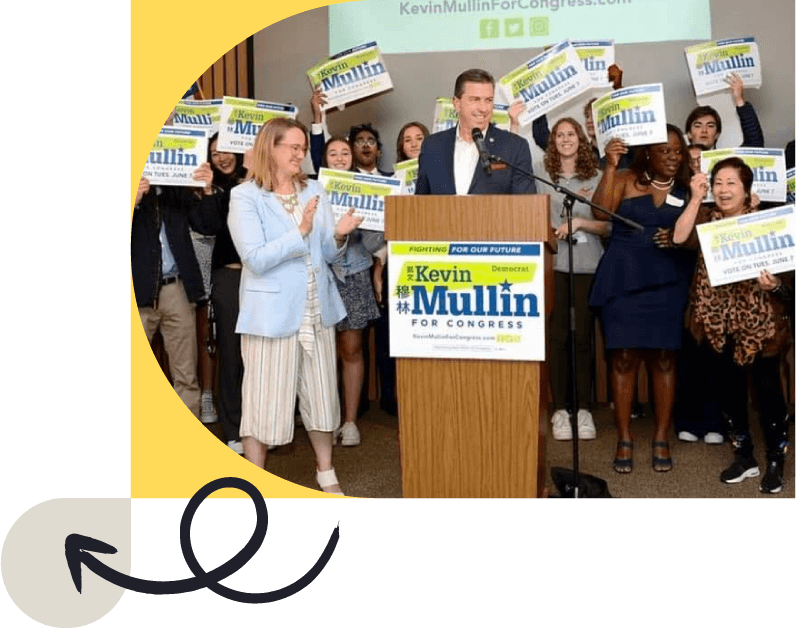 NGP VAN powers winning campaigns
We're proud to provide leading voter file solutions, like SmartVAN, to Kevin Mullin for Congress and campaigns of all sizes. Whether you're running for the state legislature or Congress, NGP VAN has the tools you need to win your race. In addition to comprehensive voter file solutions, we offer a full suite of campaign tools to drive your fundraising, compliance, and voter outreach efforts. Get a demo today to learn more about all of our tools and how our software can help you win your race.