GUIDE: Field Organizing that Wins Campaigns
August 17, 2018 | NGP VAN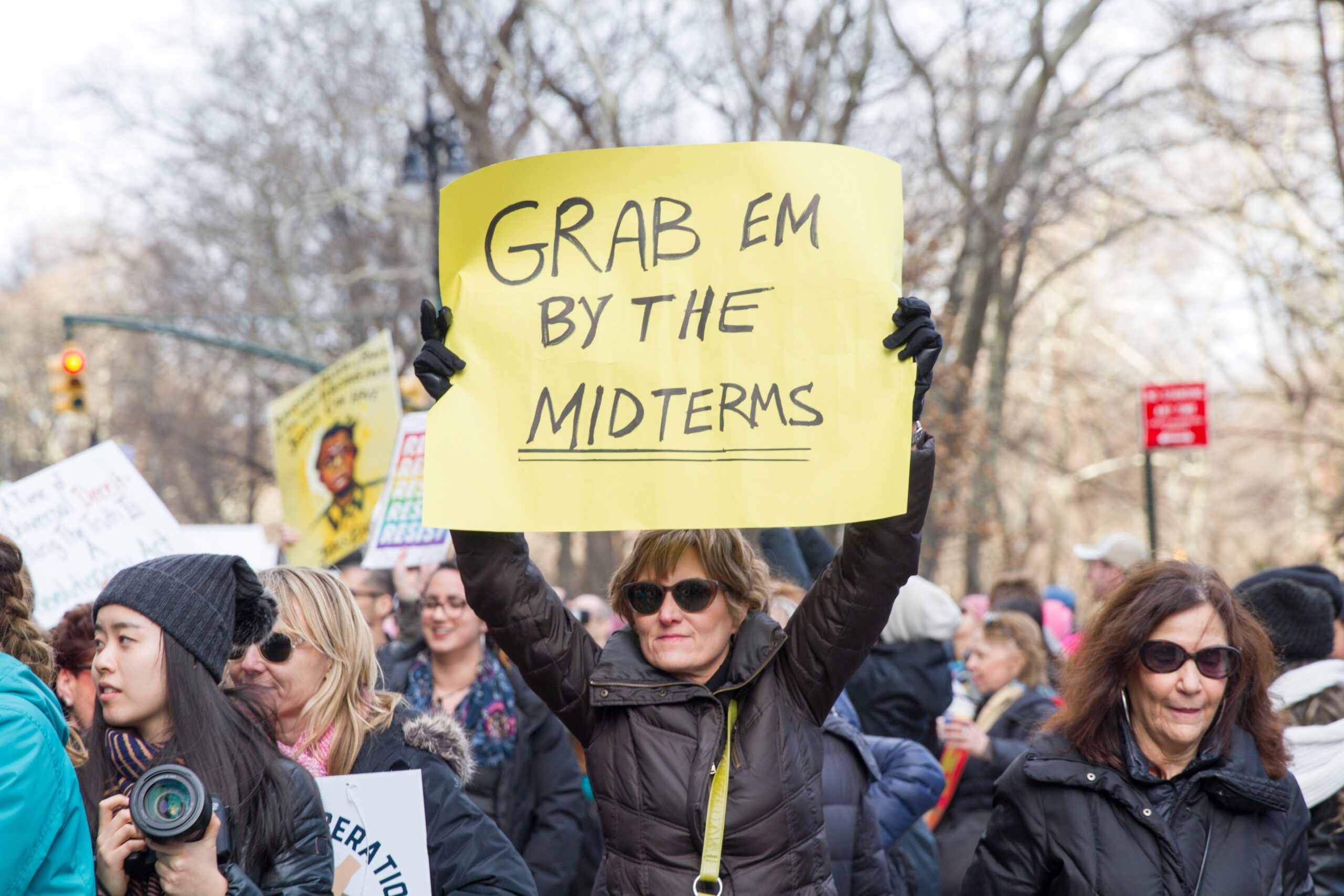 What is Field Organizing?
---
Field organizing is the process of directly contacting voters in order to educate and mobilize them toward your campaign's goals. Sometimes called "grassroots organizing" or simply "voter contact," the main goal of field organizing is to identify supporters and turn them out to vote.

Field organizing is a critical part of campaign strategy for races at every level, and common tactics are scalable for a wide variety of goals and budgets. At its heart, field organizing brings a personal, human approach to campaigning, hinging on deep relationships between campaign staff and committed volunteers, and the power of one-on-one conversations to build connections and activate voters in a community. For all of its relational power, however, successful field organizing is informed and driven by precise data and science, allowing campaigns to closely target the prime voters to invest resources in contacting.

Field organizing happens throughout the cycle of a campaign, despite being most heavily associated with the final GOTV (Get Out The Vote) phase, and typically involves tactics including door-to-door canvassing, phone banking, and campaign rallies. Campaigns may also utilize direct mail programs, robocalling, and radio or television advertisements. Typically, these efforts are run by a Field Director and a staff of organizers.
Setting Field Goals
---
Calculate your win number
Political campaigns are built around a single goal: securing over 50% of the votes cast on Election Day.* In order to build a field organizing strategy around this goal, it is necessary to calculate your win number – the number of votes you expect to need in order to win. Your win number is calculated based on the number of voters expected to turn out and vote in your race, and the margin of votes needed to win the election.
To determine expected turnout for an election, campaign strategists typically calculate the average turnout from three past similar elections. To create an accurate prediction, it is important to choose elections are as similar as possible, keeping in mind factors that may affect the results. For instance, general election years generally see higher turnout than midterms, a previous election with a particularly contentious or publicized race at the top of the ballot may have had unusually high turnout, and drastic events (such as an Election Day blizzard) may have depressed usual turnout. Make sure you're not using an outlier that will skew the average and lead to an inaccurate win number projection. It's important to also consider trends in your community's growth and shifts in demographics, which may also impact your final number.

If you're ready to get started, download our free win number calculator to help you set accurate campaign goals!
*For elections between more than two candidates, goals and calculations are processed differently, and require more data, software, and expertise. Aside from goal setting, however, all other field best practices still apply!

Target Voters
After the Win Number has been calculated, it is up to a campaign to determine which voters to focus their energy on turning out in order to reach that number. Since it is impossible (in most races) to contact the entire voting populace, it is crucial for campaigns to target the voters that will provide provide the biggest return on investment – who will take the least amount of resources in order to vote on Election Day. To make these determinations, voters are typically divided based on two axes: partisanship and turnout.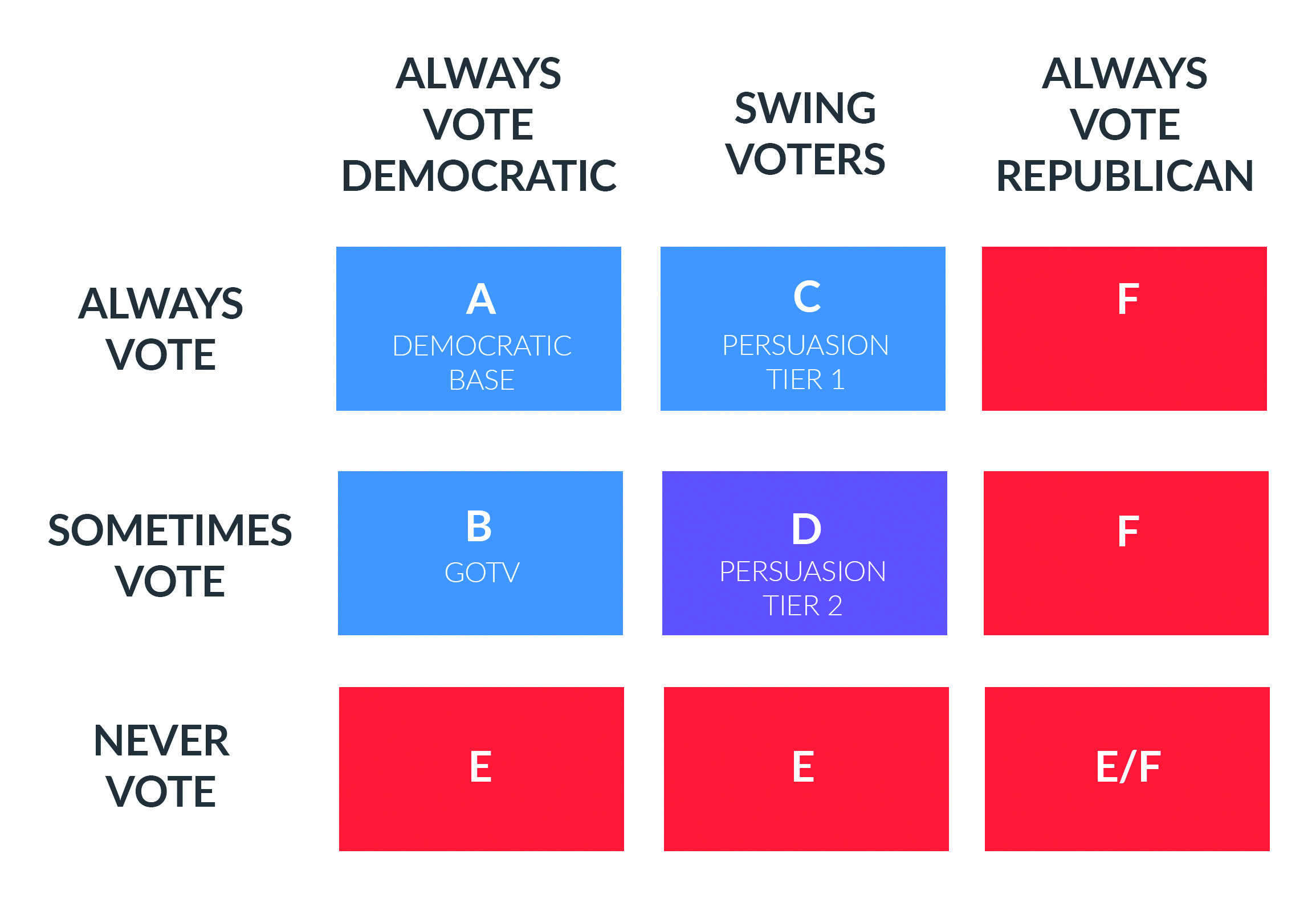 The voters in Square A are considered the Democratic Base: strong Democrats, and reliable voters. Voters in square B are the GOTV universe – you can count on them to vote for you, as long as they get to the polls. Squares C and D form the Persuasion universe – they are the swing voters that will need to be convinced to vote for your campaign. The voters in square D are the most labor intensive to organize, because the will need to be persuaded to support your candidate and turned out to vote. Anyone in the E and F rows will not vote for you – don't waste your time and resources contacting them!
Determining how many voters fall into each category requires access to a Voterfile, which most Democratic campaigns receive access to through the appropriate state party. Using past voting data and modeling within the database, campaigns can determine how many voters within their region fall into each category. From these numbers, it is possible to determine which categories of voters will be required to reach the Win Number, and what types of resources the campaign should invest in. For example, the Democratic Base may be small, but also exist with a substantial GOTV category, suggesting that the campaign's strategy will focus heavily on turnout. Alternately, the "Always Vote Democratic" column may be small, meaning that the campaign will need to focus more resources on persuading swing voters in order to hit their Win Number.
Planning a Voter Contact Strategy
---
Now that you have determined your win number and the type of voters you will need to reach in order to hit that goal, it is time to put together a strategy for contacting and activating them. The tactics used for communicating with your targeted voters will depend on a variety of factors, such as budget, geographical constraints, and demographic considerations. For instance, rural areas may be inefficient or impossible to canvass effectively, and towns with a high population of college students or young people may be more responsive to texting programs than traditional phone banking. The most common techniques are door-to-door canvassing, phone calls, direct mail, and campaign rallies and events.
Door-to-door canvassing
Canvassing is one of the most effective methods of voter contact, but also the most time and resource consuming. Having a one-on-one, in-person conversation about the candidate or election is an extremely effective way to motivate a voter to act, and allows the campaign to also hear immediate feedback from its targeted populations. For smaller races, having the candidate herself go door-to-door to meet and converse with voters is a great way to build name recognition and community support.
Volunteer canvasses are very labor intensive to run, and paid canvasses are expensive, so it is important to ensure that the canvass is being used in conjunction with other, broader tactics, and that voter targeting is done carefully to ensure the best possible return on your investment.
If you are running a volunteer canvass, it is important to start building relationships with volunteers early on in the campaign cycle. Train them, feed them, listen to their feedback, thank them, and show them that you value their contributions to the campaign. When it is time to start the canvass, make sure that their experience is smooth and enjoyable by having efficient canvass launches and check-out processes, cutting turf that is easily walkable, and checking in with them after they return.
Phones
Using phones for voter contact is a great way to replicate the one-on-one connection of canvassing for a much lower cost. Phone calling allows a campaign to contact large groups of voters in a relatively small amount of time, and can easily be used to contact supporters for event and volunteer recruitment, as well as contacting the public for voter identification, persuasion, and turnout. After calculating the amount of phone calls that will need to be made in order to achieve your voter contact goals, you'll be able to determine the most efficient and effective way for them to be executed. You may opt for a paid service to do live calls or robocalls, or a volunteer program that uses traditional phone banking or a predictive dialer.
Using a paid call tool or vendor, like NGP VAN, is the fastest and most reliable way to ensure that the amount of calls you need will be made. Volunteer phone banks are the cheapest way to make calls and provide the most personal approach, but are also labor intensive and less reliable. Often campaigns will use a combination of methods to ensure that their call goals are reached.
Direct Mail
Direct mail is a highly targeted voter contact strategy which allows campaigns to communicate with a mass audience, across broad geography. Though it is expensive, when compared to other large scale tactics such as television and radio ads, it is a much more efficient way to reach a specific targeted group of voters. Direct mail can also be used for repeated contact; sending a series of mail to a voter universe is an effective method to communicate and build on your message over time. Most importantly, it is crucial that the message being communicated through your direct mail pieces works in conjunction with the message being spread through other tactics, so that voters are getting a consistent and clear idea of the campaign's pillars.

Rallies and Campaign Events
Getting your candidate in front of voters in a direct and personal capacity can be a powerful tool when used correctly. When planning a rally or event, the most important aspect to consider is how you will harness the enthusiasm that voters feel in the moment and convert it into action for the campaign. Having volunteers sign attendees in when they arrive is critical, because the contact information collected ensures that the campaign can continue to reach out to attendees afterward in order to recruit them to volunteer shifts and turn them out to vote. The most strategic time to have a rally is toward the end of a campaign, when the energy a candidate inspires is most likely to translate directly into votes and GOTV volunteer shifts.
Getting Out The Vote
---
Once you know who your voters are and the methods that you will utilize to contact them, it's time to act. Each of the three target groups will have different goals and outcomes, and require different techniques for motivation.
Organize the base
Democratic base voters who consistently turn out and vote for Democratic candidates are the foundation of electoral victories across the country. Though it may vary by campaign and region, precincts whose voters turned out at over 65% democratic in the past three similar elections are considered base areas. Core constituency groups (such as African American voters, Labor Unions, pro-choice and LGBTQ voters) are also pillars of the Democratic voting base. The key to constituency organizing is to identify your base voters, communicate with them early and regularly, and convert them into volunteers and activists for your campaign. When developing a Field program, it is important to make sure that the base is activated and engaged, while saving campaign resources for turnout and persuasion voters that are harder to reach. One of the best ways to accomplish this is to engage with base voters early in the campaign, building relationships with voters and community leaders. With successful early investment, base voters will not only turn out to vote, but will form the core of the volunteer program your campaign depends on to contact other voters.
Persuasion
Voter persuasion is hard, and tactics are intensely studied to determine their efficacy. Research has found that persuading voters to abandon their party is nearly impossible, but that persuasion has an important place in elections with fewer party cues (such as primary elections and ballot measure campaigns). Effective persuasion has also been demonstrated in scenarios where an incumbent holds views that are drastically different than the majority of voters in their district. For standard partisan elections, persuasion is more effective at the beginning of a campaign cycle but stops working a few months before election day – and the voters persuaded early often change their minds again leading up to the election, suggesting that campaigns should develop new tactics for maintaining persuaded voters throughout the cycle. More testing has revealed that success of persuasion tactics may vary greatly in effectiveness across demographic groups, indicating that increased message personalization may be necessary. Finally, psychologically informed tactics of persuasion – messages informed by psychology research, such as social pressure and gratitude have proven to be very effective in increasing election turnout.
GOTV
During the final weeks of a campaign, all focus shifts to one goal: getting voters to the polls. This period is widely considered the most intense portion of a campaign, and larger campaigns often have a "GOTV Director" staff role specifically dedicated to ensuring that it runs smoothly.
GOTV utilizes the same field organizing tactics as every other stage of the campaign, but they are highly targeted to a specific group of voters. The universe should be targeted in order to avoid turning out anyone who is not a sure supporter, and time should not be wasted contacting people who are already guaranteed to show up. Rather, GOTV should focus on identified supporters who are inconsistent voters. Instead of voter identification and persuasion (as in previous phases of the campaigns), the message carried to voters through canvasses, phone calls, and mail has the singular goal of getting them to the polls. Studies have found that one of the most effective ways to ensure that voters contacted during GOTV actually do vote is to make a voting plan with them. Canvassers and phone bankers should confirm that the voter is a supporter, provide poll's time and location information, and then ask the voter what time of day they plan to vote and walk through a plan and schedule with them.
GOTV continues up until the evening of election day, with some of the most important contacts happening immediately after work hours when voters are returning home and need a reminder to get to the polls before they close. Though it may seem intimidating, when built on a solid foundation of base organizing and constant communication with the community through voter identification and persuasion, GOTV is an exhilarating process to push your campaign down the final steps toward the finish line.
Ready to run? Check out this guide to running for local office: