How We Incorporate User Feedback into Our Products
October 5, 2017 | NGP VAN
We care about what you think and are constantly working to improve our products. We've put together a suite of tools and frameworks to help us better incorporate user feedback into our everyday product decisions so that we can create a better product experience for you.
Seeing the User Experience with FullStory
When we begin working on a new product we start with discovery–gathering any information that will help us learn about and understand the problem we are trying to solve. FullStory allows us to understand how users interact with our products in the wild. It allows us to see interactions and delivers insights into usage, pain points, and more that help us empathize with the user.
Collecting Feedback In-App
The feedback you give is incorporated into important product decisions. One of the easiest ways for you to share your feedback is to click on the feedback link in the sidebar and provide us with general or page specific feedback. This is an opportunity for you to tell us what you're thinking in real time as you use our product. We care about what you have to say and regularly monitor and track this feedback, then loop it back into our product process.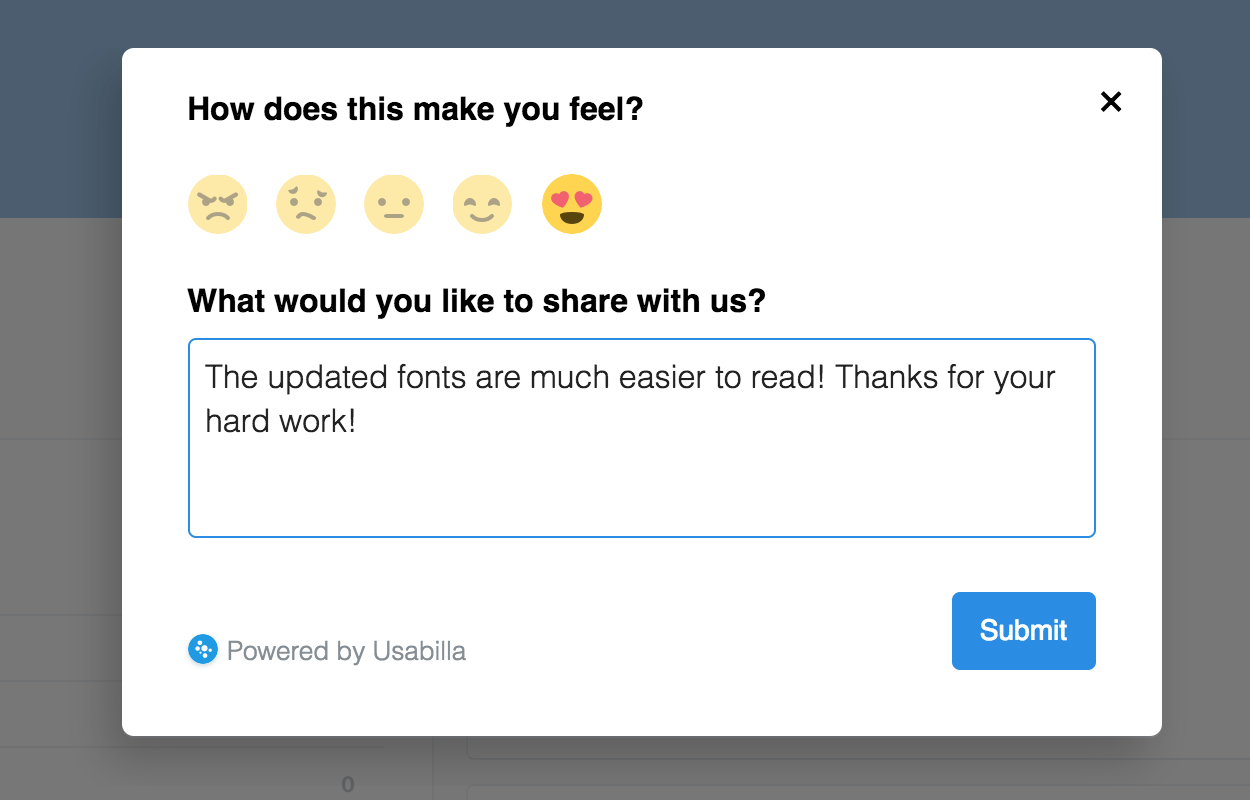 Working Directly With Users
We've created a Product Feedback Group to hear directly from our users so that we can improve our products for everyone. Members of the feeback group work with Product Managers and User Researchers on quick research studies – a quick interview about a new feature we're working on, or a short usability test. Participation is optional, and group members may decline or opt out at any time. We're always looking for new members. Intersted? Join now.
Evaluating Products with HEART
We've begun monitoring our product releases using the HEART framework. This framework, developed by Google, helps us make more informed product decisions by providing a better way to evaluate the success of our products. HEART is an acronym that stands for Happiness, Engagement, Adoption, Retention and Task Success. Each time we release a product, we examine its performance in a few or all of these categories. This framework allows us to set measurable goals that hold us accountable, while also defining the success of a product on more human terms. By using this tool we hope to provide you with more usable products that you love.
We work hard to understand the needs of our users and we hope it shows in the products we release. We've made an effort to examine and improve our processes and invest in tools and frameworks that will help us achieve our goal of improving the user experience for all users.