Political fundraising basics: Start your campaign fundraising early.
January 31, 2023 | Brandon Blumenherst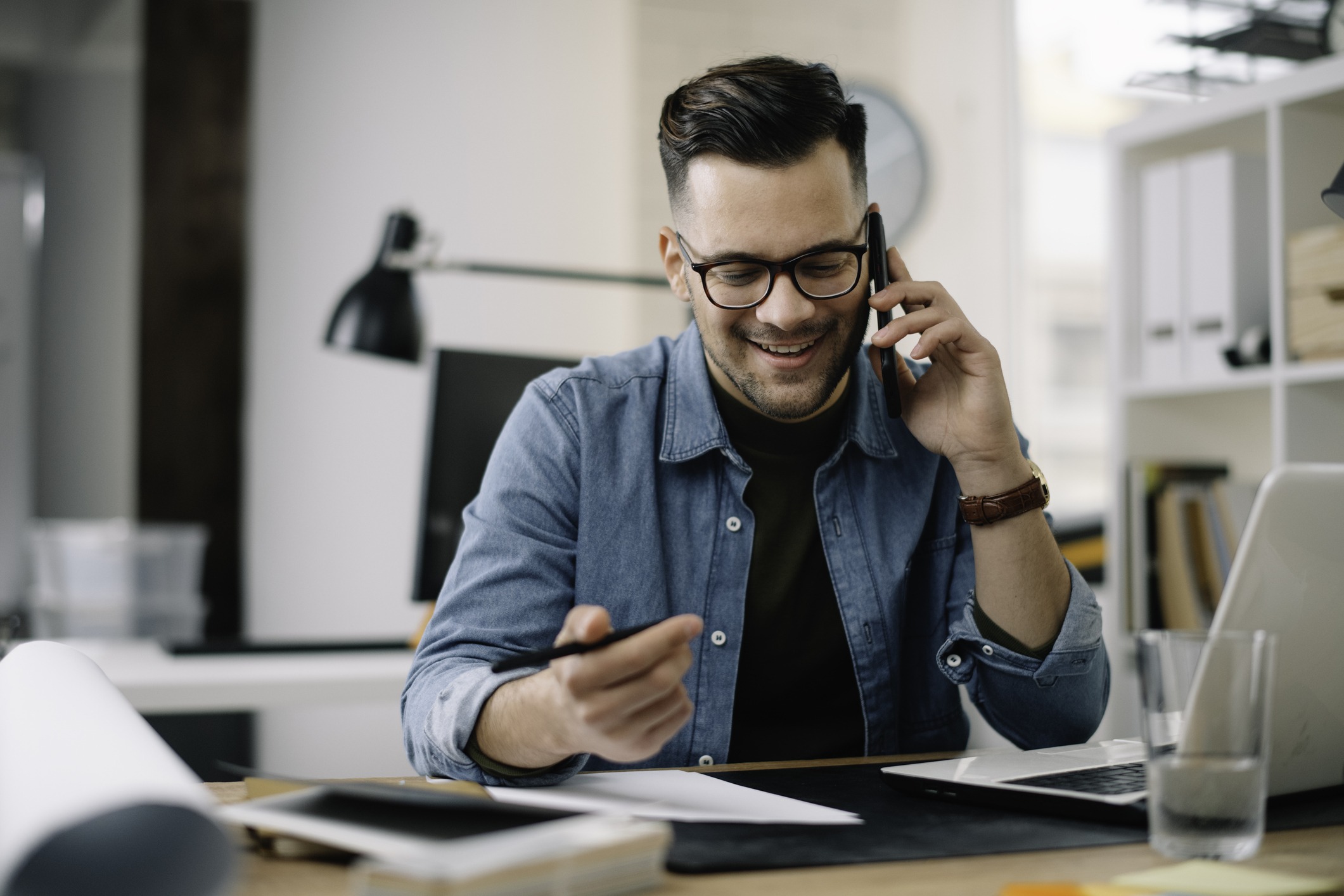 One of the most integral components of any campaign is raising enough money to win your race. While money isn't everything, it certainly helps to have the financial resources you need to pay for all your campaign expenses and potentially expand your voter outreach efforts. While political fundraising can be difficult, planning your fundraising efforts and starting your campaign fundraising early can help set your campaign up for success. However, to start raising money for your campaign, you should figure out how much you need to run a competitive race.
Develop your campaign budget.
Building your campaign budget helps you understand how much you need to raise to run your campaign. Setting this baseline early helps you set your goals and determine how much you need to raise at different times in the campaign cycle.
Consider historical election fundraising reports available through your local election bureau, county clerk's office, Secretary of State's office, or the Federal Election Commission. You can also check comparable races around the area to see how much money you may need to raise to be competitive.
Also, think about how much you can raise. If past reports only show that campaigns have raised $20,000, but you think you can raise $50,000, aim for $50,000. Raising more money allows you to expand your voter outreach efforts heading into Election Day. It's much better to have more money than you need than not enough.
Once you research how much you should raise and consider how much you can raise, begin assembling your budget with the following items in mind:
Staff

If you hire staff, salaries will be one of the larger components of your fundraising budget.

Fundraising

What will it cost to host fundraisers?

Collateral Materials

How many pieces of campaign literature do you need? Yard signs? Other campaign swag?

Research

Will you need to hire someone to do opposition research? Or will you pay for a message or tracking poll to determine where you stand in the race?

Media Advertising

Advertising will be one of the expensive components in your budget as well. Consider how much money you want to spend here and determine the best advertising strategies for your campaign.

GOTV

GOTV expenses are for voter contact efforts. Do you need to pay for callers or phones for volunteers? How many mailers do you plan on sending to voters? Are you going to text voters or pay canvassers to knock doors?

Infrastructure

Infrastructure elements are what your campaign is built on. Do you need a campaign office or can you run the campaign from home? Will you need to travel? What software do you need to invest in to centralize your fundraising and voter contact efforts?
Once your campaign budget is developed, establish fundraising goals on your campaign calendar. These goals will help you benchmark your fundraising progress, allowing you to understand if you're on track to hit your goals or falling behind. If you're exceeding your fundraising goals, think about areas of your budget where you may want to expand your efforts. Maybe you want to scale up your advertising efforts or pay for another campaign mailer. If you're missing your fundraising goals, decide where you may need to scale back if you don't think you can make your money up over the remaining time in the campaign cycle.
Once you've developed your campaign fundraising goals and placed those goals on your calendar, it's time to build your donor list.
Build your political fundraising donor list.
Now that you've got your fundraising goal in mind, you've got to build out your donor list. Your donor list serves as a means to achieve your fundraising goal. It can start with a simple list of people you think would donate to your campaign–family, friends, coworkers, neighbors, etc. Once you develop that initial list, consider the following diagram to think of other people who may donate to your campaign.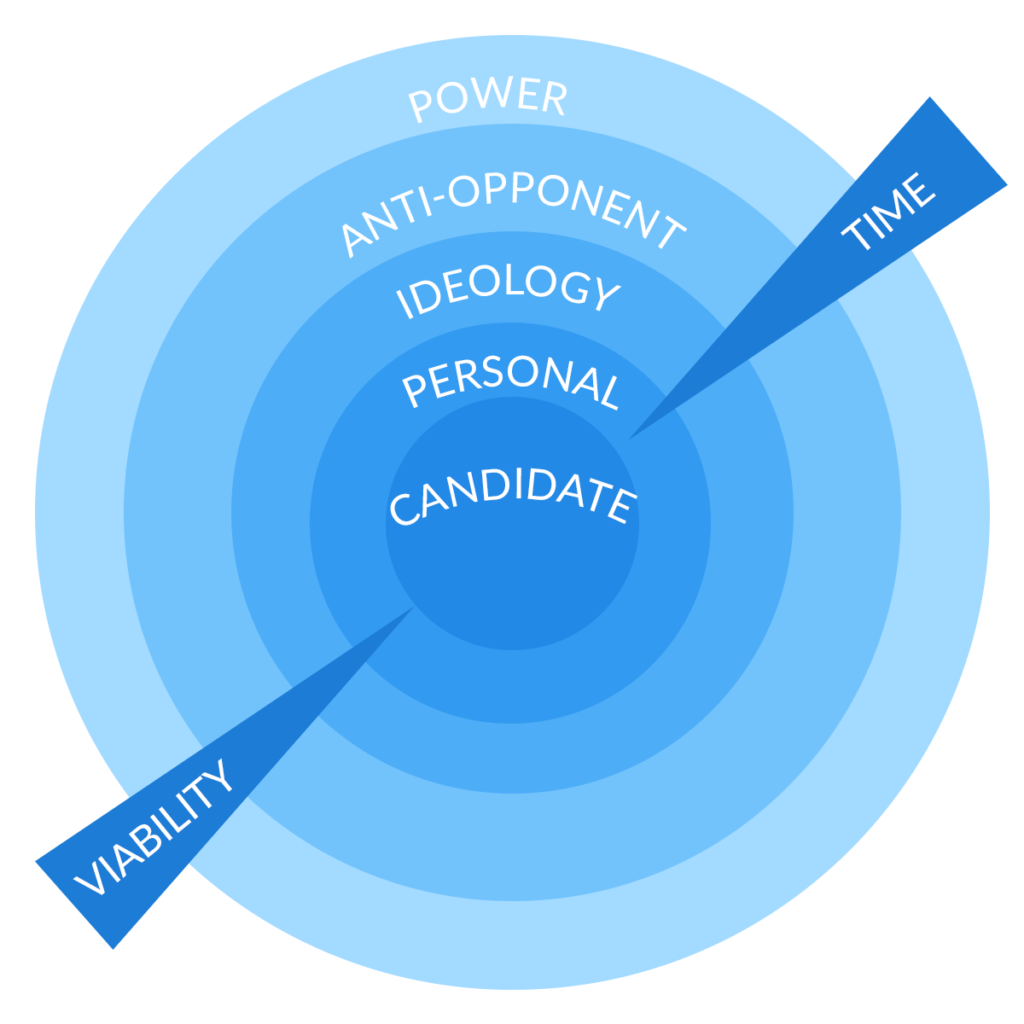 These concentric circles illustrate different groups of people that should be asked to contribute to your campaign. The further away someone is from the candidate, the later in the race they will typically donate, and the more competitive the candidate will need to be for them to engage.
You've probably built out your personal list already. These people want to see you succeed as an individual, and they may not place as much importance on where you stand on the issues. Others might, and if they agree with your stances on the issues, they bridge the gap between personal and ideological donors.
Ideological donors support you as a candidate because of where you stand on the issues. They may not be partisan, but they may advocate for a cleaner environment, greater protections for the LGBTQ+ community, or another cause that's important to them and you. They want to see you win to advance that cause, so they will likely support your campaign.
Anti-opponent donors are people who have the incentive to see your opponent defeated, and they will potentially donate to your campaign for their interests. Lastly, Power Circle donors typically are PACs, labor unions, and business associations that generally support incumbents to protect their business and professional interests, but they may support a viable challenger. All these circles should be contacted in your fundraising efforts so that you can achieve your fundraising goal.
As you begin building out that list, it's typically best to record their name, phone number, email address, home address, ask amount, and call result. Most candidates will start building this in a spreadsheet and start contacting their donors through call time, email, texting, social media, or direct mail.
However, as you build that list and begin contacting potential donors, you will likely see how overwhelming recording donor information can be in a simple spreadsheet. You'll want to record contact attempts (calls, texts, emails, etc.), if they need to be called back, if they pledged to give a certain amount at a certain time, and other relevant information. It can be difficult to record that information in a spreadsheet, and it's even more difficult to segment and audit that information. With a centralized fundraising database, you can easily record essential information, track your fundraising results in convenient dashboards, and pull reports of donors who have outstanding pledges, haven't maxed out to your campaign, and so much more.
Choose your campaign fundraising software early.
Having a centralized fundraising and compliance database makes it much easier to record your interactions with donors, follow up on those conversations, and use that information for future outreach. It's also helpful to ensure you're following any compliance laws or contribution limits. By choosing your fundraising and compliance software early, you can build up your data sooner, allowing you to focus on raising more money rather than inputting old fundraising data.
NGP is the leading fundraising and compliance software in the progressive political space that allows you to track your contributions and record any contact attempts from donors. By centralizing this information, you can easily track your progress toward your fundraising goals, pull reports to find donors with outstanding pledges, and much more. Donor Target Scores and Donor Target Reports also allow you to gain more insight to help build your campaign fundraising efforts from your existing donor list.

Kick off your political fundraising by building momentum from your campaign launch.
Launching your campaign is an important milestone in your campaign cycle. It's also a fantastic opportunity to start your political fundraising by taking the momentum from your launch and channeling it into your donor outreach. Invite potential donors to your campaign launch, thank them for coming if they attend, and follow up with donors after your campaign launch to ask them to donate if they didn't already. Early outreach to donors will help you build a relationship with them, likely increasing your chances of getting a donation from them for your campaign. You can also use this early outreach to hone your messaging and how you ask a supporter to donate.
Develop political fundraising appeals that resonate with your donors.
Continue testing and optimizing your messaging so donors are more likely to act when you ask them to donate. Having an engaged and responsive donor list will help you raise the money you need to hit your fundraising goal. If you find that more of your donors respond to personal stories from the campaign instead of end-of-quarter asks, send more personal stories that help you raise money to make more progress toward your end-of-quarter goals. Donors give for different reasons and it's up to you to find the best messaging to take your political fundraising to the next level.
In addition to messaging, you need to find what channels are best for your campaign to raise money. Most campaigns use call time, emails, and text messaging to contact supporters and ask them to donate. While all these methods can be highly effective, each campaign needs to find the channels where donors respond to their fundraising efforts to raise more money. If you know someone who is not responding to emails, but they are likely to donate, send them a text message or call them. Trying different contact methods for donors will also help you raise more money.
Ask your donors to give again.
As you continue to raise money for your campaign throughout the cycle, remember to ask your existing donors to give again, especially if they donated at the start of your campaign. If donors have already donated to your campaign, they want to see you win. It will likely be easier to convince them to give again than convincing a new person to donate for the first time. While building out your donor list is helpful to achieve your fundraising goals, asking your existing donors to give multiple times can help you hit your goals even faster.
While it can be difficult to start your political fundraising efforts, these steps will help you start your campaign fundraising early to set your campaign up for success. Reach out to our team today and get a customized demo for your campaign and learn how to get started fundraising right away!

Additional Resources
Interested in learning more about how NGP VAN software can support your campaign? Here are a few additional resources that help you build your email lists, engage supporters and donors, and win your race!