QuickBooks Disbursements Integration
November 16, 2022 | Brandon Blumenherst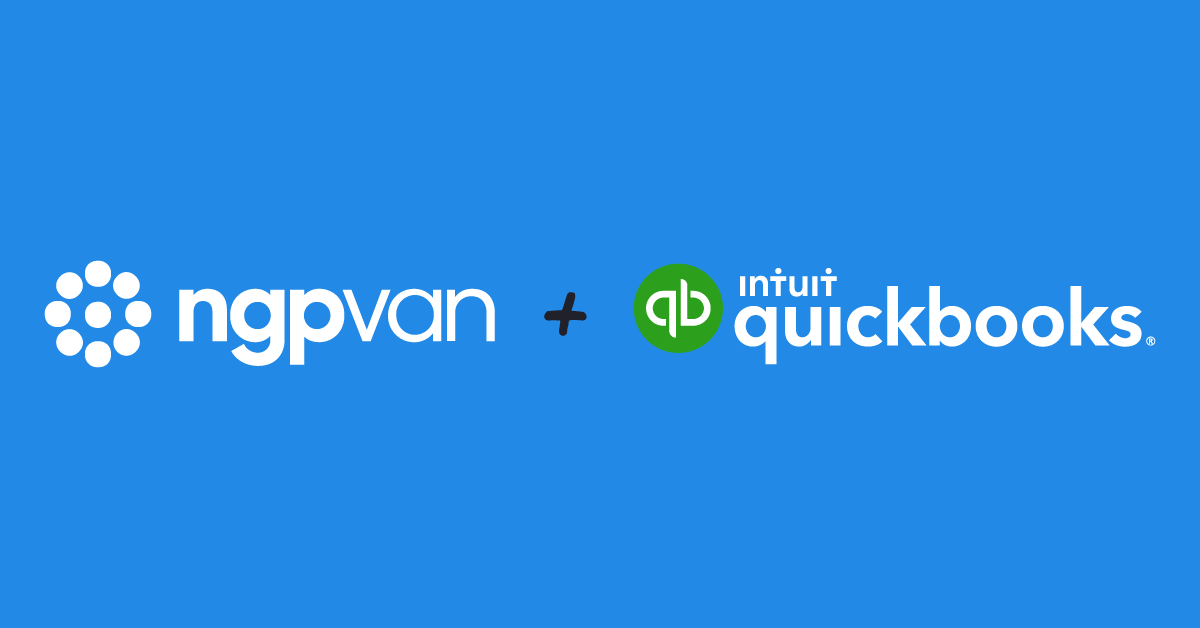 We're always looking for ways to improve our products and save time for our users. We know that many campaigns use QuickBooks Online as their preferred accounting solution, so we wanted to provide an integration with NGP to allow them to work seamlessly together to make filing disclosure reports even easier. Our QuickBooks Disbursements Integration allows you to easily import disbursements from QuickBooks Online so you can save time and focus on other campaign priorities.
How to set up the QuickBooks Disbursements Integration
You can set up your integration at any time. Simply log into NGP and search the sidebar for the "QuickBooks Disbursements Integration." Before you can begin importing disbursements, you'll need to first connect NGP with your QuickBooks Online account. It's an easy four-step connection that just requires you to enter your QuickBooks Online credentials, fill in field mapping information, check one last box, and then you're all set up!
How to use the QuickBooks Disbursements Integration
Using the QuickBooks Integration is just as easy as setting it up! To import transactions from a QuickBooks Online account into NGP, simply click the checkbox next to the account you'd like to use, select the date range, and click Import. After you click Import, the integration page will 'lock' and users will be unable to make changes or start additional imports until the import has completed. However, you can still complete other work while the import is being processed. Once it's complete, a notification will appear with a link to the reconciliation report. You can then use the integration tool again or view the reconciliation report.
If you're an NGP user who doesn't want to set it up just yet, but you're curious about what the integration will look like, watch this short video!
Best practices for your first imports:
Try a small import first, select one account and a small date range and run an import to see how it goes.
Have a colleague who does the same compliance tasks as you on the campaign? Great news, you both will see the same thing in the integration, so you don't have to duplicate your work!
Transactions can only be imported once, so there's no need to worry about overlapping date ranges. We'll watch for previously imported items and won't import them again.
Need to change mapping details? No problem! Choose edit account mapping to make changes and any transactions imported from the account going forward will include those changes.
Don't worry if you accidentally connected the wrong QuickBooks company with NGP, you can always click the Disconnect from QuickBooks link to reset the integration.
While we are excited to offer this new integration, it applies to QuickBooks Online accounts only. The integration currently only supports disbursements tied to disclosure/compliance reports including credit card items and payments, purchases, and bills.
As a company, NGP VAN is committed to making the jobs of organizers and fundraising and compliance staff easier. It's why we continue to innovate with new tools, like Donor Target Scores and Donor Target Reports and Call Time Mobile, to help campaigns and organizations raise the necessary resources to win. We're confident that this integration, which is free for all NGP users, will save compliance officers time so they can focus on other important tasks when time is of the essence.
To learn more about the QuickBooks Disbursements Integration and how it can save you time and effort, contact your Account Executive or visit our Help Center.