3 Ways NGP VAN is Investing, Innovating, and Evolving for 2022 and Beyond
March 16, 2022 | Amanda Coulombe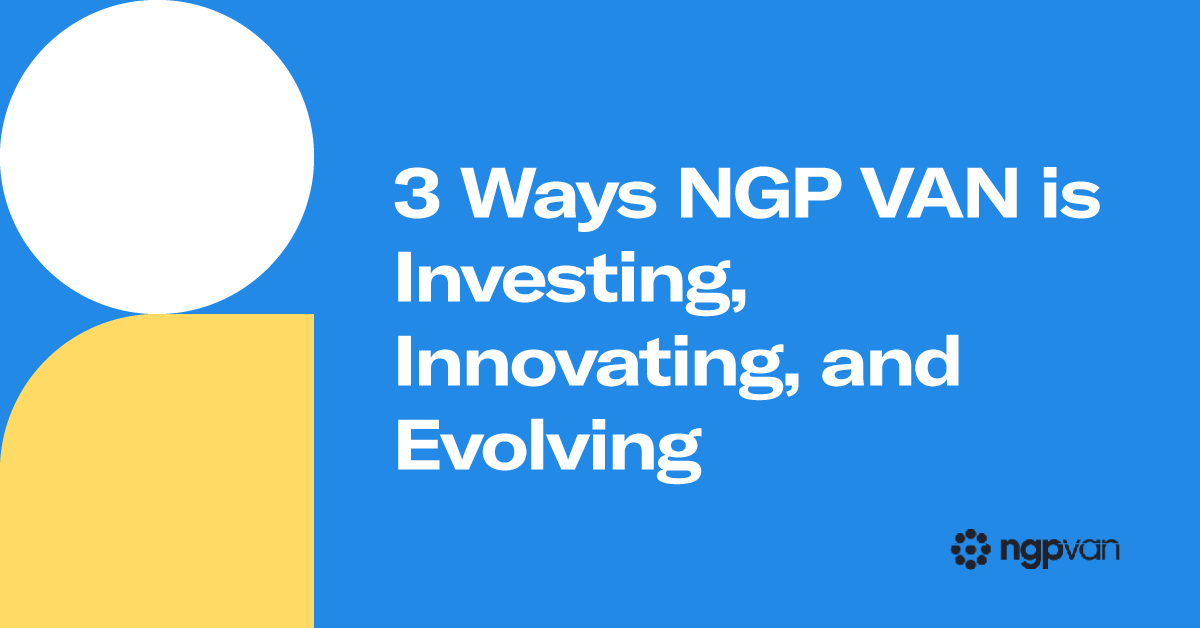 I'm excited to share updates about what's to come for NGP VAN. Our organization has experienced impressive growth and change over the last few years, and, as NGP VAN enters this next chapter as part of a larger organization (much more to come on that soon!), we are well positioned to continue delivering leading technology to Democratic campaigns and progressive political organizations, as well as our nonprofit customers. As we prepare to launch our larger parent brand, NGP VAN will continue to remain a stand-alone brand moving forward, sitting alongside the parent brand when it launches in the coming weeks. This will allow us to continue to maintain NGP VAN as the brand you know and love, explicitly serving Democratic and progressive political clients.
As part of this effort, our team has been heads down working to define a clear strategy, investment initiatives, and a long-term roadmap that will allow NGP VAN to continue scaling its impact and innovation in 2022, 2024, and beyond. I'm so pleased with the engagement, commitment, and alignment that has characterized this work, and am thrilled that there is a clear plan for deeper investment in supporting our valued political customers—a plan backed by the entire leadership team.
The top three areas of focus for NGP VAN are reinforcing the core, committing to innovation, and helping lead in the ecosystem—here's what that looks like.
1. Reinforce the core
Reinforcing the core means we're committed to investing in NGP VAN's foundational platforms to improve our responsiveness to evolving customer needs.
A great example of this is this week's release of a major CRM update that will enable campaigns and organizations to make sure that everyone can address voters with a correct, complete, affirming, and properly spelled name. We released several improvements that include increased character length for all name fields, support of all diacritics on all Latin language characters in My Voters and My Campaign, support for pronouns in My Voters, and improved internal matching logic to make sure that voters are addressed correctly. In addition, we have enabled the ability for users to edit First Name, Middle Name, and Last Name fields in My Voters, which will not affect the voter file itself, but allow organizations to share personal information they wish to have updated as they engage with them.
A significant driving force behind this work has been our desire to prevent deadnaming, which refers to using a transgender person's birth name or name used before they begin their transition. This work now provides an option to use a transgender voter's name for voter contact without waiting on state governments to update the voter file. Ultimately, we want staff and volunteers to avoid the harm using a deadname can cause while having meaningful conversations with voters about important candidates and issues on the ballot.
2. Commitment to innovation
Our commitment to innovation means developing new solutions for high-potential trends and supporting our progressive political customer program in the long term.
Last week, we released MiniVAN 9, an entirely new version of MiniVAN built to support a world where truly distributed organizing is happening (and updated the MiniVANual to help you get started!)
In the newest version of MiniVAN, you'll see more intuitive labeling and navigation so canvassers need less in-person training, an intelligent route optimizer that plots the best walking or driving path for your canvassers, auto-sync enabled by default so data returns to you whenever there is an available data connection, and improved filters and icons that help you see results from other canvassers on your team.
We're anticipating that in the 2022 and 2024 cycles, we're going to see a continued shift toward supporting staff and volunteers wherever they are and campaigning using tools like MiniVAN, OpenVPB, and Mobilize. In addition to MiniVAN, we've continued to invest in our Call Time Mobile App for fundraisers and candidate call time, and have been iterating against grassroots fundraising & volunteering in Mobilize.
3. Help lead in the ecosystem
Helping lead in the ecosystem looks like broadening access to our tools and data, as well as championing new thinking and innovation within the progressive political ecosystem.
We continue to release updates and improvements to our API methods to support use cases our customers and other vendors need to run integrated outreach and contact programs. In early Q2, we'll also be releasing an NGP VAN version of our Zapier integration that will allow individual campaigns or organizations to connect the dots between our platform and other tools they may be using where an established integration doesn't exist. We also continue to see great success and are continuing to make investments in our Pipeline Cloud analytics solution, most recently extending support for Google Cloud PostgreSQL to ensure customers using that platform have data when and where they need it.
With this go-forward plan now in place I've decided that, after nearly 14 years at NGP VAN, this is the right time for me to pass the baton to new day-to-day leadership. Our organization is ready to take the next step forward.
I'm thrilled to share that Chelsea Peterson will be the new General Manager of NGP VAN! Chelsea has been with the company for 9 years, working her way from Account Executive to SVP of Political Sales and Crossover. In that time, Chelsea has grown and led a team broadening our work across our client community and worked with customers large and small across all our product lines to make sure they are getting the most out of our offerings. Prior to coming to NGP VAN, Chelsea built her career working on campaigns at all levels, including a cycle at the DCCC where she managed the Midwest Region. Chelsea is an organizer's organizer. She'll be joined in leading the organization forward by our CEO Erin Nelson, who is deeply committed to the work of NGP VAN and the success of our political customers. NGP VAN will flourish under their leadership.
As I look back on my time at NGP VAN, I know I've been lucky to come to work every day with passion and purpose. I know that the teams, clients, community, and mission are in the best of hands, and I'm excited to cheer you on as you continue to fight the good fight.