Labor Builds Power with NGP VAN and Mobilize Union Organizing Technology
October 26, 2021 | NGP VAN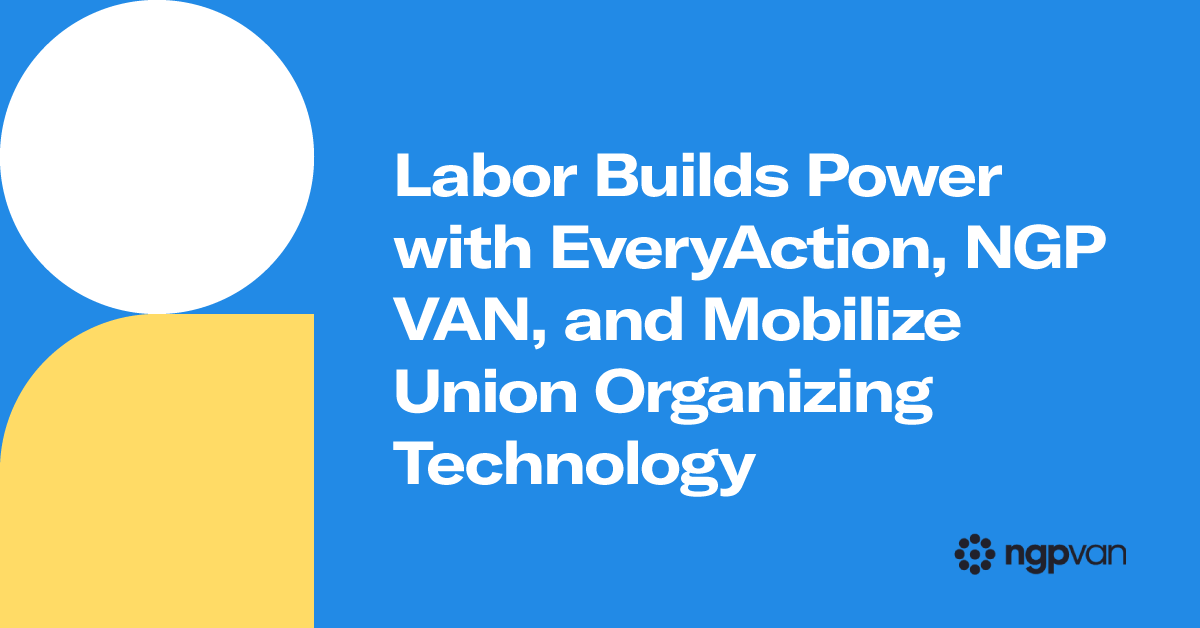 The American labor movement is experiencing a watershed moment. Between COVID-driven virtual organizing, #Striketober, and growing union power (including executive-branch support from President Joe Biden,) NGP VAN and Mobilize are proud to offer union organizing software that supports the labor movement every step of the way — for many of us, now shoulder-to-shoulder as fellow union members. Meeting the current moment supporting the fight of workers demands easy-to-use tools for organizing campaigns, and a trusted, unified CRM that powers deep insight into those campaigns. 
Workers Turn to Tech to Power the Picket Lines
The Washington Post reported on October 18 that workers are utilizing union organizing technology in a range of ways to support their organizing on the job:
Some workers are relying on private Facebook groups to strategize, organize and communicate their next steps to union members. Messaging apps Signal and WhatsApp are being used for encrypted communications and phone calls[…] organizing apps like NGP VAN [and] MiniVAN[…] are used to keep track of member outreach and concerns. Workers are also helping to produce podcasts to create viral moments, build solidarity among members and raise public awareness
The Power of Virtual Labor Organizing
These days, one obvious barrier to organizing (labor or otherwise) is the COVID-19 pandemic—but many unions had been ready to deploy digital organizing strategies before early spring of 2020. As Bloomberg reported in June 2020, unions were driven to activate more expansive organizing techniques when the Supreme Court found in Janus v AFSCME that "unions could no longer collect mandatory "fair share" fees to cover the costs of collective bargaining."
To meet this urgent organizing need, we built a digital card sign functionality to support labor as they pivoted away from paper cards and connected with members virtually. This was just one way our union organizing technology helped labor unions avoid what Bloomberg called a "membership exodus" in the face of conservative changes to labor law—and it's only become more useful in the age of the COVID-19 pandemic.
Later, when the pandemic struck, even more activities that ordinarily might have taken place in person were driven to virtual spaces, and the Washington Post reported on this trend back in September of 2020. Back in 2020, the Post wrote:
Union organizing is typically an old-school art form of face-to-face engagement[…] but like so much else during the pandemic, that work has moved online, complicating what organizers say is a potentially promising time for organizing after the pandemic created new dangers in workplaces and revealed existing shortcomings in the treatment of workers in the United States.
Although it lacks some of the upsides of in-person organizing, virtual organizing came with its own perks:
Digital meetings are easier to attend than weeknight gatherings for people juggling work and family responsibilities, and some organizers said they thought attendance at these events was up because of it. Virtual rallies can be attended by supporters all over the country, like one put on by the United Steelworkers during a union campaign by workers at the Carnegie Museums of Pittsburgh, which 14,000 people tuned in to. And the discretion that can be fostered online can also be helpful for employees worried about managers and bosses looking over their shoulders.
Zoom integrations in NGP VAN — prioritized for roll-out during the early days of the COVID-19 pandemic — meant that nonprofits, campaigns, and organizations like labor unions could transition their organizing to safer virtual meetings, and manage their data more efficiently within their platforms, without losing valuable momentum. 
Organizing Virtually and In Person with Union Organizing Technology
Video calling isn't the only technology innovation supporting the labor movement in this moment. NGP VAN's ability to help labor unions organize across channels, organize internally and communicate with members, manage PAC compliance, and more means we're trusted by unions like AFL-CIO, SEIU, NEA, UFCW, AFSCME, and more. And the support doesn't even end there: NGP VAN, MiniVAN, and Mobilize have all enabled crucial union organizing action, particularly in the face of a global pandemic. 
The Washington Post described NGP VAN and MiniVAN as "… database and Web hosting services [which] aim to make it easy for political campaigns, nonprofit groups and other activists to keep track of their members and actions," but the story goes deeper than that. MiniVAN has helped campaigns, nonprofit volunteers, labor organizers, and workers build power when time and bandwidth were of the essence:
Mullen, the nurse at Kaiser, said[…] the mobile canvassing app MiniVAN has saved her hours of trying to find members she needed to speak to in various parts of the hospital. The tool allows her to keep track of who she's talked to, where each person is located, and allows her to attach notes and assessments.
"I discovered this small room our dialysis nurses live in, and I had been [making rounds] for two years and didn't know they were there," said Jenny Barba, also a registered nurse at Kaiser and steward for the United Nurses Associations of California/Union of Health Care Professionals. "I wish we had something like this a couple of years ago when we started" making rounds at the hospital.
MiniVAN's special ability is its power to slash hours of data entry (and reams of paper) from organizers' workloads while providing deeper insight into contacts, from any device. This helps create more efficient canvasses, improve the experience for canvassers and worksite organizers, and create a more agile, adaptable experience. Replacing packets and clipboards with smartphones means that canvassers and organizers no longer have to shuffle paper, and can even utilize responsive branched scripts that guide canvassers and organizers every step of the way. Data collected rolls back up into the NGP VAN or NGP VAN CRM with a click of the Commit button — making the next outreach that much more efficient, and helping organizers reach their goals that much more quickly. 
NGP VAN's Mobilize network is also no stranger to virtual organizing. Not only did Mobilize leap to the forefront with guidance for virtual union organizing back in April of 2021, offering virtual strategies for everything from supporter training, phonebanking, and textbanking to town halls and even rallies; but when they crunched the numbers, what they found was that even in the face of a pandemic, volunteers doubled down on showing up for causes close to their hearts: 
Prior to COVID-19, about 20% of all events on Mobilize were virtual. That rapidly shifted to nearly 100% by mid-March.
From March 8-June 8, 2020, weekly volunteer shift volume was higher than any week in 2019.
Mobilize's 2020 success story with NEA illustrated how virtual events and organizing can help labor succeed. When educators felt unsupported in the face of rising COVID-19 cases, NEA helped unite supporters, hear concerns, and elevate them to elected officials. With support from Mobilize's network effect, NEA was able to host events catering to tens of thousands of attendees, with 83,000 registrants showing up thanks to the bring-a-friend prompt — that's a full 24 percent of all attendees.
To top it all off, when labor unions manage their supporter relationships in a unified or highly-integrated union organizing software system like NGP VAN, they can see each step folks have taken in support of their work, and then engage those supporters in more ways, across more channels, with more programs. The result? Stronger and more authentic relationships, and a growing supporter list — without mountains of data work. 
Our Take
 From worksite organizing to virtual card signing, NGP VAN and Mobilize have a long history of building union organizing technology that supports the American labor movement across a wide range of industries. We're thrilled to provide the best-in-class technology unions deserve, to organize for better workplaces and futures.