2022 Election Results and the Impact of NGP VAN 
November 30, 2022 | NGP VAN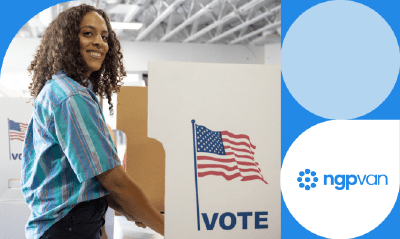 NGP VAN helped our customers and partners to secure the best midterm elections for the Democrats since 1934, including protecting EVERY Democratically controlled state legislative chamber, holding or increasing our majority in four states, and flipping three additional states from red to blue! We were proud to partner with campaigns and organizations across the country to help power change everywhere.

You may have read about NGP VAN's impact in the 2022 midterm elections. Still, we wanted to share more about our clients' victories and why an early investment in NGP VAN's ecosystem of political campaign software helps set your campaign up for success.
Impactful Political Campaign Software Provided by NGP VAN
We're proud to share that 100% of winning Democratic senators and governors used at least one of our platforms (NGP VAN, Mobilize, or ActionKit), and many campaigns utilized several of them. Our software helped our customers protect seats across the country and flip three governorships (Maryland, Massachusetts, and Arizona) and one Senate seat in Pennsylvania. In 2022, not a single state legislative chamber flipped from blue to red – a BIG WIN for Democrats nationwide! We helped retain and expand state legislative majorities in four states and flip state legislative chambers in three states (Michigan, Minnesota, and Pennsylvania). Many other state and local campaigns and organizations used our software as well to power their campaigns to victory as well. 
NGP VAN also powered 14 successful statewide ballot initiatives, including measures to protect and secure the right to an abortion and bodily privacy in five states, and other initiatives related to healthcare, voting rights, fair taxes, campaign finance, and gun safety in other states.
We sent a record number of emails and texts through our tools this cycle to help candidates raise money, encourage action among supporters, and win their races. Campaigns and causes used our software to track and raise more than $10 billion across 140 million individual donations this cycle.
In 2018, we saw 155 million doors knocked, and this cycle, we saw 169 million. Over 90% of those attempts were logged through MiniVAN, our mobile canvassing app. We continue to see MiniVAN playing an integral role in field programs and we look forward to increasing that percentage even more in the future.
And for those of you who aren't familiar with MiniVAN or you haven't made the switch from paper to digital, check out the new MiniVANual we released earlier this year to learn more about how MiniVAN can take your campaigns to the next level.
We continue to serve as the leading technology provider to Democratic and progressive campaigns by providing the most impactful organizing and fundraising tools in the progressive political space. We're proud to partner with campaigns and organizations fighting for a better future.
Mobilize: Powering Organizing Everywhere
Our events and volunteer management platform, Mobilize, powered 100% of winning Democratic gubernatorial races (all 18) and 86% of winning Democratic US Senate races (12 of 14). In total, campaigns and causes organizing on Mobilize recruited more than 2 million volunteers across 7 million shifts from more than 125,000 events nationwide! Overall, nearly 40% of total signups this cycle came from automations and features on from Mobilize, reinforcing the platform's organizing potential for campaigns of all shapes and sizes.
By plugging in additional volunteers early, Mobilize's built-in automations help remind volunteers of upcoming events, increasing your signups and decreasing your flake rate. And in a time when volunteering is declining, Mobilize helps you build and maximize your volunteer capacity with new and existing volunteers.
If you'd like to learn more about how Mobilize can power your organizing efforts, check out their blog on their 2022 impact!
NGP VAN + Mobilize: Early Investment Yields Great Rewards
What candidates and campaigns across the country already know, is that candidates who start organizing and using our tools early are building their email lists and engaging supporters sooner, raising more money, and winning.
We've got a full suite of tools that provide you with everything you need for your campaign. From innovative fundraising tools like Donor Target Scores and Donor Target Reports and Call Time Mobile, to impactful organizing tools like Mobilize and SmartVAN, we've got everything you need to set your campaign up for success.
Additional Resources
Interested in learning more about the many ways NGP VAN software can support your campaign? Here are a few additional resources that help you build your email lists, engage supporters and donors, and win your race!
Learn How to Grow Your Political Email List–The Right Way! Discover ways to build your email list to raise more money and encourage more action from your supporters.
Donor Target Scores and Donor Target Reports: Improve Your Political Fundraising with NGP VAN's New Features. Learn about our new, innovative fundraising features that can help you raise more money.
Distributed Organizing Guide from NGP VAN and Mobilize. Download our guide to find out more about distributed organizing and how NGP VAN and Mobilize can help you achieve your organizing goals.