How to Increase Voter Turnout for Your Political Campaign
October 30, 2023 | Brandon Blumenherst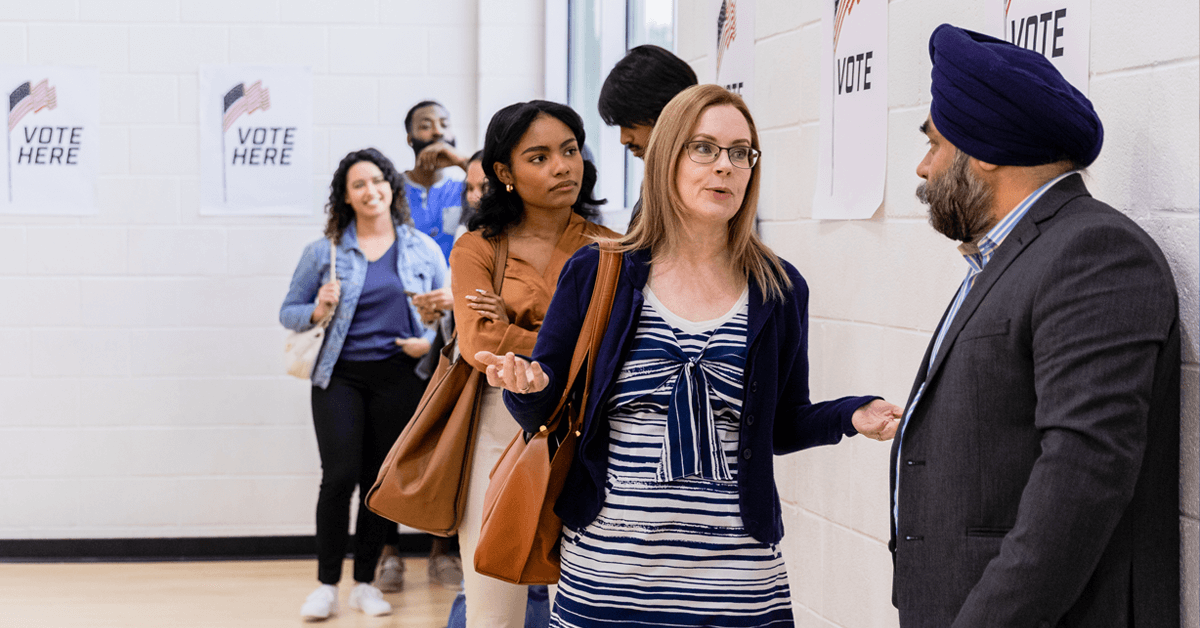 Voter turnout can make or break any campaign. With expanded early voting options available in nearly every state in the country, many campaigns can encourage voters to vote well before Election Day, helping them score votes early and focus their outreach efforts in the future. But, even with early voting options, low voter turnout still occurs in communities across the country. That's why it's important for campaigns to get as many of their supporters out to vote as possible to help increase voter turnout and set themselves up for success on Election Day.
What Causes Low Voter Turnout?
Many factors that can cause low voter turnout, but this short list showcases the wide range of concerns that may cause voters to not cast their ballots.
Lack of Voting Information
Voting information can be a critical factor in determining whether someone votes or not. Some voters may want to know when they can vote early. Others may want to know more about the other candidates on their ballot. Some may not know when the polls are open. While the information needed may vary from voter to voter, a lot of this information can be easily supplied to them through voter outreach efforts like phonebanking and canvassing. By sharing necessary information with voters, you may increase the likelihood that they get out and vote for your campaign.
Voters Feel That Their Vote Doesn't Matter
Some people may or may not want to vote, but they feel their vote doesn't matter for various reasons. Maybe the makeup of their local or state government makes them feel like their vote wouldn't matter. Or perhaps they've lost hope in government altogether. Regardless of the reason, these voters may not be motivated to vote because they don't think it can make the change they want to see in their community. However, sometimes they can be convinced otherwise. Through deep canvassing, volunteers focus on establishing rapport with voters, prioritizing active listening, and creating a safe space for more meaningful conversations with voters. Rather than starting a transactional conversation, deep canvassing conversations often revolve around open-ended questions and transformational conversations that can help convince voters that their vote can make an impact.
Voters Are Busy
Between work, taking care of the kids, extracurricular activities, and more, voters are busy. Voting and researching candidates and election information don't always jump to the top of a voter's to-do list when they've got a lot of other stuff going on. That's why it's important to share early voting information with them to discuss how they can vote before Election Day. On Election Day, things can come up, making it difficult for voters to make it to the polls in time to cast their ballot.
From a lack of information to apathy to busy lives, voters may consider one or a combination of these factors before determining if they plan to vote this year. That's why it's so important for campaigns to conduct targeted voter outreach to increase voter turnout among their supporters to help mitigate the impact of these factors.
Why Is It Important to Increase Voter Turnout From Your Supporters?
It's important to turn out your supporters because it's usually the best way for your campaign to win on Election Day. Without getting your supporters out to vote, you rely upon voters who likely have not indicated they plan to support you. While that doesn't necessarily mean they're supporting your opponent, you should still focus on getting your identified supporters to get out and vote for your campaign.
3 Tips to Increase Voter Turnout for Your Campaign
Your campaign can use these three strategies together to help mobilize your supporter base and set your campaign up for success on Election Day.
Encourage Your Supporters to Vote Early
One of the best ways to increase voter turnout for your campaign is to encourage your supporters to vote early. Whether they vote by mail or vote early in person, it's an easy and effective way for your campaign to bank votes early. Also, by using voter data you collected earlier in the campaign cycle, you can ensure you're driving identified and likely supporters out to vote while also narrowing your list of voters you need to contact in the future. You can also create a ballot chase program for your supporters to effectively connect with those who have requested or have absentee ballots and encourage them to return them as soon as possible. By encouraging supporters to return their ballots as soon as possible, you can help decrease the number of outstanding ballots and bank early votes for your campaign. You can also remove those voters from future outreach efforts and focus your resources on voters who have not voted yet.
Make a Plan with Your Supporters to Vote
Another way to help increase voter turnout for your campaign is by making a voting plan with your supporters. People are busy, so making a plan to vote with them has been proven to be an effective method of eliminating uncertainty and increasing the likelihood of them casting their vote. Here are some questions to consider when talking to voters about their voting plan:
When are you planning to vote?
Do you know where you need to go?
Do you know what you need to bring?
Do you need transportation to your polling location?
Are there any questions that you need answered before you vote?
By asking these voters about their voting plan, you help instill a sense of commitment and eliminate uncertainties that increase the likelihood of them casting their ballot. You can then follow up with those voters closer to Election Day to ensure they follow through on their commitment to vote.
Follow Up With Them Consistently
As Election Day nears, you'll want to follow up with your identified and likely supporters several times until they either indicate that they've voted or you can confirm that they've voted through a voter database (like SmartVAN or VoteBuilder). This outreach can sometimes require multiple attempts to reach a single voter through various channels, but you want to give it everything you've got to help your campaign succeed. Especially with likely and identified supporters, it's incredibly important to get as many of them out to vote as possible, and you can do that through multichannel outreach, including phonebanking, canvassing, texting, and more. During GOTV, campaigns will focus on turning out their supporters and ensuring they get to the polls. This final outreach is critical to every campaign's success, so they will often make multiple passes through their GOTV universe (which is composed of likely and identified supporters). Some campaigns will even hire additional help (and invest in accountability tools like MiniVAN Manager) to help move through the universe faster or contact voters more frequently and encourage them to get out and vote.
Help Increase Voter Turnout for Your Campaign
Despite the reasons that can lead to low voter turnout, campaigns can address many of them through strategic and targeted outreach. By urging early voting, collaboratively crafting voting plans, and maintaining consistent and comprehensive engagement with supporters, campaigns can help increase voter turnout for their campaigns and set themselves up for an Election Day victory. By executing these strategies through powerful voter outreach tools from NGP VAN, campaigns can supercharge their mobilization efforts to help turn out their supporters and win their races.