Vote Tripling with MiniVAN
February 13, 2020 | NGP VAN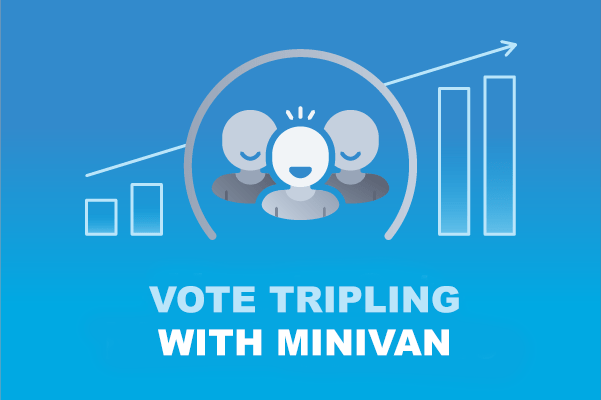 Most people have at least one friend who needs that little extra nudge to vote. By implementing an easy friend-to-friend voter turnout tactic called Vote Tripling through MiniVAN, you can nudge thousands of supporters to get those on the fence out to the polls.
WHAT IS VOTE TRIPLING?
Vote Tripling is an optimized commit-to-vote pledge that involves two steps: (1) securing a supporter's promise to encourage three friends to vote and (2) following up with a timely text reminder to the supporter. The tactic is based in behavioral science research and has been validated by a rigorous study finding that it produces a statistically-significant increase in turnout for a fraction of the cost of other tactics.
The tactic of Vote Tripling is geared toward non-activists, the 97% of voters who will cast their ballot on election day and don't volunteer for campaigns. Reminding three close friends to vote is an easy, bite-sized task that non-activists are delighted to say yes to.
HOW TO USE VOTE TRIPLING
This guide walks through how to collect Vote Tripling pledges using MiniVAN and the four steps to integrating your Vote Tripling data into VAN: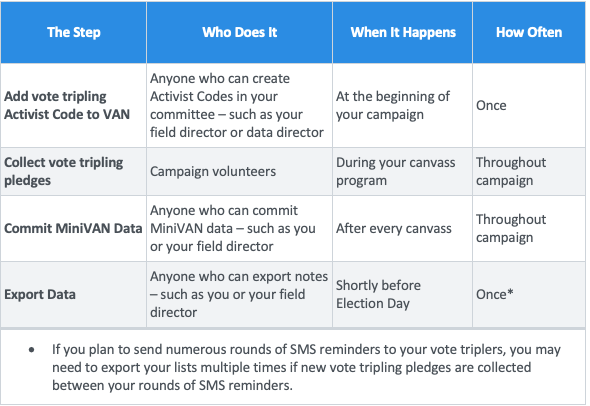 ---
1 Create Vote Tripling Activist Code and Add to your Script and MiniVAN Campaign in VAN
In order to use Vote Tripling in MiniVAN you'll need to create a "Vote Tripling" Activist Code, and add it to the Script you are using in MiniVAN. You'll then need to make sure to add that script to the MiniVAN Campaign you are using to run your Vote Tripling efforts.
Create Vote Tripling Activist Code:
Go to the My Voters tab. Find the Codes /Questions /Scripts option in the Administrative menu on the left-hand side of your screen  Select "Activist Codes". Then, create the Activist Code you will use to track your Vote Tripling efforts.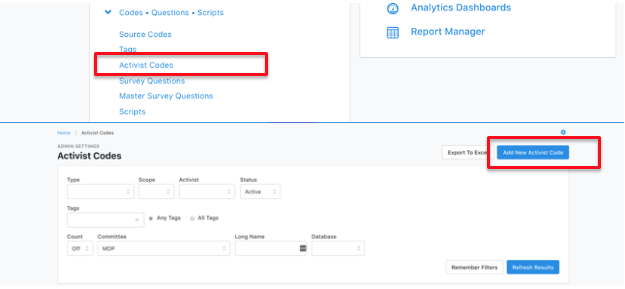 Add Vote Tripling Activist Code to your MiniVAN Script
Navigate to the Scripts option Select the script(s) that you will use for your Vote Tripling efforts.


Scroll to Add Script Element and search for the Vote Tripling Activist code you created. Then, click Add to add the Activist Code to the script. You can then move the activist code to wherever you'd like it in your script (often at the end). Make sure to save your script.

FINALLY add your script to your MiniVAN Campaign
Navigate to MiniVAN Campaigns in the MiniVAN option in the Administrative Menu. Find the MiniVAN Campaign you will use for Vote Tripling canvassing and select it. Make sure to save your MiniVAN Campaign.
When you generate list numbers or export to MiniVAN you will need to use this MiniVAN Campaigns.
---
2 Collect Vote Tripling Pledges In MiniVAN
When your campaign volunteers are on the doors they will record vote triplers using the Notes feature in MiniVAN and the Vote Tripling Activist Code you created and added to the script.
You'll need to train your volunteers to ask and record the following information:
Have volunteers ask the supporter, "Can I count on you to remind three friends to vote?"
If yes, mark "Yes" on the Vote Tripling Activist Code option.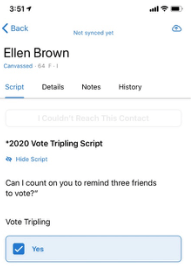 Once the response is collected, go to "Notes" tab and create a new note with the supporter's friends' three names. We suggest using the "Friend 1, Friend 2, and Friend 3" format.
From Notes head to "Details" tab and reference the phone number provide. If the supporter's number matches the number provided, move on. If not, update it.
---
3 Commit Your Data In VAN
In order to apply your canvass results you'll need to commit your MiniVAN data after every canvass:
Go to the My Voters tab and find the Canvassing section on the Main Menu. Click on MiniVAN and then select MiniVAN Commit to go to the MiniVAN Commit page.

Review your canvassing lists on the MiniVAN Commit page. When you're ready to commit the data to the CRM, select the lists you want to commit and click the Commit button.

---
4  Search for your Vote Triplers and Export Your Data from VAN
When you are ready to send your SMS reminders you'll need to search for your Vote Triplers in VAN and export the names of the people they committed to remind to vote. Be sure to select the Notes Export format to get all notes associated with your Vote Triplers. Other export types only export the most recent note – which may not be the names you are looking for.
Search for Vote Triplers
Go to Create a New List in the Lists page section on Main Menu
Though the exact criteria of your search will vary depending on your SMS program, you will at least need to include the Vote Tripling Activist Code. Select your activist code in the Activist Code section on Create a List.
When you are done building your search criteria select Run Search You may want to consider saving this search as a saved search to make searching for vote triplers faster in the future
Export Vote Triplers
Depending on your program, you may need both the Standard Text Export and the Notes List Export to get all the information you need to do your SMS reminders
If you aren't there already, Go to My List. Find and click Export, taking you the "Export Wizard" >> Export list 1 of 2: Standard Text >> Export list 2 of 2: Notes List
Once you have your exports open in Excel, merge both lists my matching voter ID numbers, Then upload lists to a peer-to-peer SMS platform to send personalized reminder SMSs.
---
More Info
This tactic was designed by VoteTripling.org, a PAC that designs and disseminates free relational voter turnout programs for progressive campaigns and GOTV organizations. For more information, visit votetripling.org or email contact@votetripling.org.